Another amazing time was had at Chicago this year.
Such an enormous show.
So many friends to see.
So many new pipe-makers to meet.
The most difficult fact related to the show is that there is never enough time to do all that you want to do.
Melissa, my fiancee, came with me for her first Chicago show. Having Mel with me positively forced me to step back from the reporting mind-set I usually bring to the show. I spent time enjoying the city of Chicago more, focused more on talking to people rather than taking non-stop pictures of their work and just in general, the show was more of a personal experience, rather than feeling like I was working for all of you. Mel is a great partner & it's nice to see her appreciation of the art in pipes increase day by day.
Even beyond the addition of Mel, 2014 was also different in that I was working before the show & not just after. The Pipe Photo Contest was one of my biggest projects to date and it took up an enormous amount of time, energy and financial expenditure to make happen. All that effort prior to the show even beginning, made me want to relax more while at the show. I did my best to let that happen.
Notable Moments for myself…
– The Art Institute of Chicago and Millenium Park. One of the best art collections I have ever seen.
– Picking up the TobaccoDays Most Creative Pipe Photo Contest posters at a local Chicago printer's office. It was a nice moment to see all that work displayed so beautifully in front of me on 10 large displays.
– Running around with Craig Cobine and gathering up enough easels for the TobaccoDays Most Creative Pipe Photo Contest posters. Not just on Friday night but Saturday morning…when someone decided to steal a few easels for their own purposes. Thank you so much Craig. You were so great & easy to work with and your pure focus on 'helping' is very much appreciated.
– Helping a travel weary & annoyed with front desk staff (who hasn't been there?) Matt Guss get his suite that 1st night.
– Smoking the absolute best tobacco I have ever tasted. Druquer's Levant. The experience can best be described as a journey down a 7-course meal, perfectly constructed, each plate (puff) delivering it's intent and exceeding it by miles and miles. Amazing how much further my idea of "Great Tobacco" leapt forward. Thank you so much Mr. Bruce!
– Smoking not one but two cigarettes over 50 years old. The flavor was not that exciting but I was amazed that the baccy held up that well and the sticks looked relatively new, clean and not 50+ years old.
– Seeing Tom Eltang's excitement at winning one of the images from the Photo Contest & telling me that it will be hanging in his shop.
– Saturday Night's Seattle Pipe Club event. Started off quiet & mellow and for those who stayed, well, it turned into a great night & we had amazing fun. Thank you so much to Matt & John for being such good hosts.
– The general response from all the attendees with their kind words for TobaccoDays & it's purpose in general. Pipe-makers and pipe-collectors alike, approaching me and sharing that the TobaccoDays blog has helped them look at their craft and their collecting habits in a completely new way. Hearing from a pipe-maker that you inspire them is an easy way to make someone's day and I really enjoyed that.
– And of course, meeting so many great new people as always.
Enough talk. All of you want to see one thing and one thing only. Pictures from the show.
Many of them are out of order, sorry about that. I can't express enough the headache involved with dealing with this blog platform (WordPress) and trying to Upload and Organize in any sort of efficient and intelligent manner, pictures that range above the 1,000 unit number. The headache is unbelievable and I apologize for the inconsistency here. Even the text I can't seem to get it aligned properly. Yes, I know where the 'center text' button is however it ain't working.
Grab a pipe if you can. Fill her up. Lean back and look at 900+ pics from the show.
It's a fun little journey, the smiling faces will make you smile. If you were there, you will feel why you love this show so much. If you weren't there, you'll hopefully start making plans to attend next year.
A few pipe-related pictures taken at the Art Institute of Chicago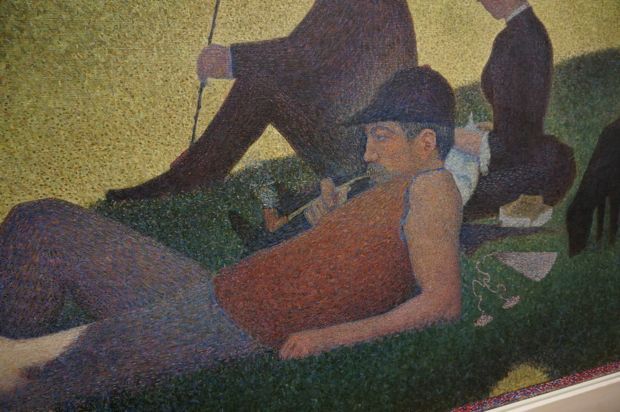 This is a Tobacco Jar from the 18th century
DSH Pipes
DSH, in collaboration with Chris Askwith, created this interesting, moon-scaped, pock-marked beauty.
And another DSH Pipe.
Nathan Armentrout
The Smoking Tent.
Neill Roan looking good & enjoying some friendly conversation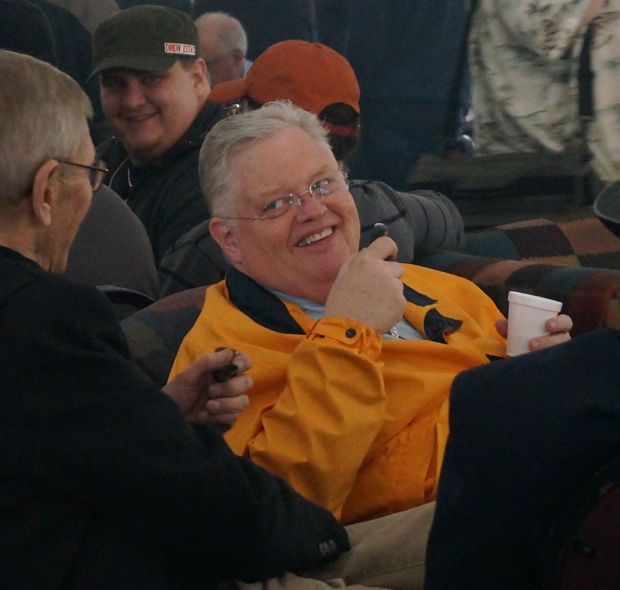 Smokers, smokers and more pipe smokers enjoying the 'hassle-free zone' that the Smoking Tent offers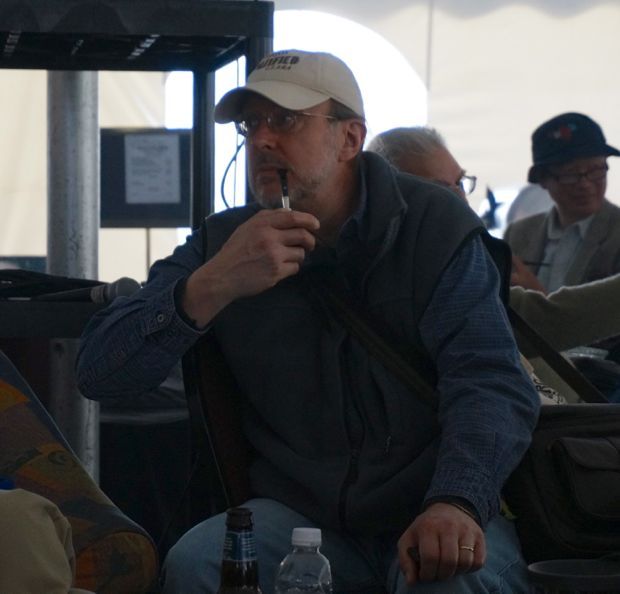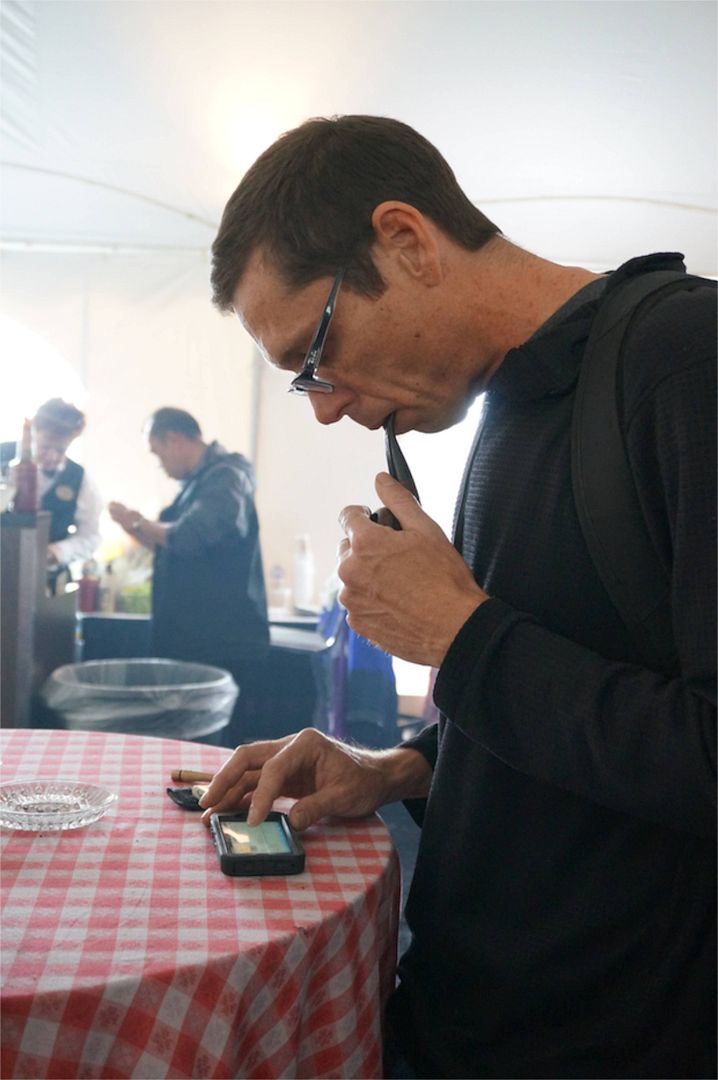 Steffan Mueller, Roger Wallenstein (and son) with Joao Reis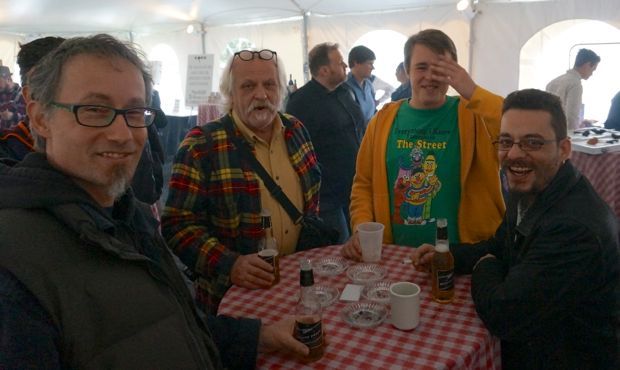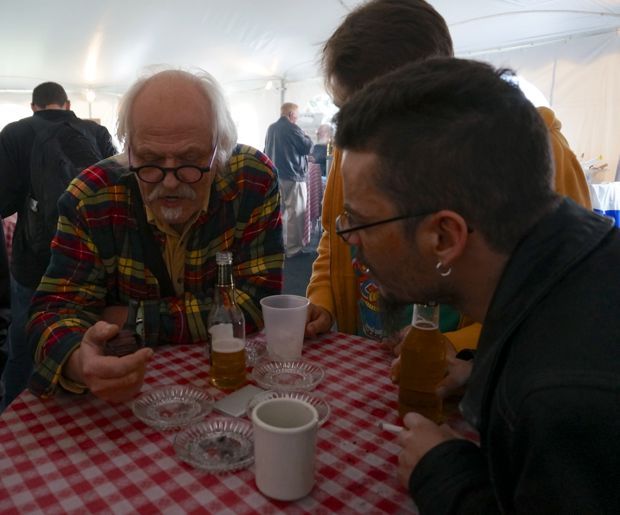 Walle Walle enjoying the conversation that the Boris Starkov pipe he is holding brings up.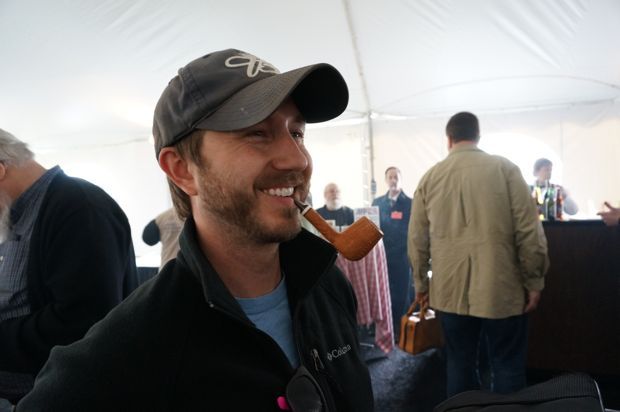 A sneak peek at ScandPipes wares before the show opened.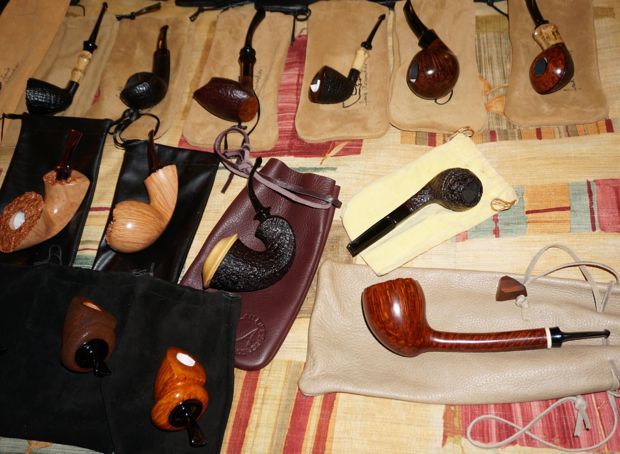 Some gorgeous pipes as usual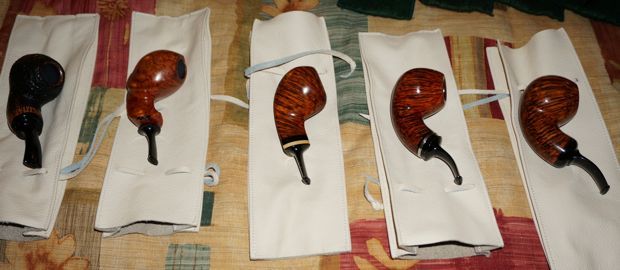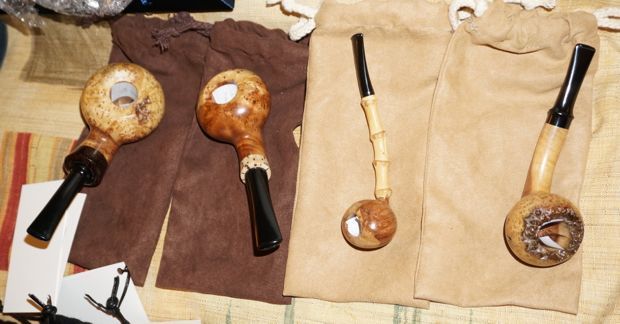 The Order Of Collegiate Pipe Smokers made another appearance.
Nice to see young faces and both sexes represented.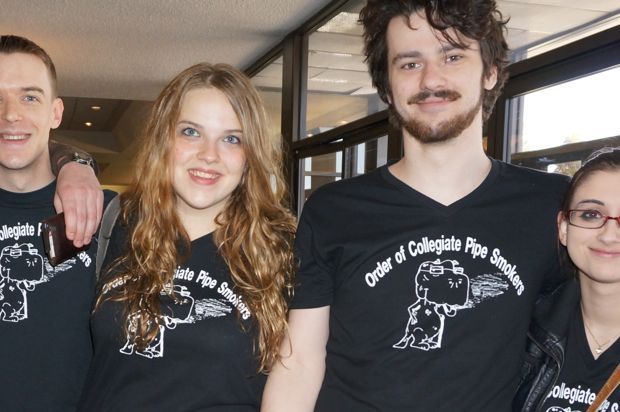 I think these kids are trying to pick a fight with some members of the community.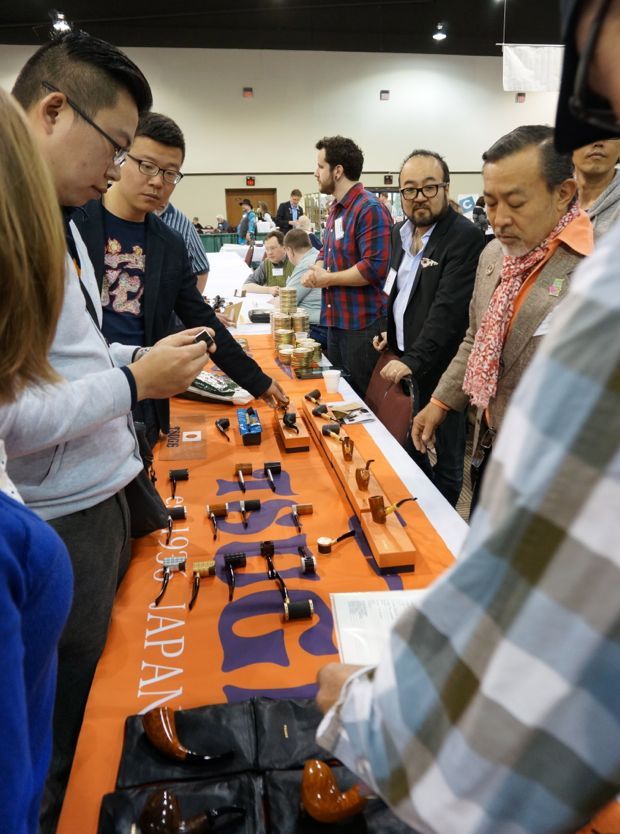 Vollmer & Nilsson Pipes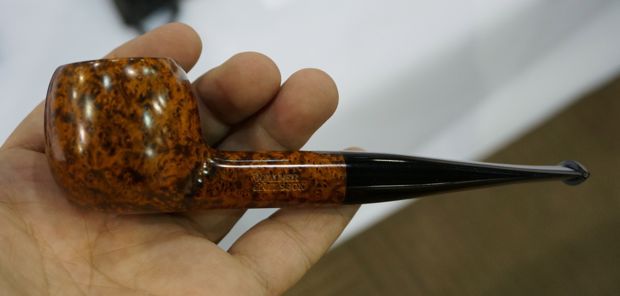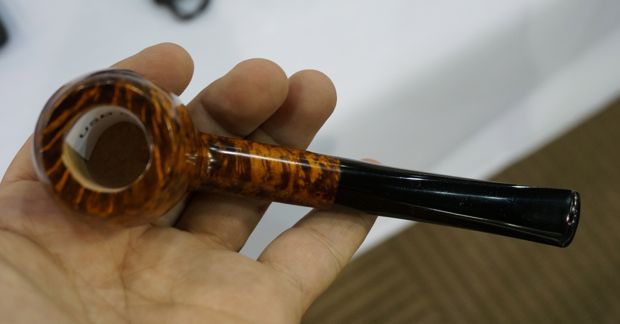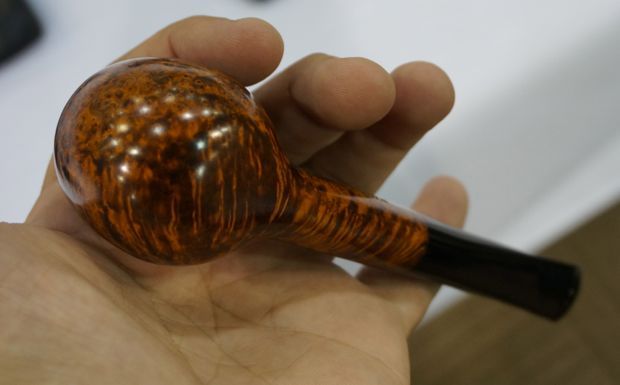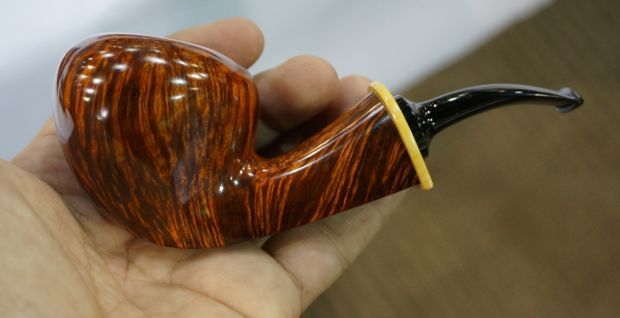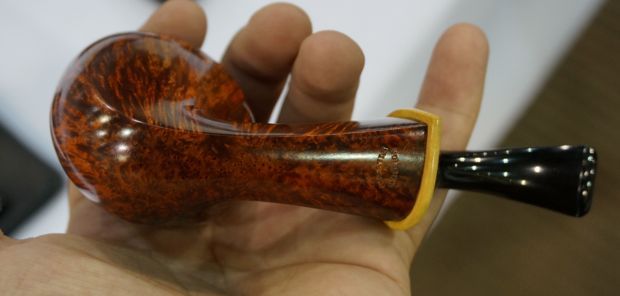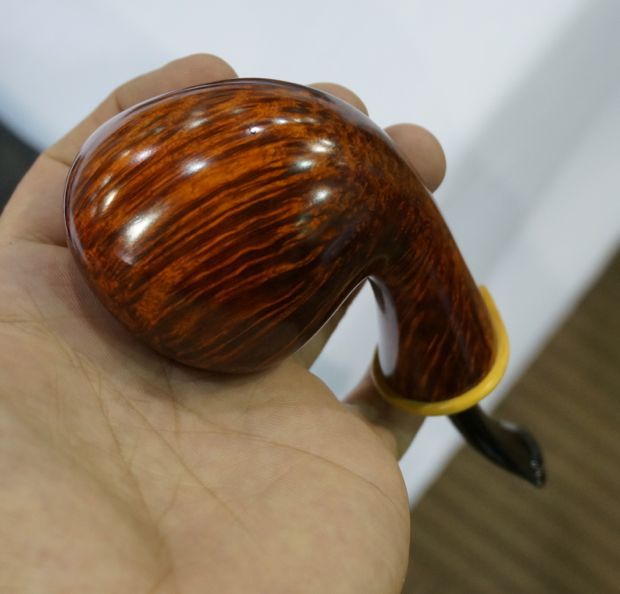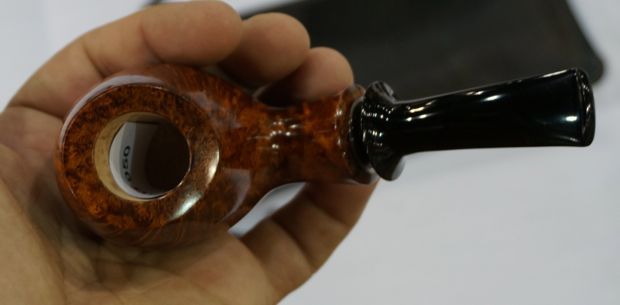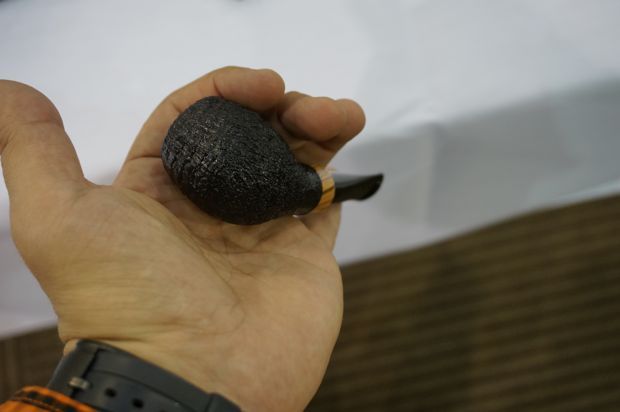 Mr. Vollmer & Mr. Nilsson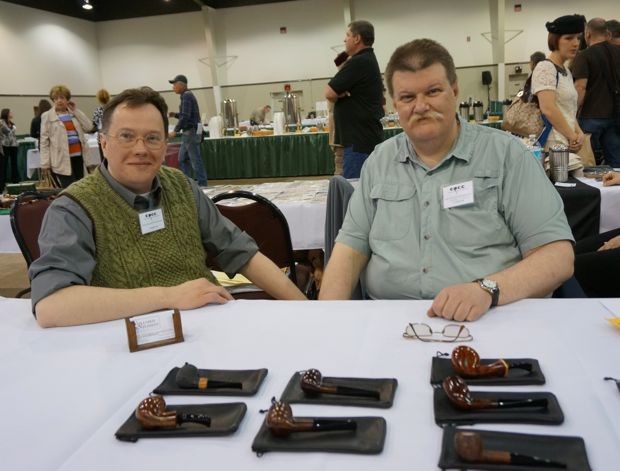 A very unique pipe by Mr. Kostas Gourvelos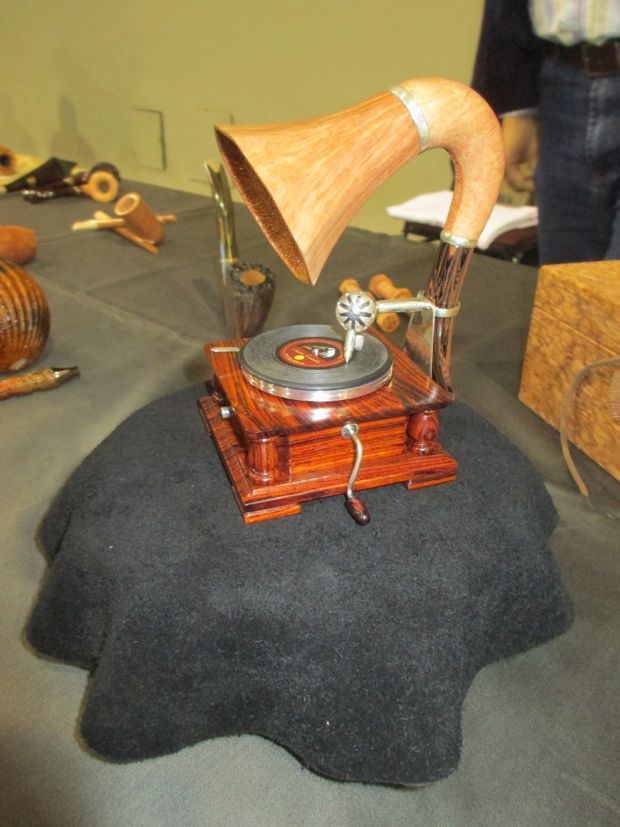 The almost always smiling, Brighton James.
His first Chicago show while showing his pipes.
Brighton is heavily influenced by hard lines and Japanese design styles.
The work he shows below easily illustrates his talent. His recent offering on ScandPipes.com completely sold out so
it's only up for this young man. Because his pipes already show such a distinct style, Brighton can literally pick
and choose which direction to take his work in. It will be nice to see how his hard lines round themselves out
when he pursues more organic shape options.
It was nice to finally get to meet you in person. We spent some time talking but I didn't take pictures of your
pipes. Thankfully Melissa snapped a few shots.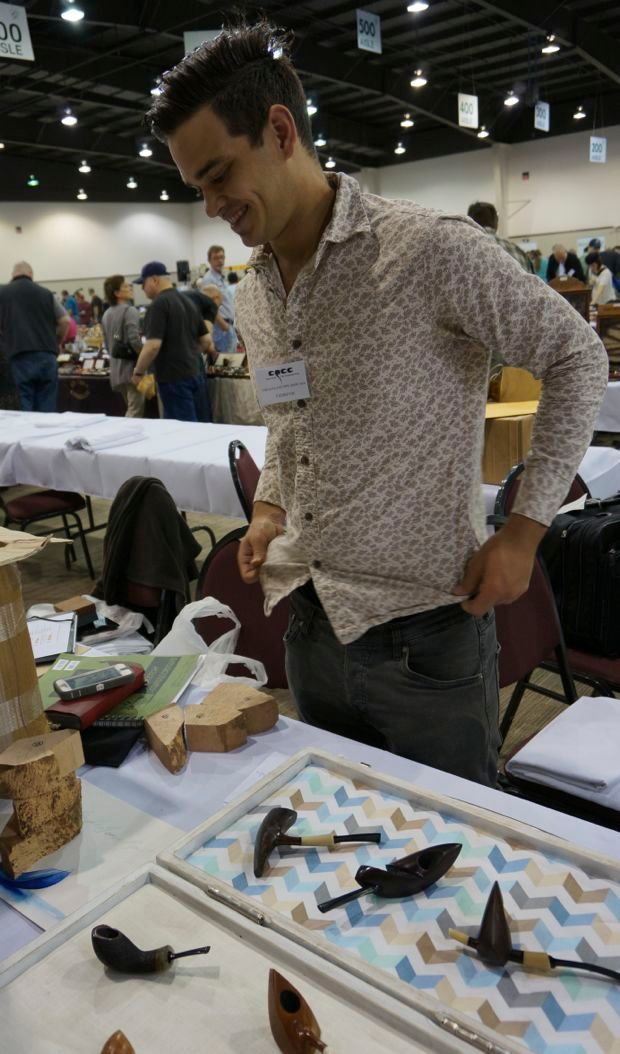 The below pipes are from Michael Parks.
Michael's work has been top notch for many years now and the selection below only further highlights this Canadian's exceptional talent for making pipes. His blasting has improved and how can you not love those large chunks of briar protruding out from the wood? Just beautiful. If you would like to learn more about Michael and his work, you can read an article on him here.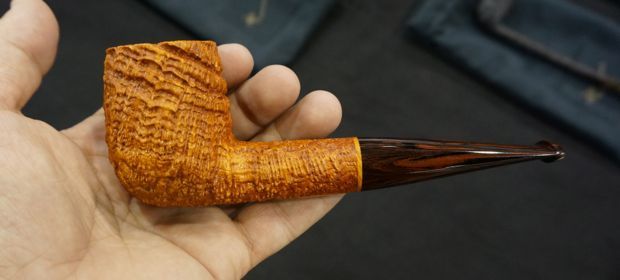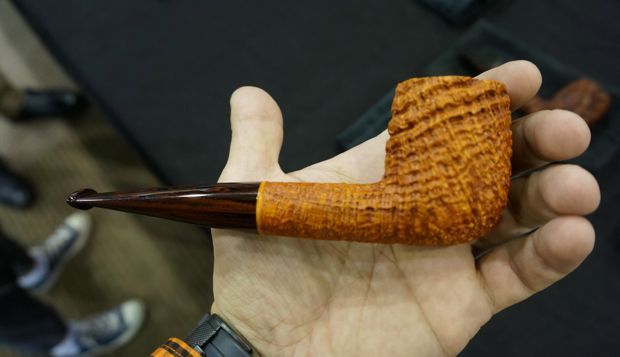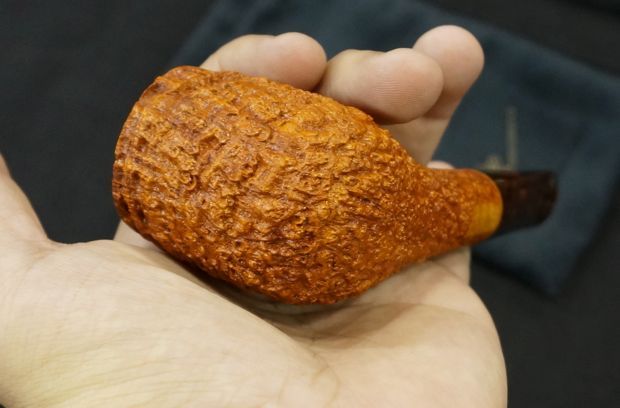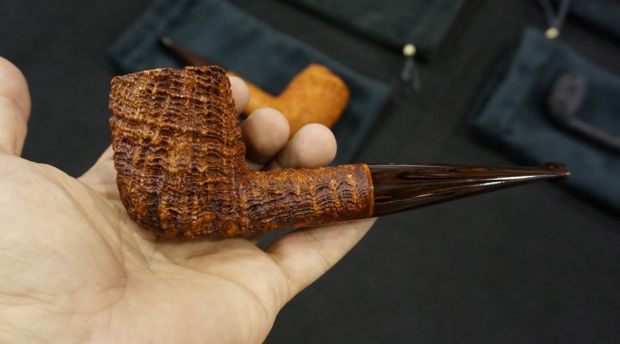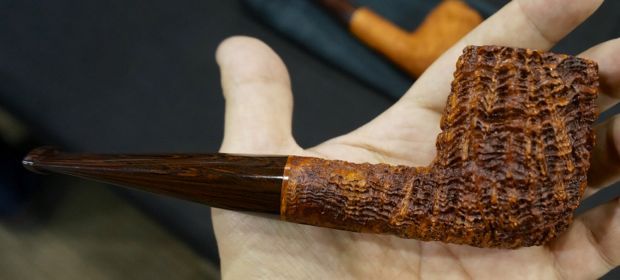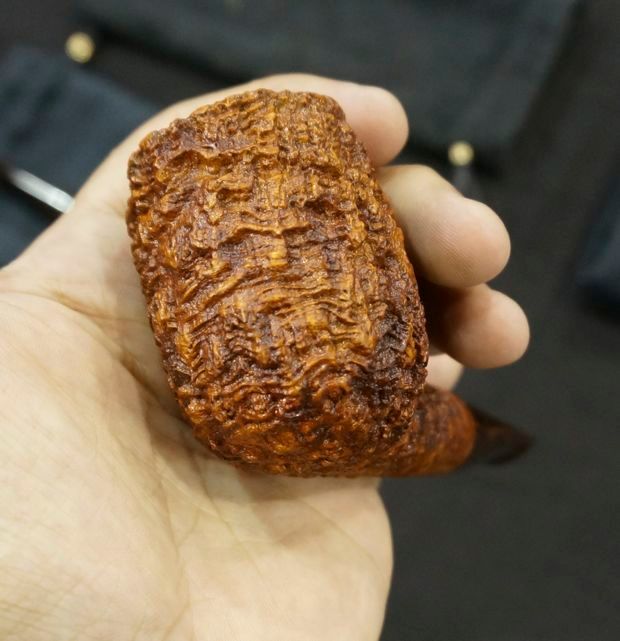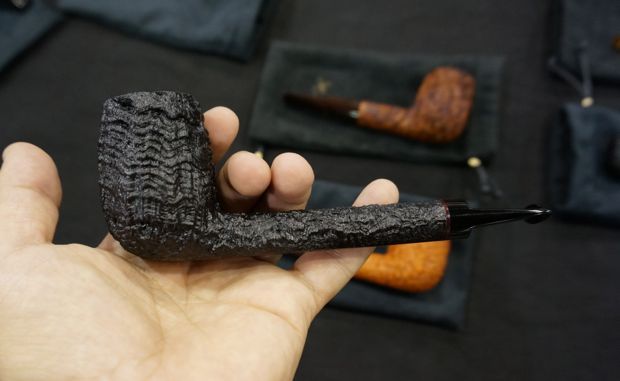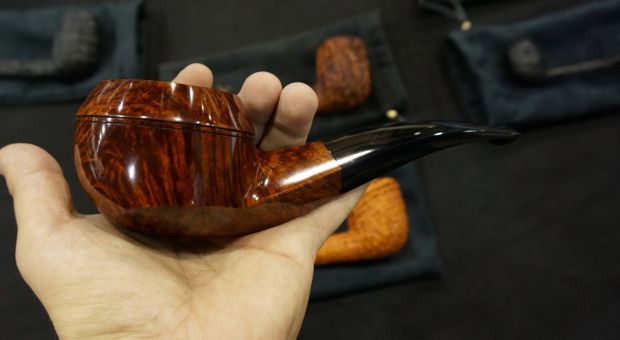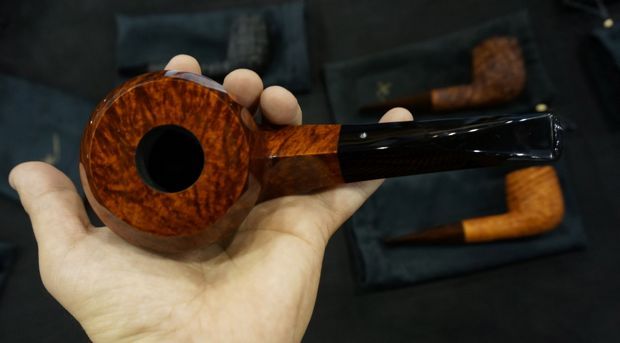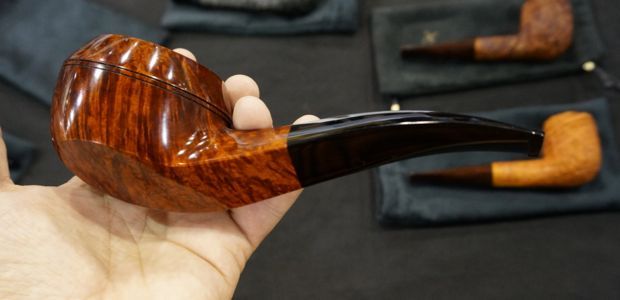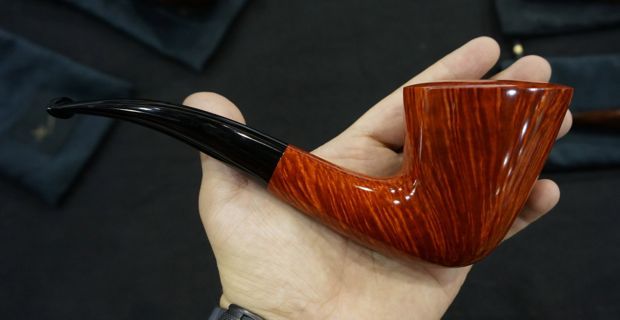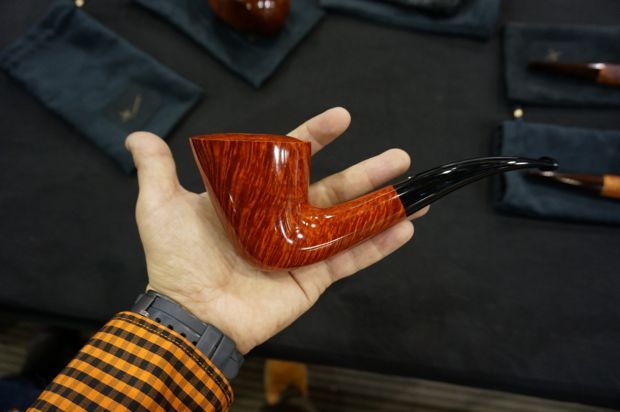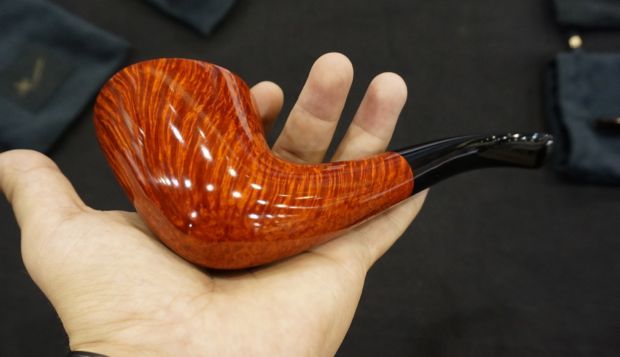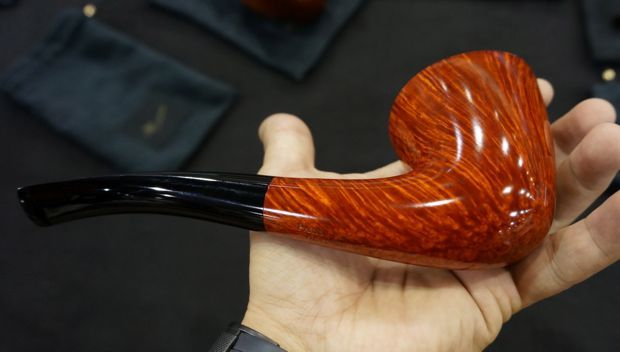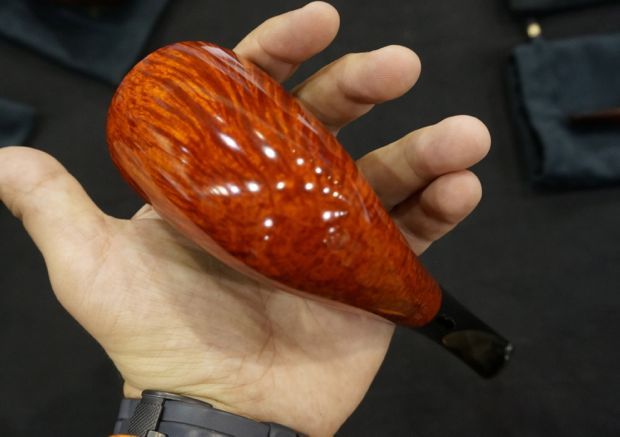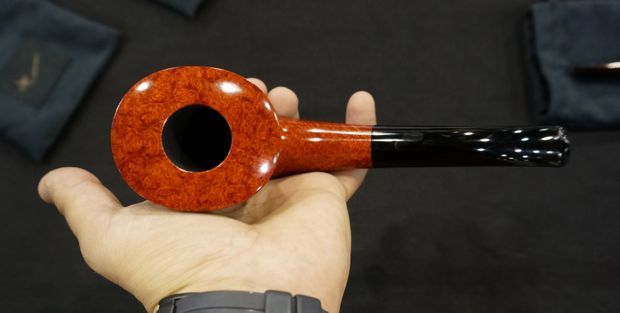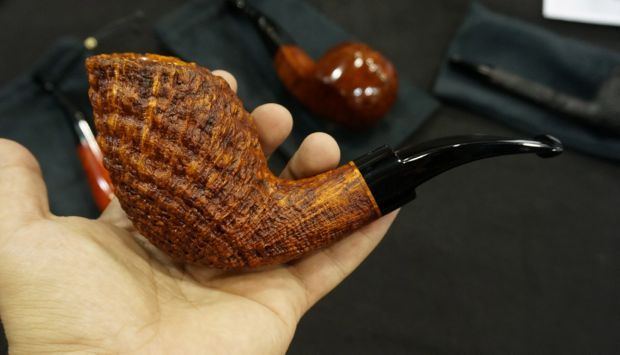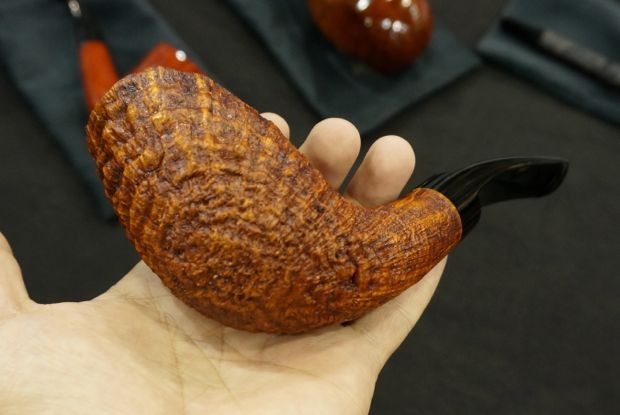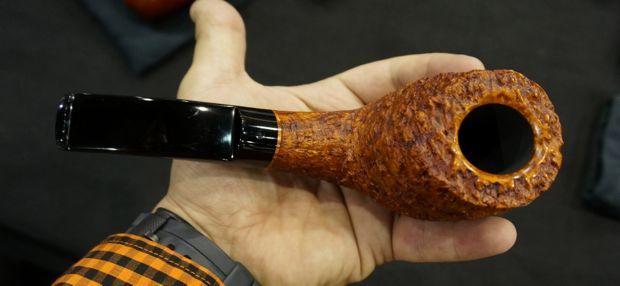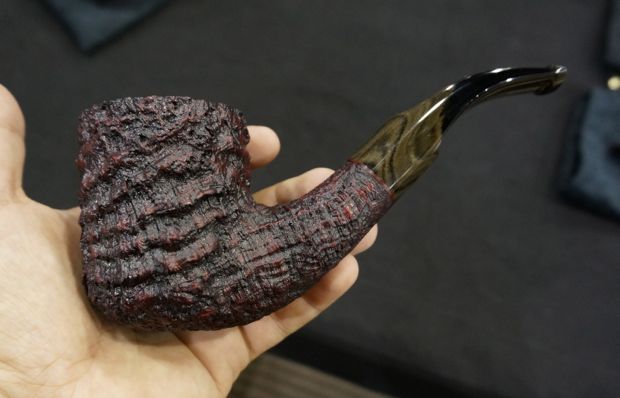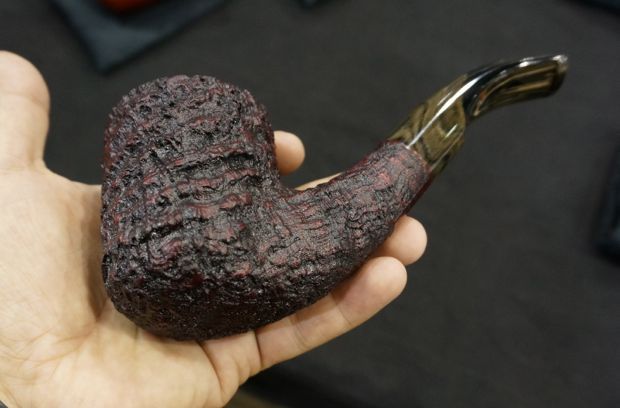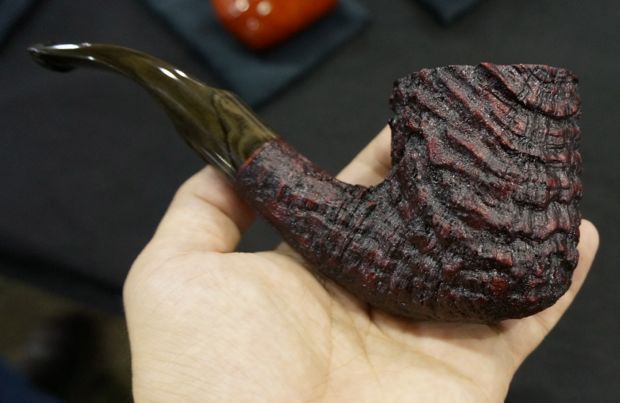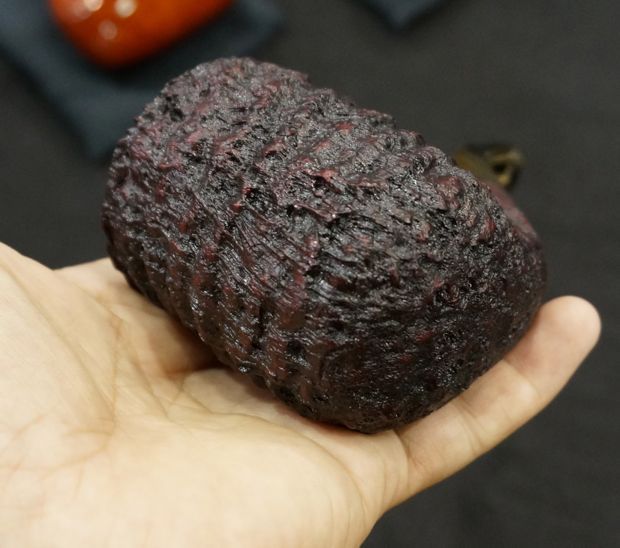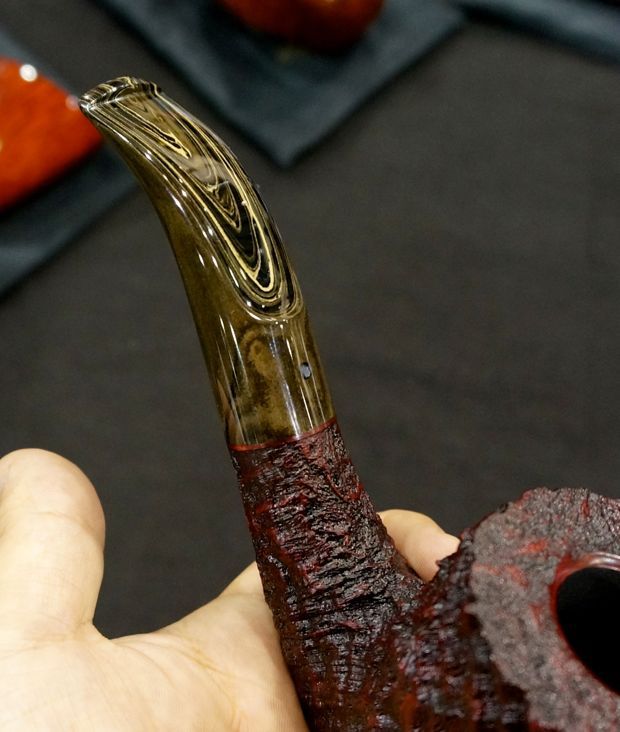 Michael Parks.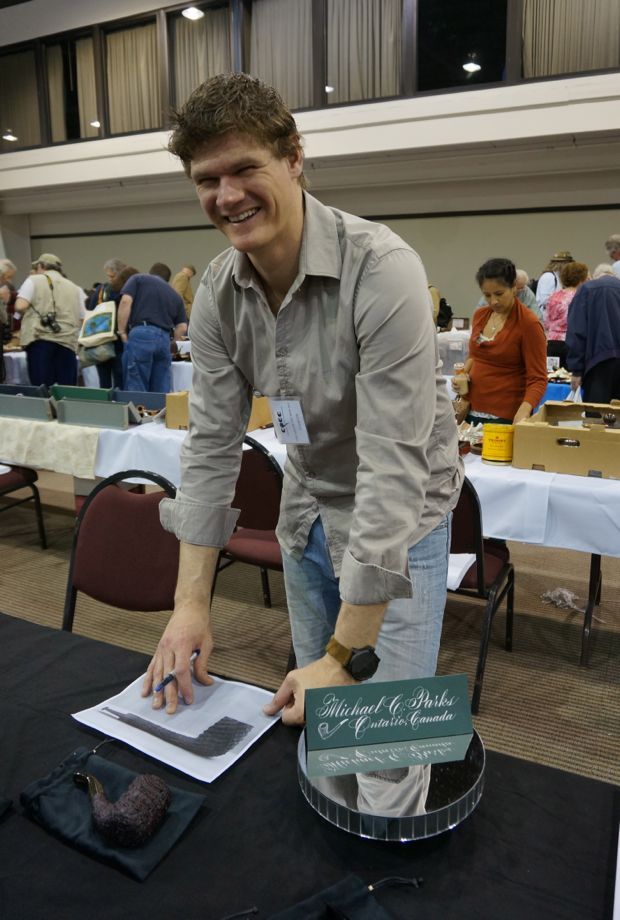 Amorelli Pipes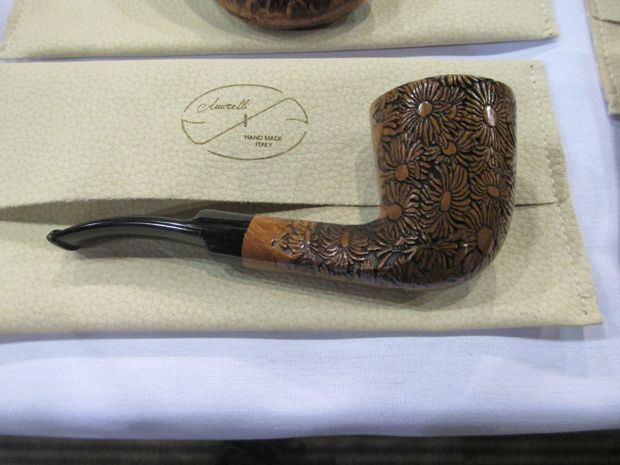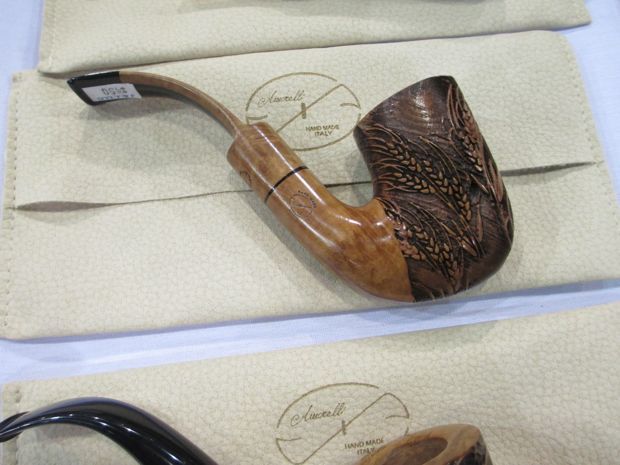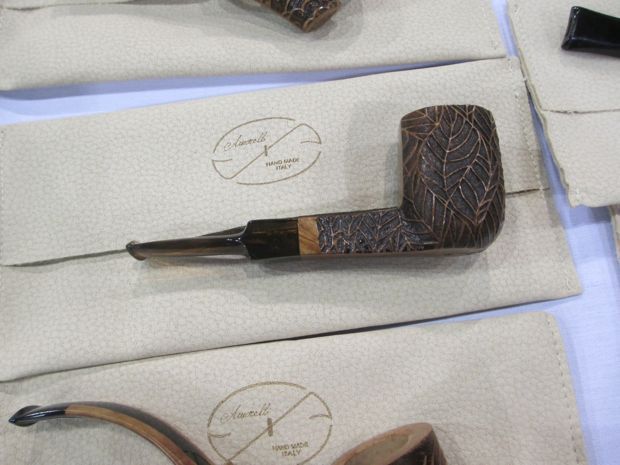 Mr. Alexey Shekhovtsov.
One of the most pleasant (and literally die-hard pipe smoking) pipe retailers on the planet. Not only is Alexey a great guy but he is also very knowledgeable about pipes. Much more so than the average pipe man on various 'high-end' levels. If you want to learn a thing or two about what makes a pipe-maker good, talk to Alexey, you'll learn a lot. Alexey smokes something on par to 8 bowls a day as well.
A great gentleman, fantastic conversationlist and he is one half of the PipeShop.RU team, the other being Lev Vasilyev.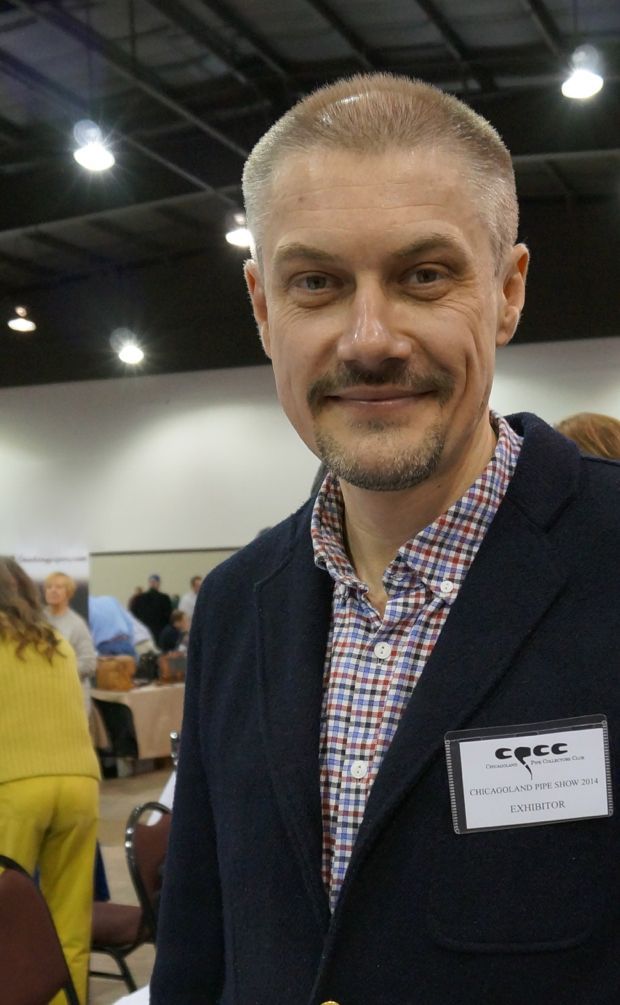 Ping Zhan.
He was not at the show but his famous reversed calabash Apple was.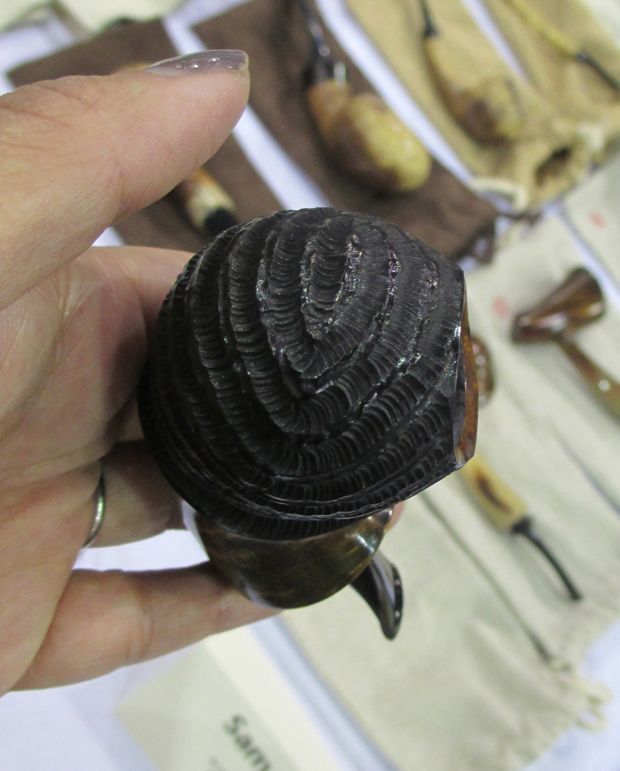 Ping Zhan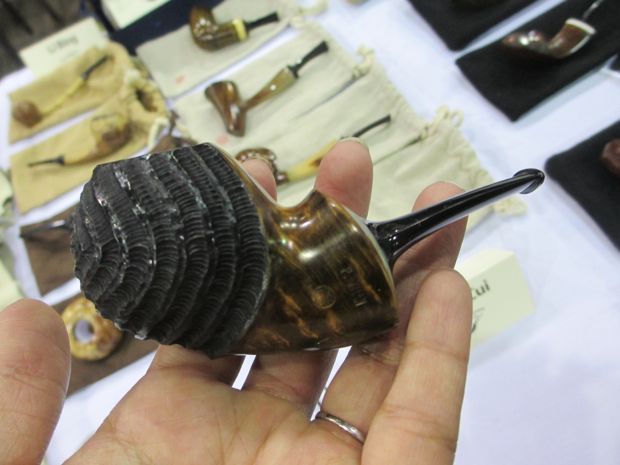 Valery Ryzhenko.
A relatively new artisan. Several of his new pipe design ideas were featured in two articles published recently that focused on highlighting some of the most promising new pipe design ideas out there today. We all see 100's of new pipe design ideas day in and day out. Out of those many hundred's, very few of them make it beyond the individual artisan phase and into the mainstream of pipe design.
If you would like to see some of these new pipe design ideas, the one's with the greatest potential,
click here to read Part 1 of that article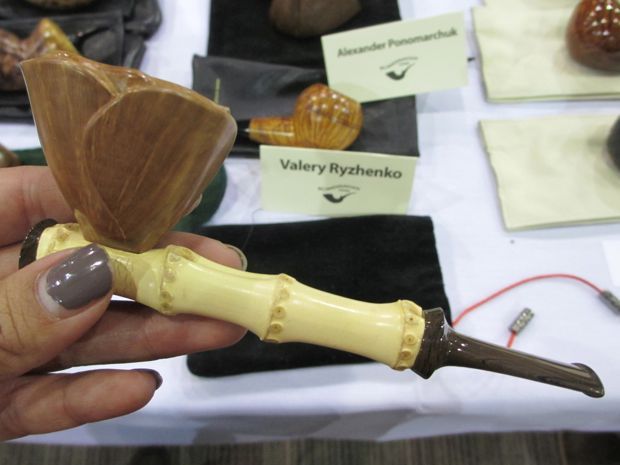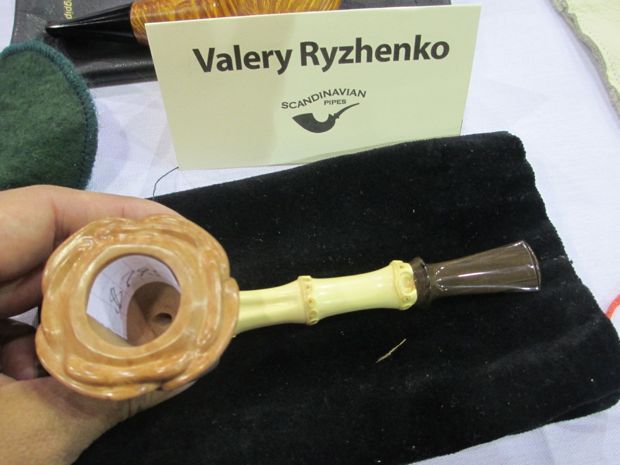 The pipes below are from Danish great Tonni Nielsen.
The range in Tonni's work, from free-hand to more traditional shapes is astounding. Few pipe-makers can make the high number of varying shapes that Tonni has in his back-pocket. Tonni is not afraid to use all of the wood. He has been leading part of the new pipe design charge to 'unleash the plateau', portion of the briar the past few years.
I assume that Tonni spends most of his time thinking with inward thoughts, rather than outward thoughts, such as:"what will my customers like?" and this is part of his secret sauce to success.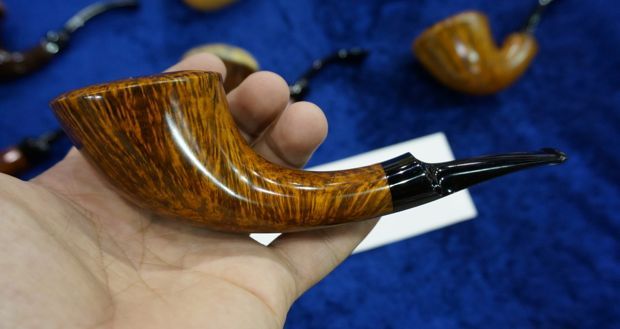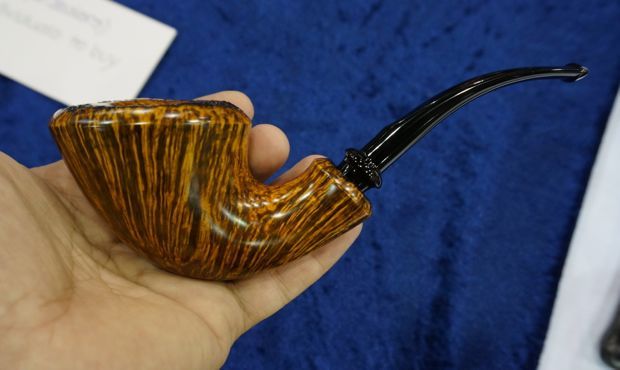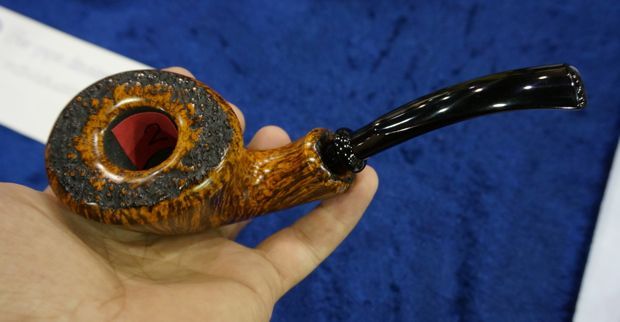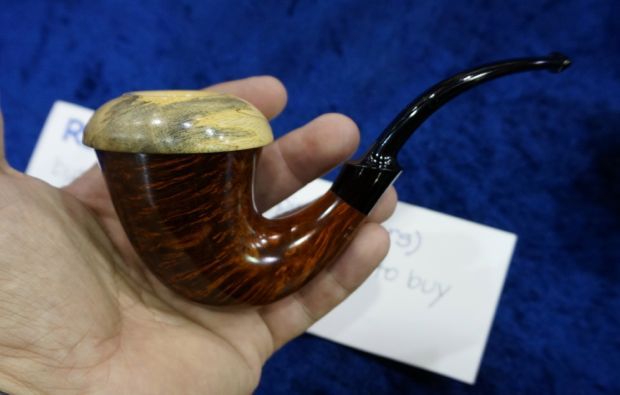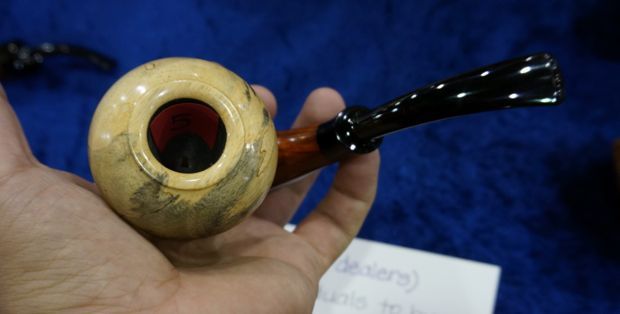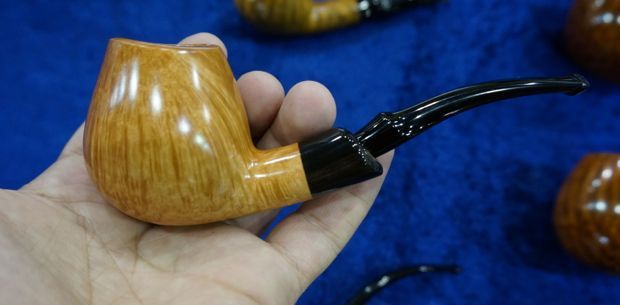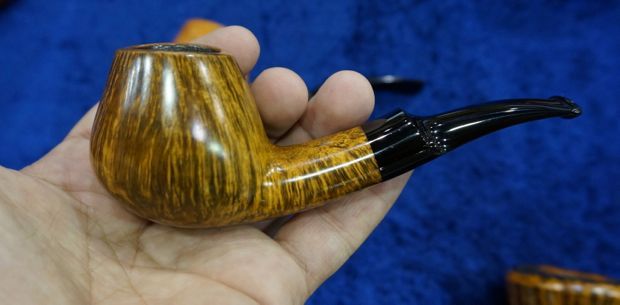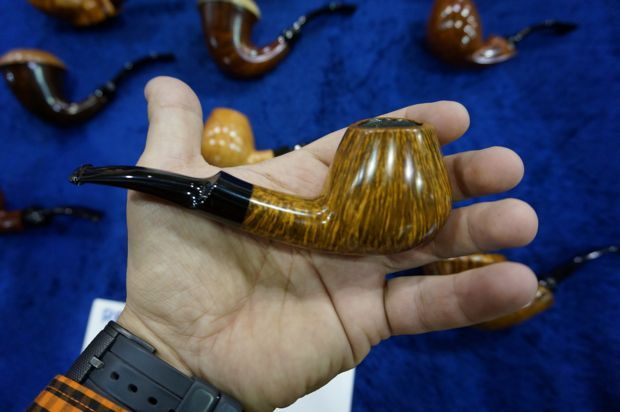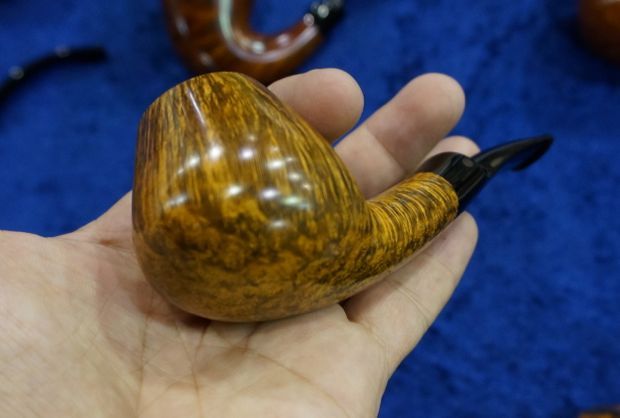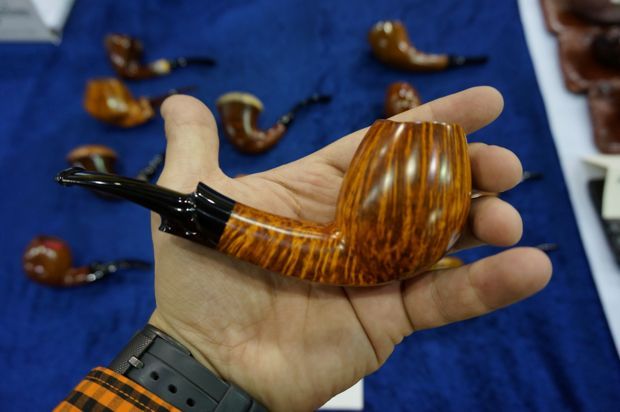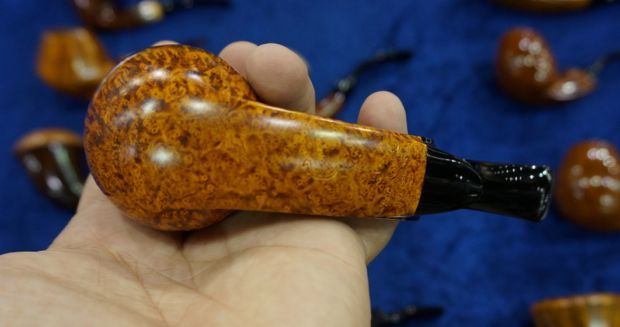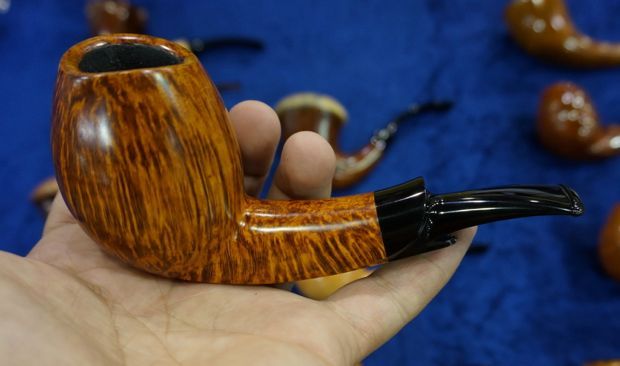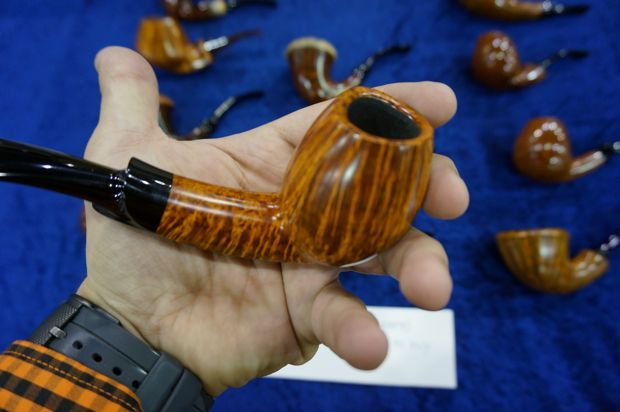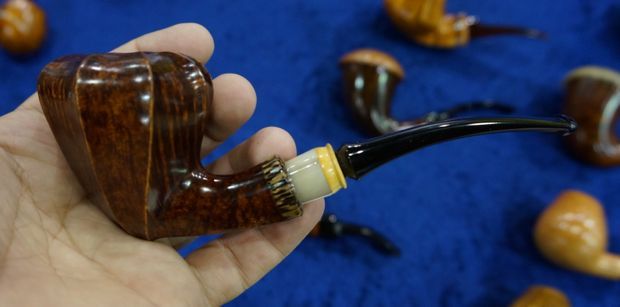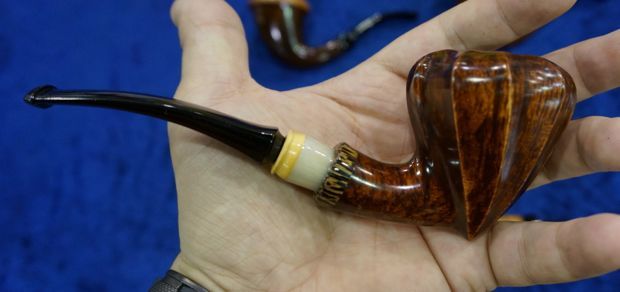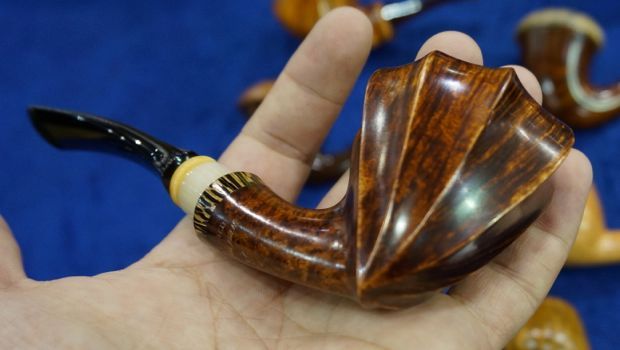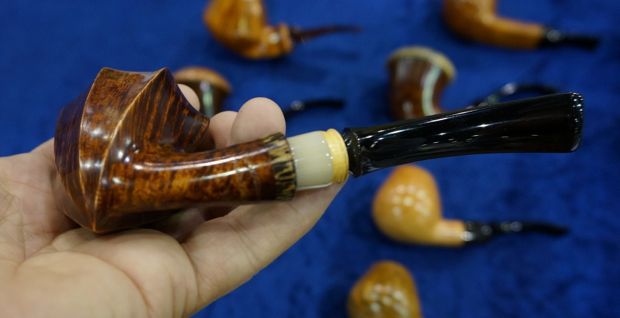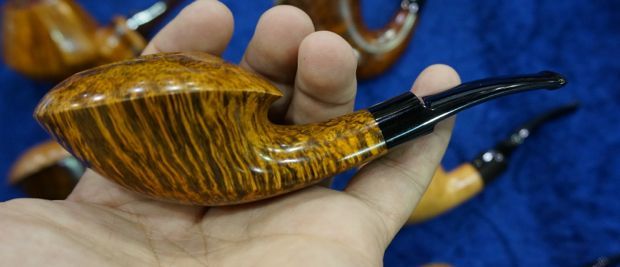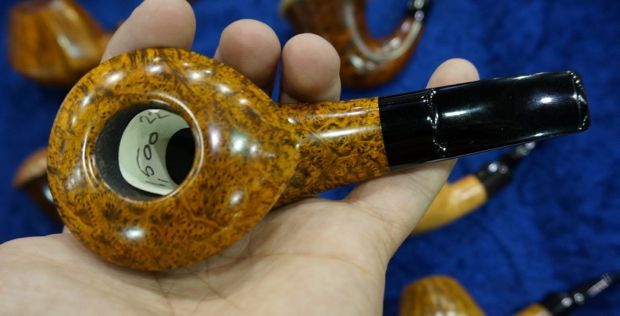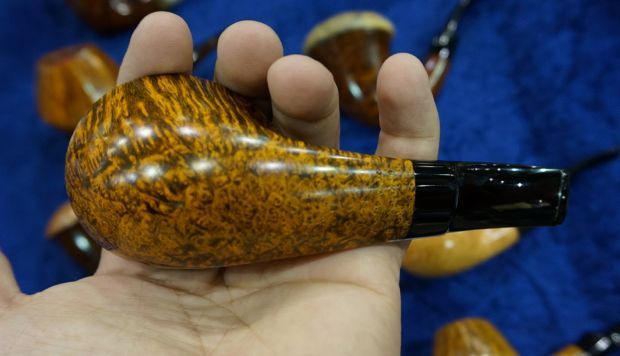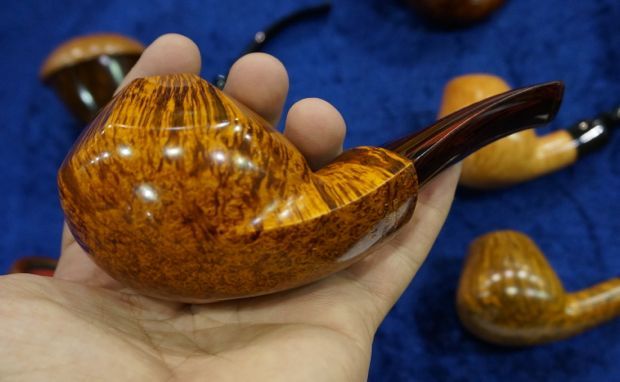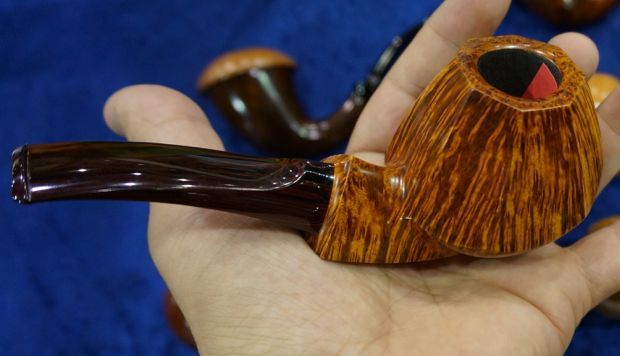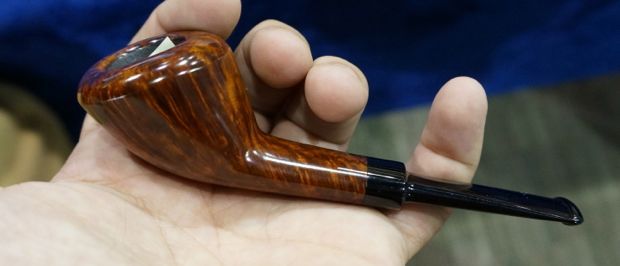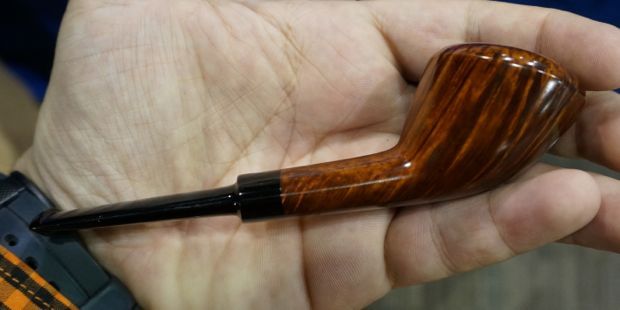 Andrey Savenko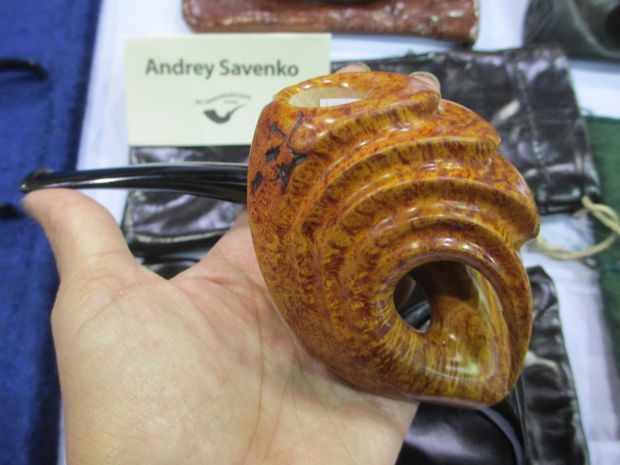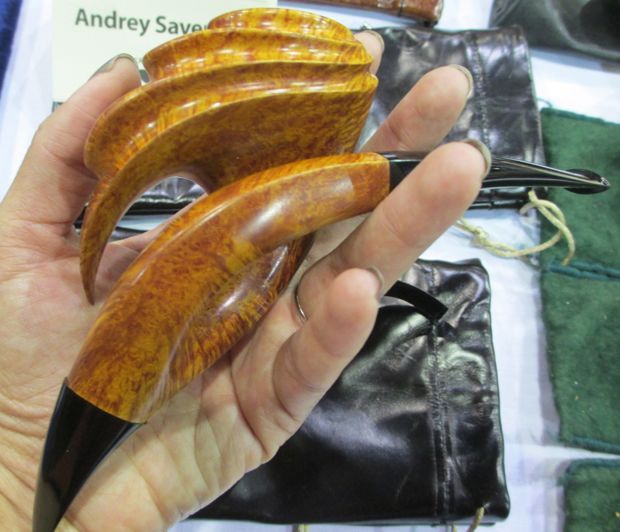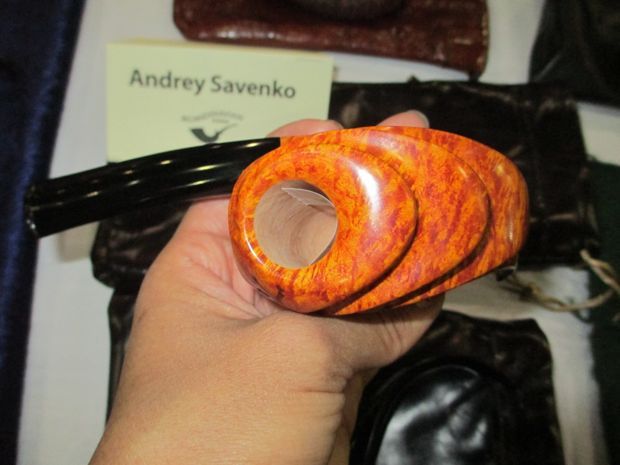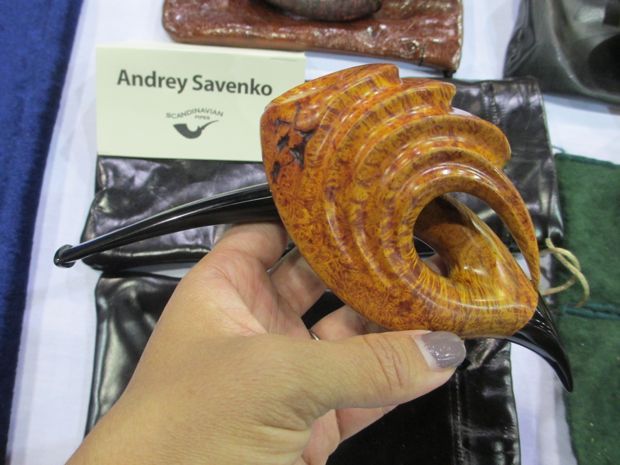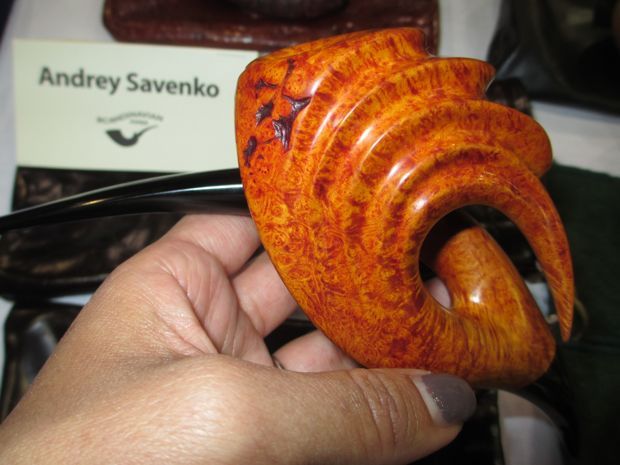 Jeff Gracik of J. Alan Pipes.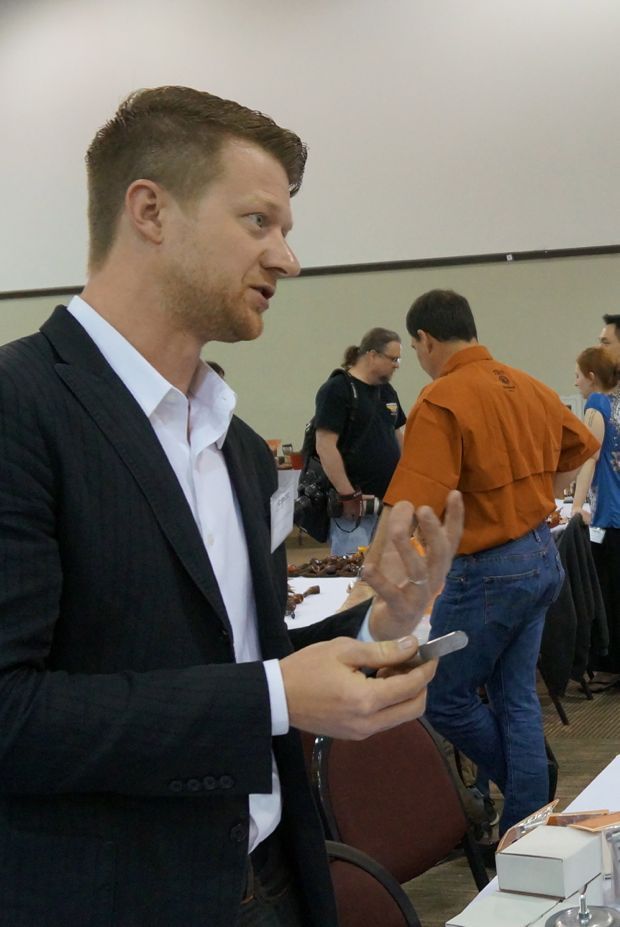 Jeff chatting with Peter Matzhold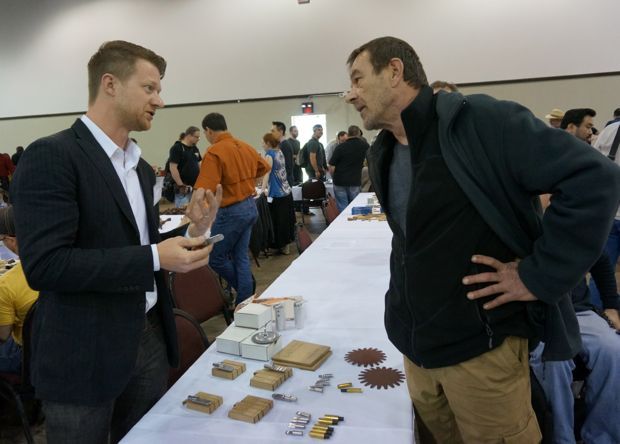 The pipes below are from Jeff Gracik of J. Alan Pipes.

Jeff has been a Master Artisan for many years now. He rose to the top so quickly, I imagine he was surprised at how quickly he got there. He spends a lot of time perfecting and playing with Traditional shapes. I myself continue to be on a quest to find the Perfect Pipe. For me, the perfect pipe is a Traditional Shape that has a minor element of something 'new' attached to it. It's a desire to remain 80% within old tradition but to have 20% of the pipe, expressed in some new, different & unique manner. Firmly rooted in tradition but wanting to explore and evolve into new territory. Out of all the pipe-makers out there, Jeff is one of the few who helps me envision my personal quest and let's me see it as a reality.
If you would like to read more about Jeff, please click here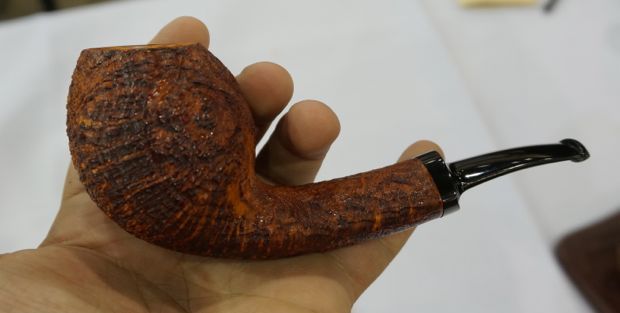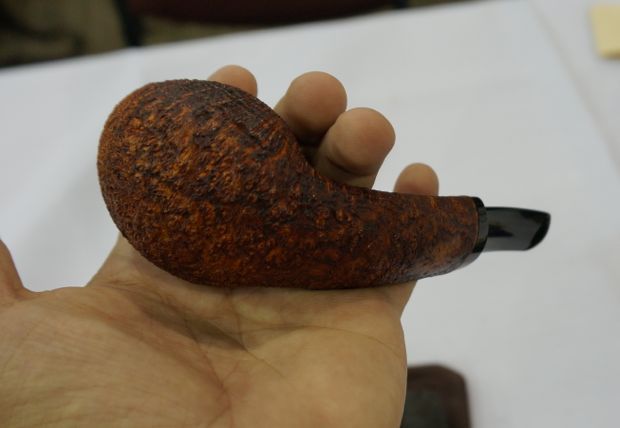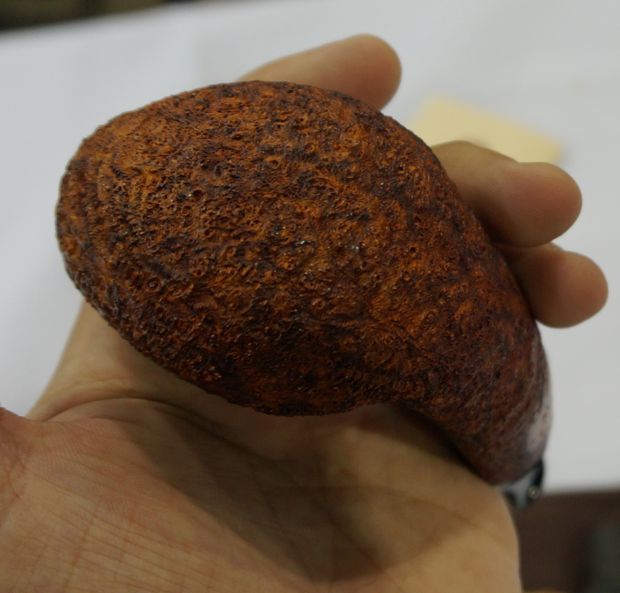 Just a gorgeous little blasted bamboo.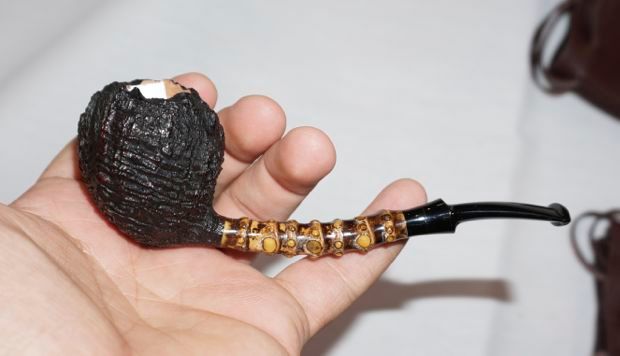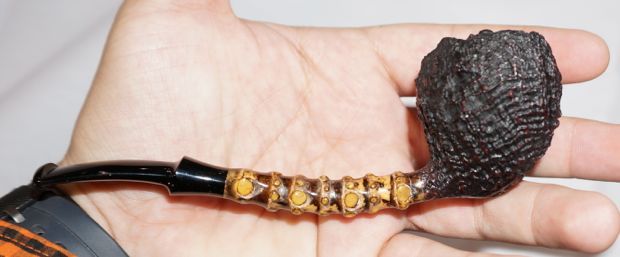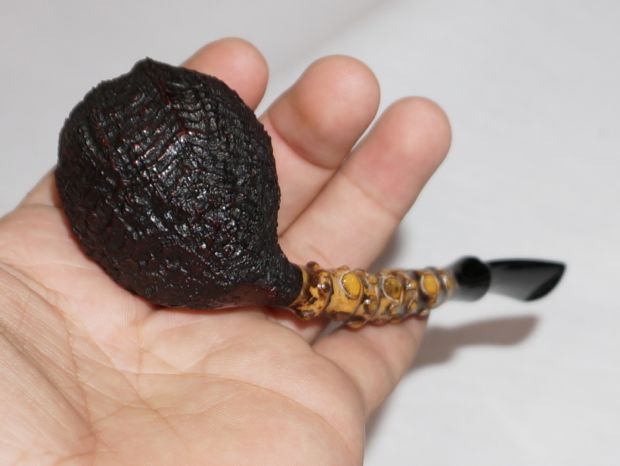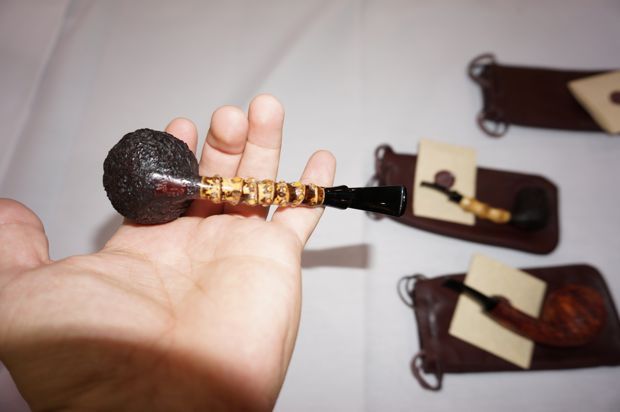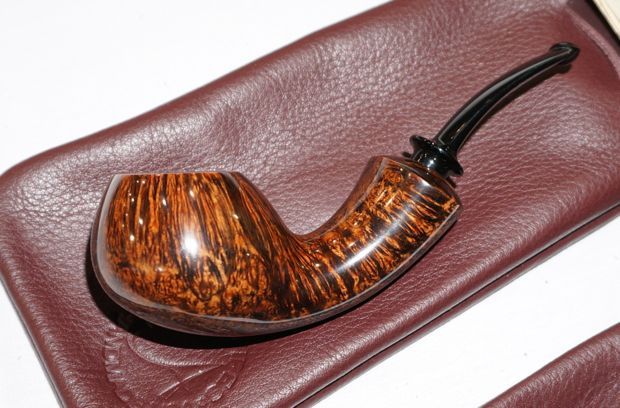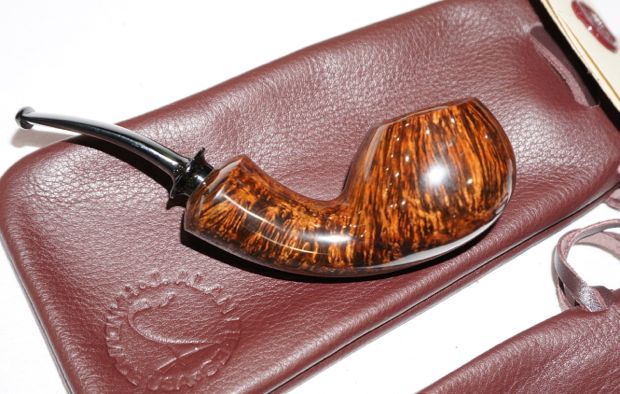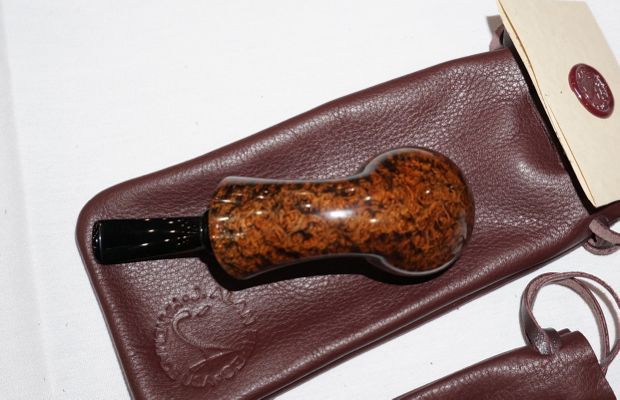 Jeff is now making equipment for pipe-makers.
Jeff had some pipe-maker's, pipe-making problem in the shop. Somehow the existing set of tools did not deliver on his needs. Other pipe-maker's felt the same. Jeff's solution – Build it and solve the problem.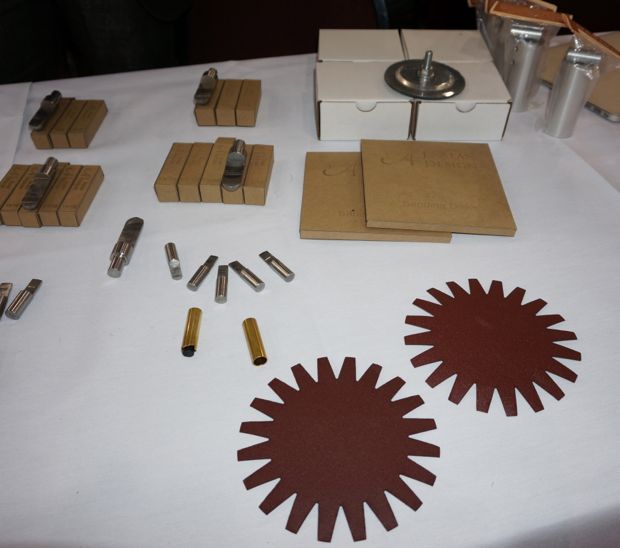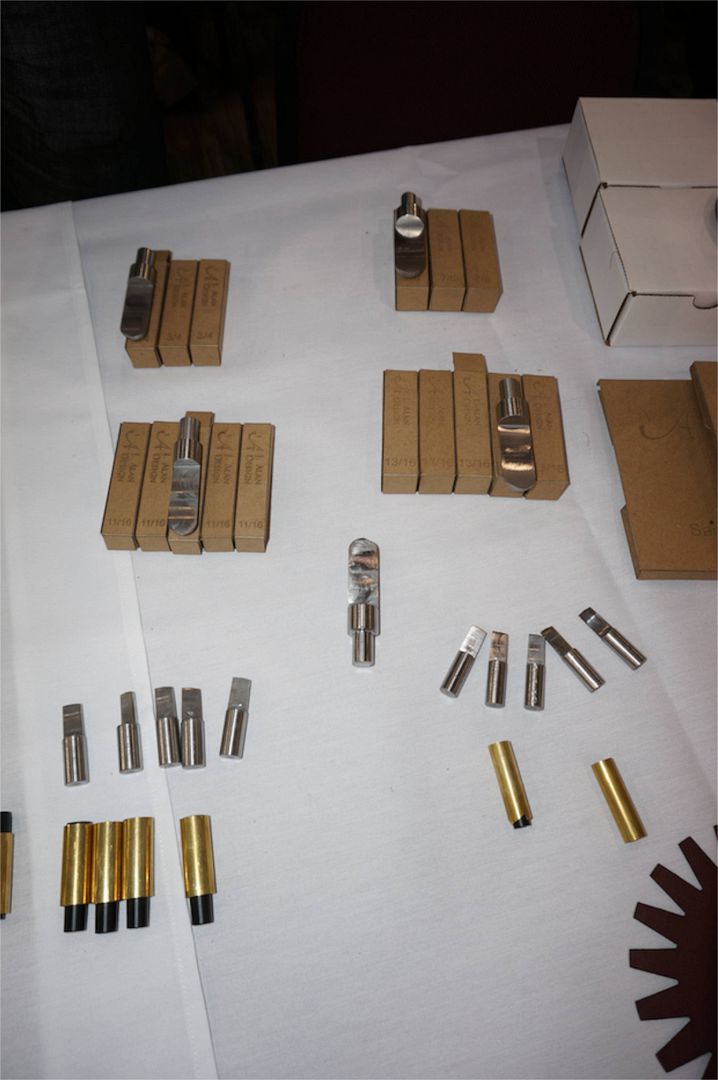 J. Alan Pipes Cont'd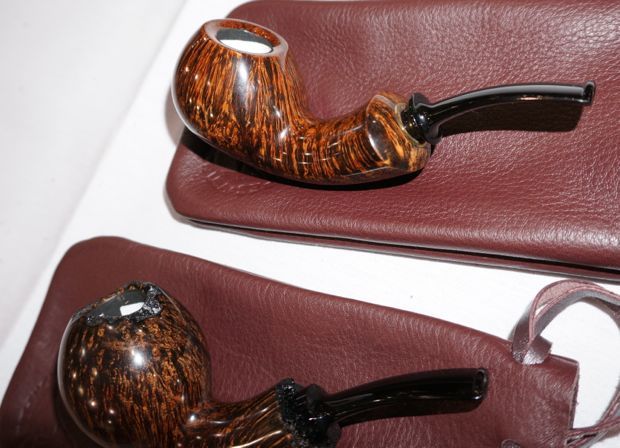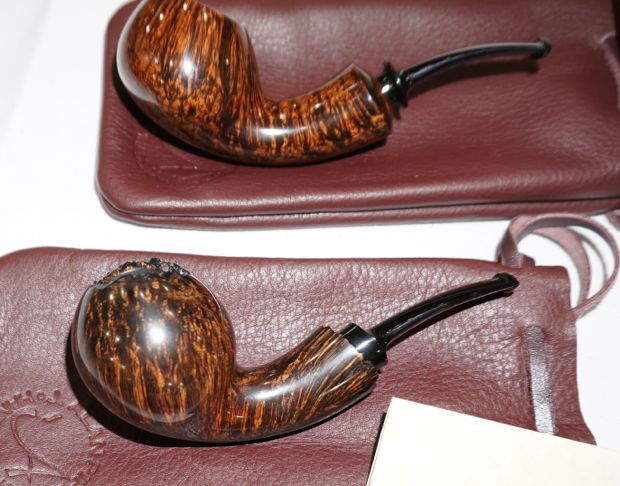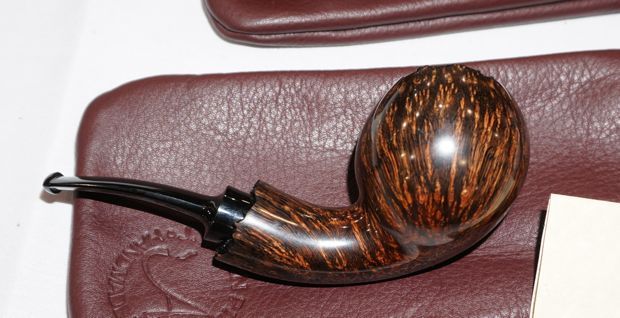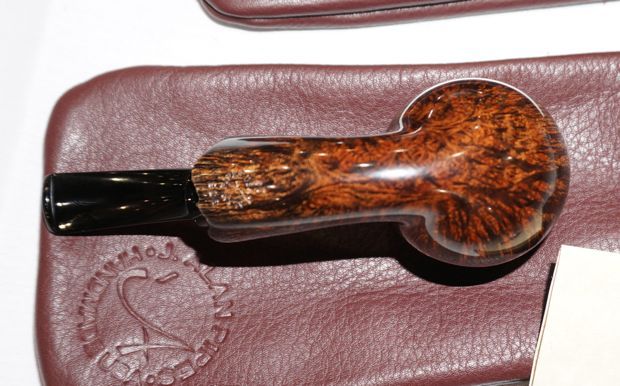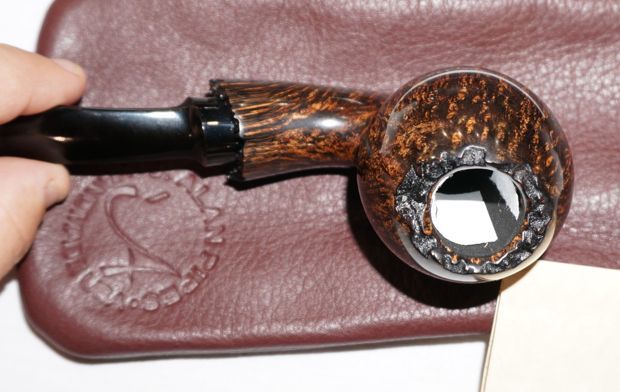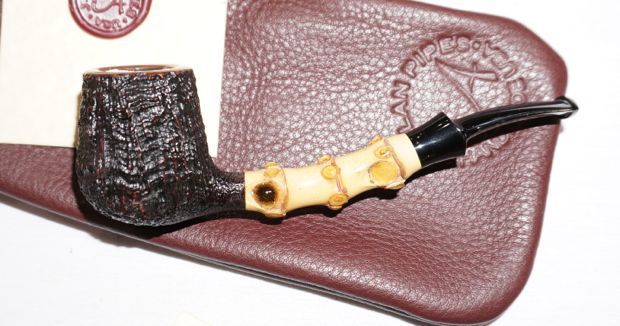 Brad Pohlmann, Scott Klein & Teddy Knudsen, discussing a pipe that I believe Scott purchased.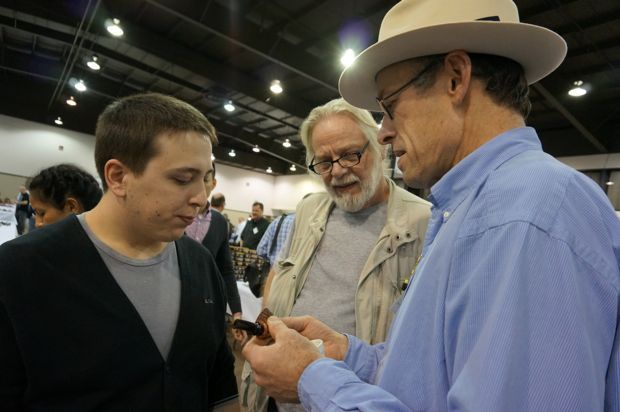 The below pipes are from Brad Pohlmann.

Brad has been making great pipes for a long time. He is one the 'Originals of American Pipe Design'. He carries the US pipe-makers flag forward proudly and he deserves all the attention he gets. His pipes carry a strong design language and he has always been very consistent in his execution. Brad Pohlmann, one of the American greats.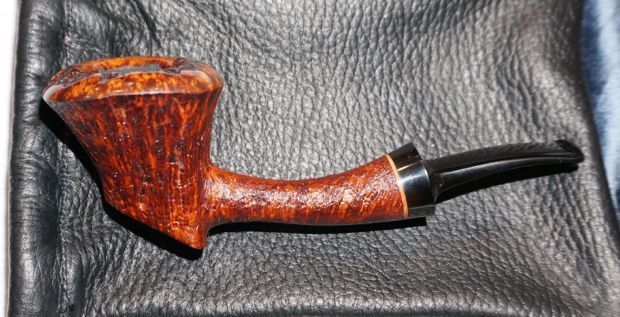 I enjoyed this pipe so much that it came home with me.
A lanky, drunken dublin shape. She's gorgeous, playful & witty, all at the same time. I am glad I added her to my collection.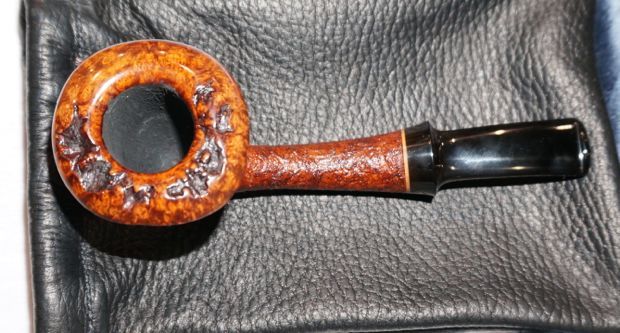 She's asymmetrical and has a lot of fun, unexpected & dancing curves around her.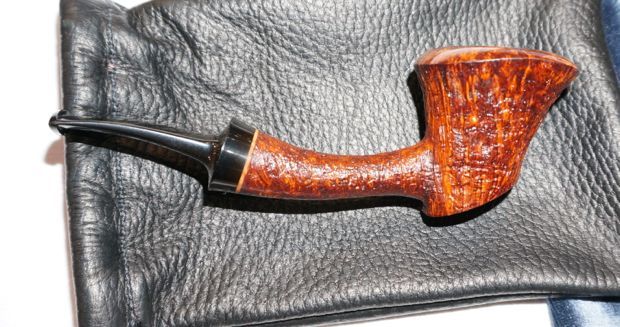 She's actually a sitter as well. I think I own two.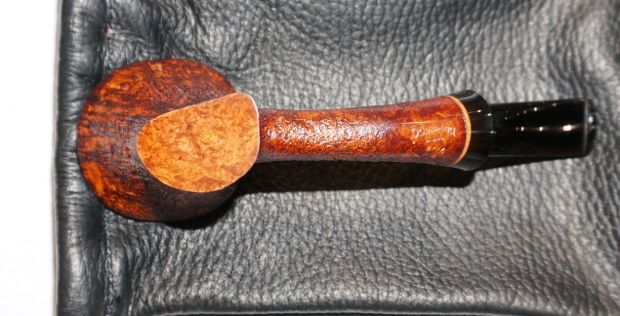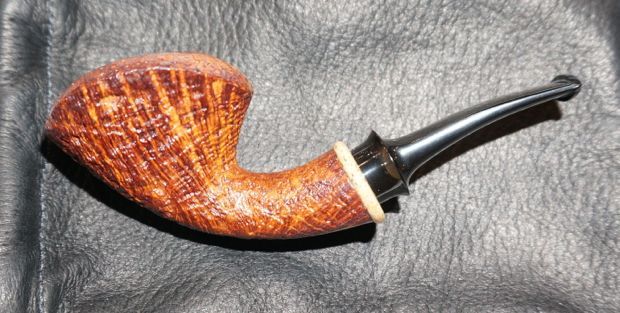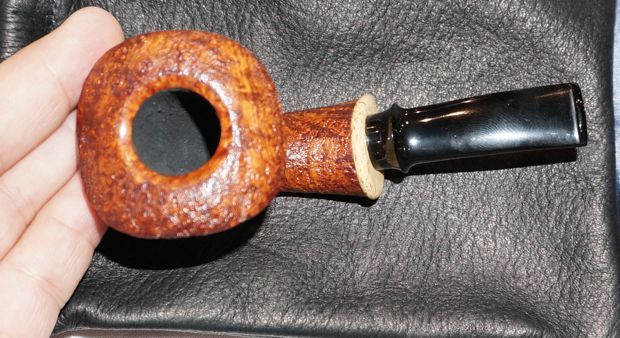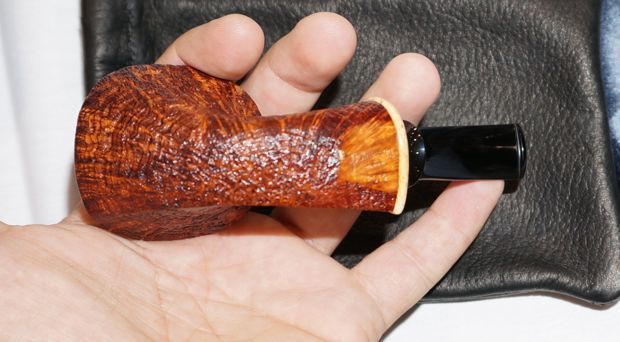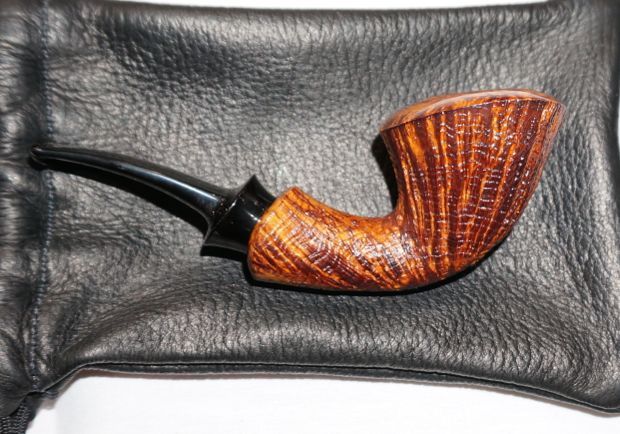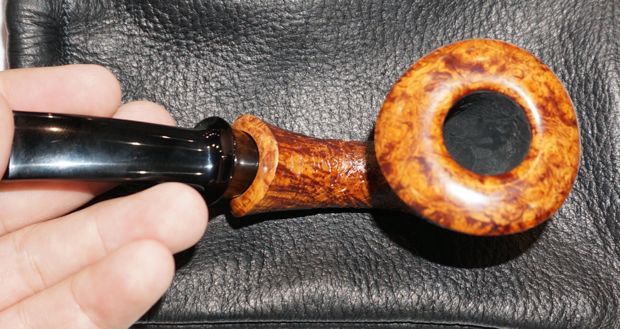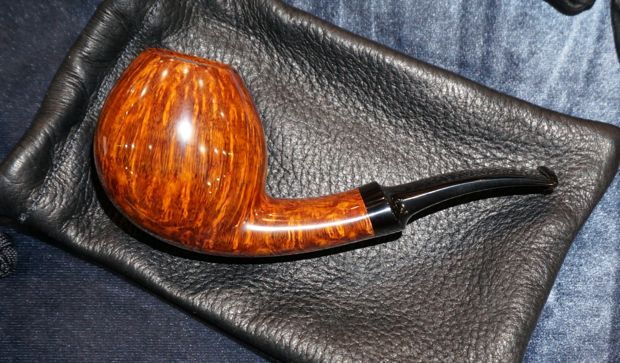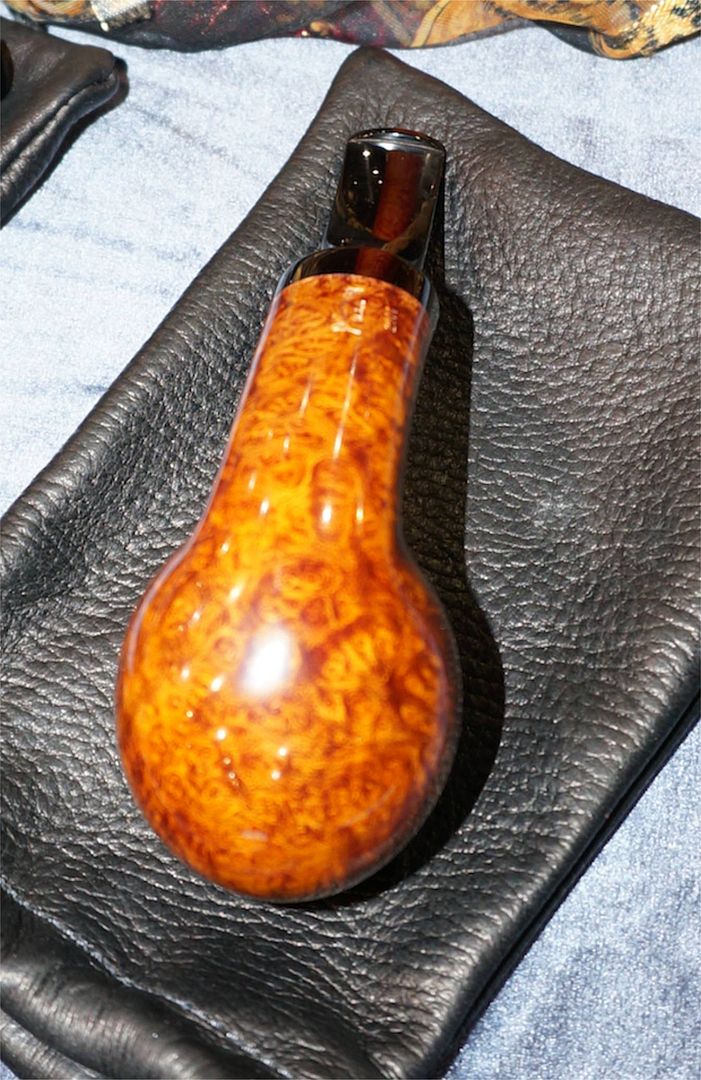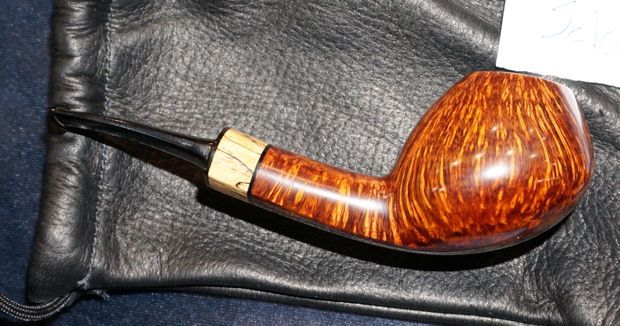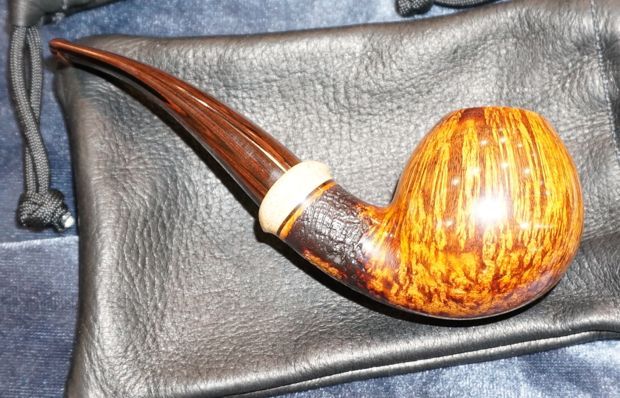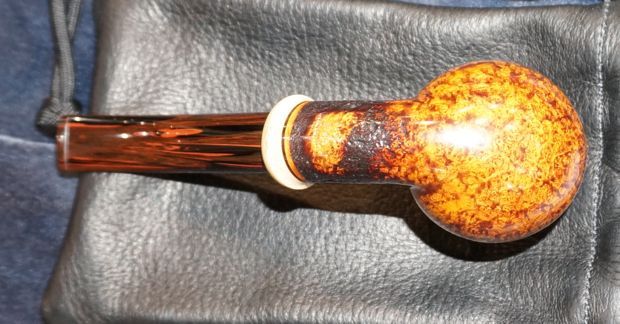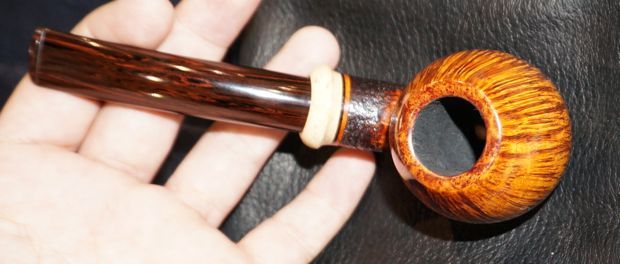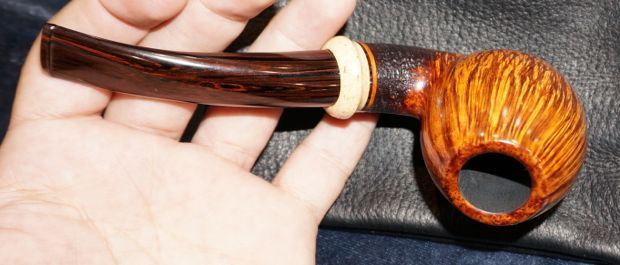 Colja Pipes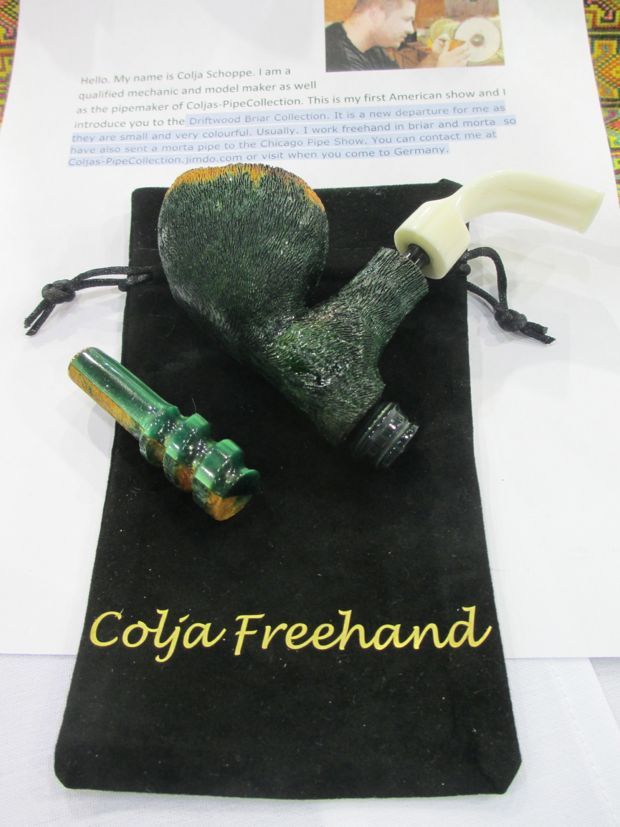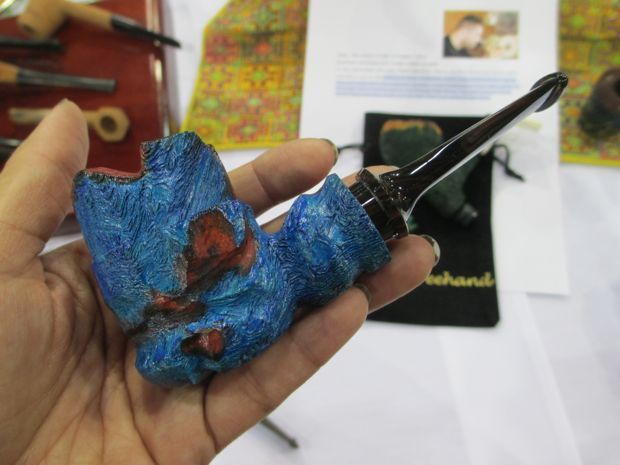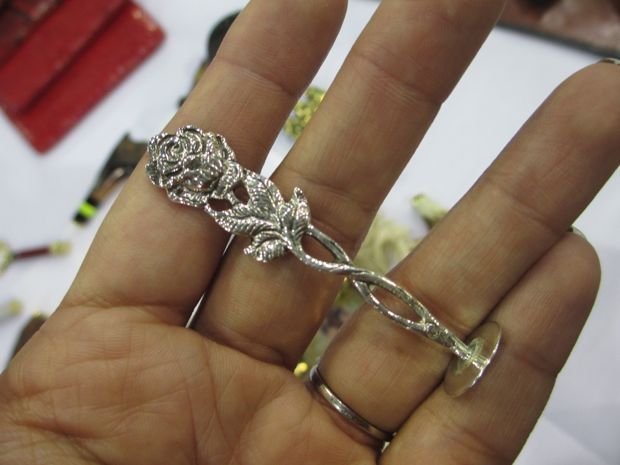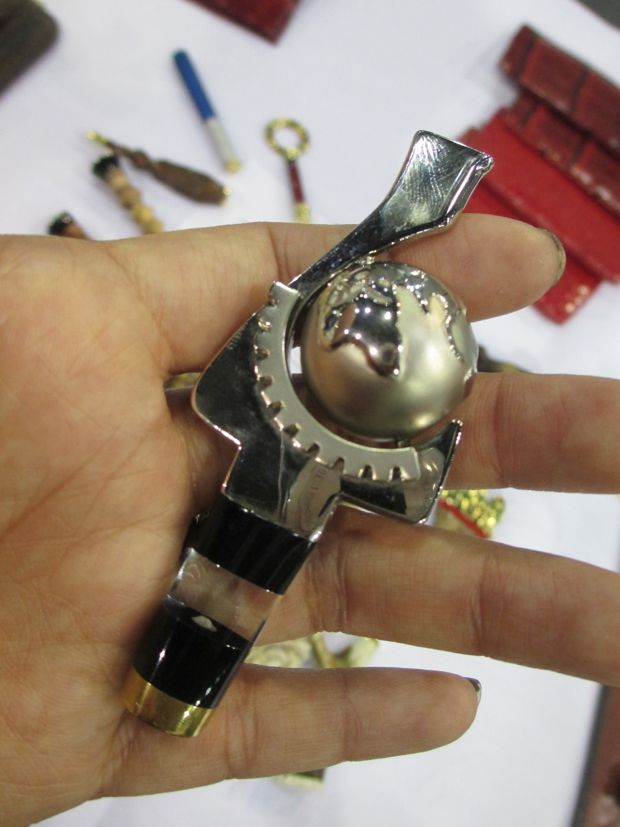 A very unique & with rather strong potential new briar/pipe product.
Shot-glasses made out of briar.
The design idea of Silver Gray.
She assures me that the alcohol will not seep through.
Hopefully we will finish up a commission together soon and I can personally relay the final results.
Looking at the exterior though, wow, gorgeous. Taking out beloved pipe exterior (blasting, smooth, birds-eye etc…) and stem material as well (ebonite of all colors) and applying it to the realm of alcohol. I like the direction.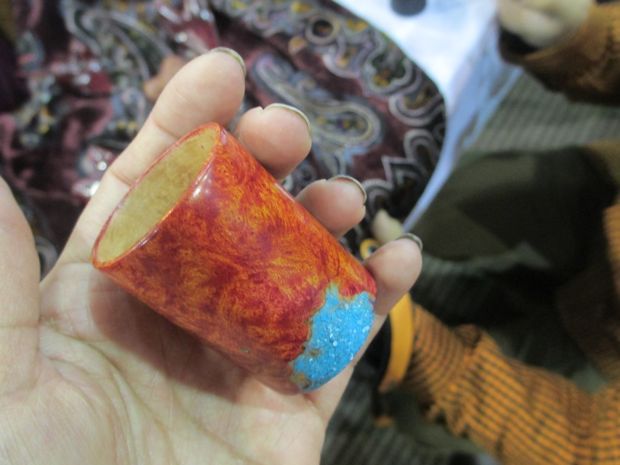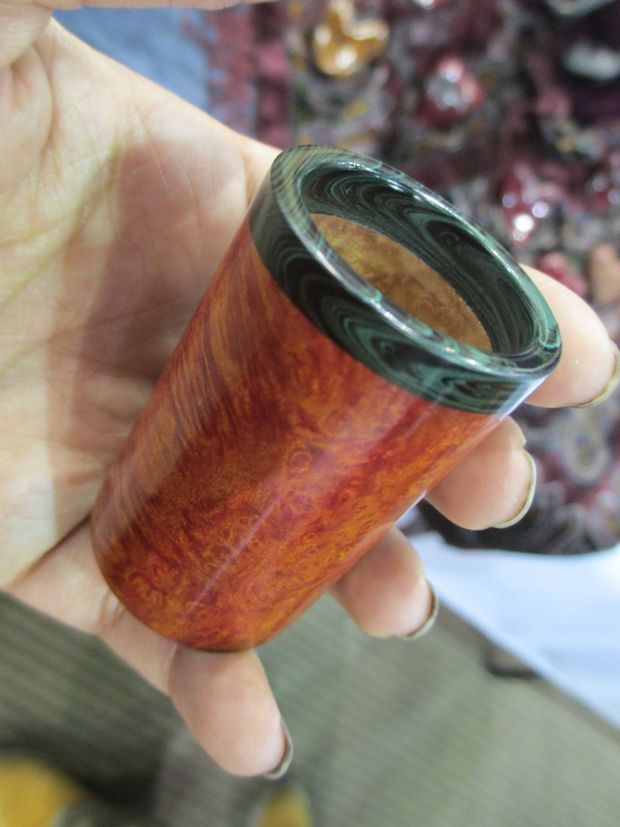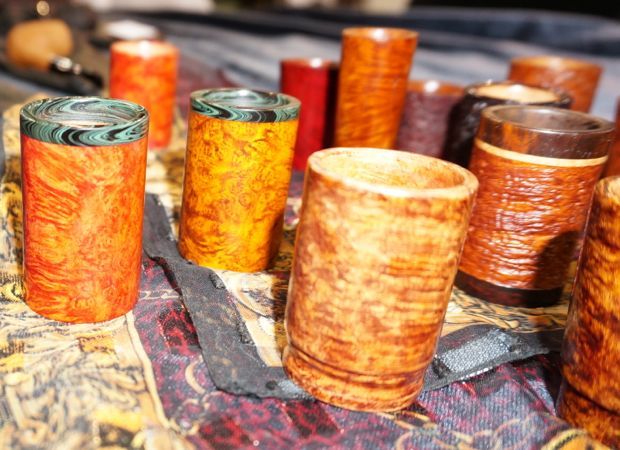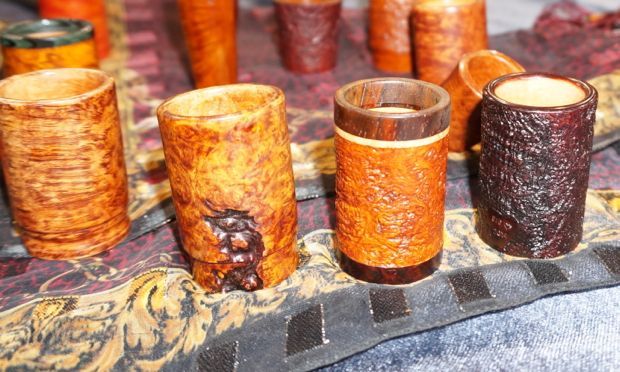 Konstantin Shekita.
Incredible lattice work in his pipes.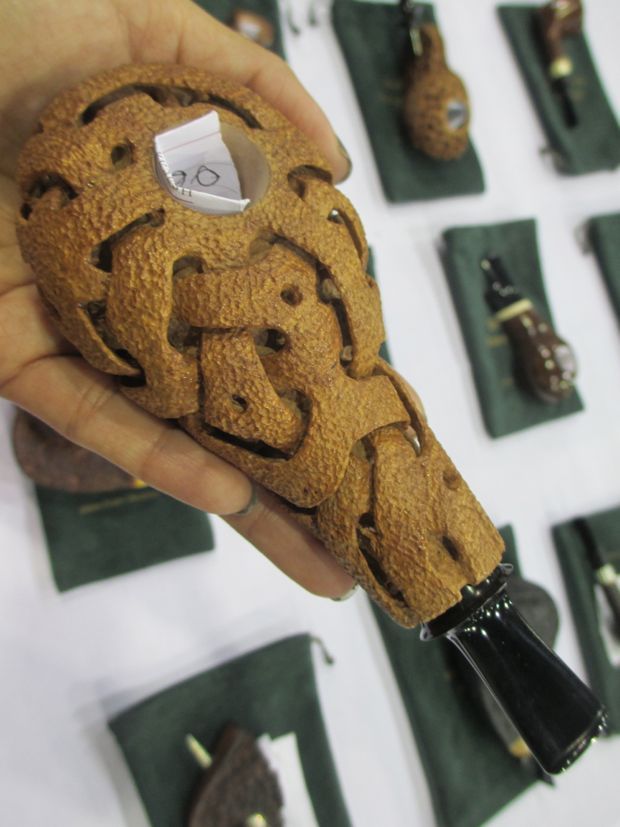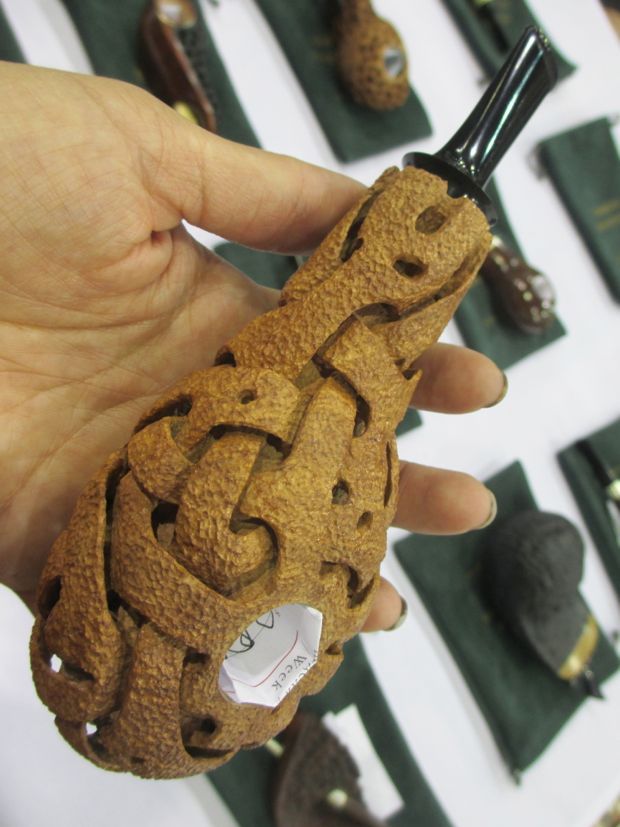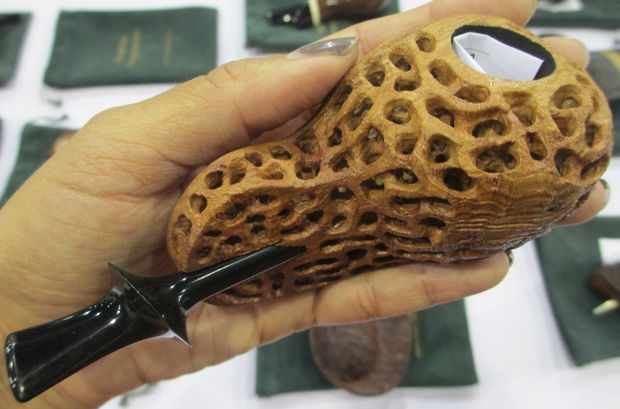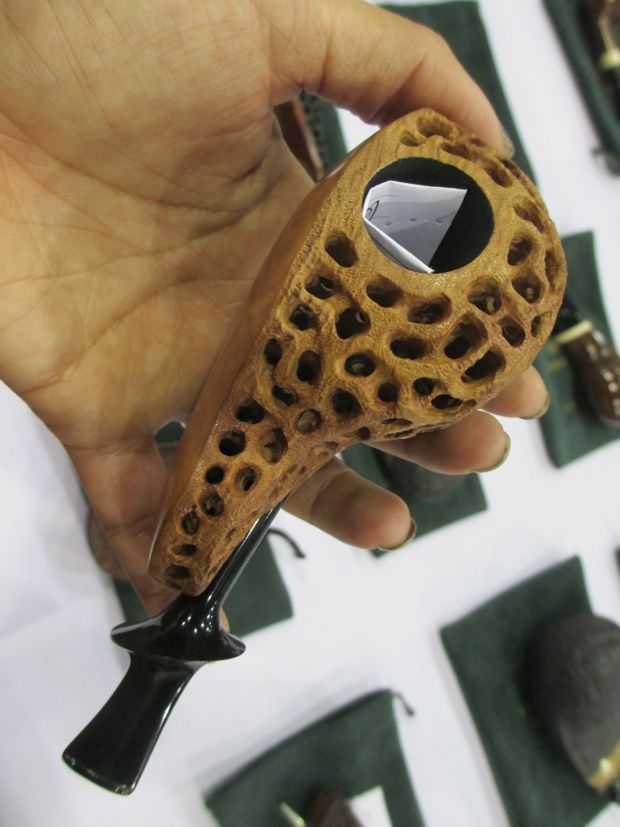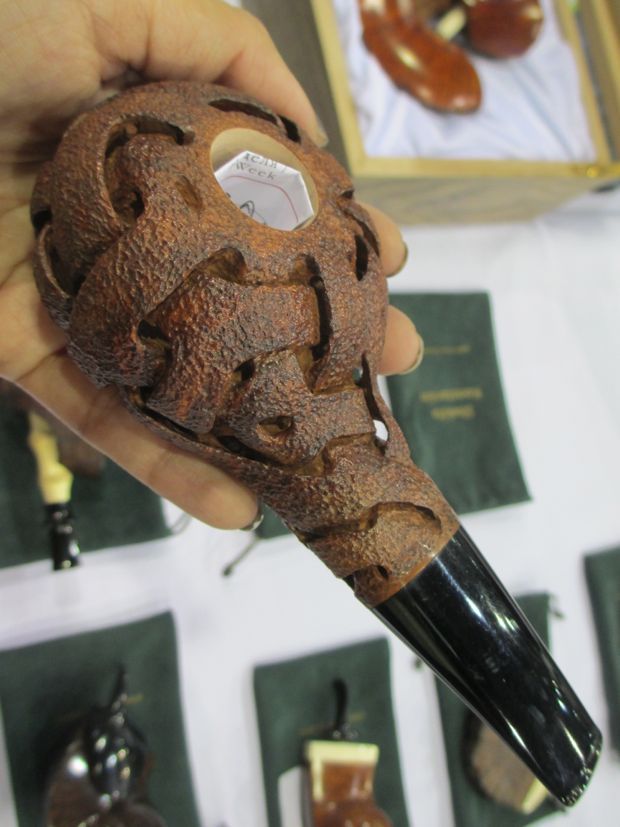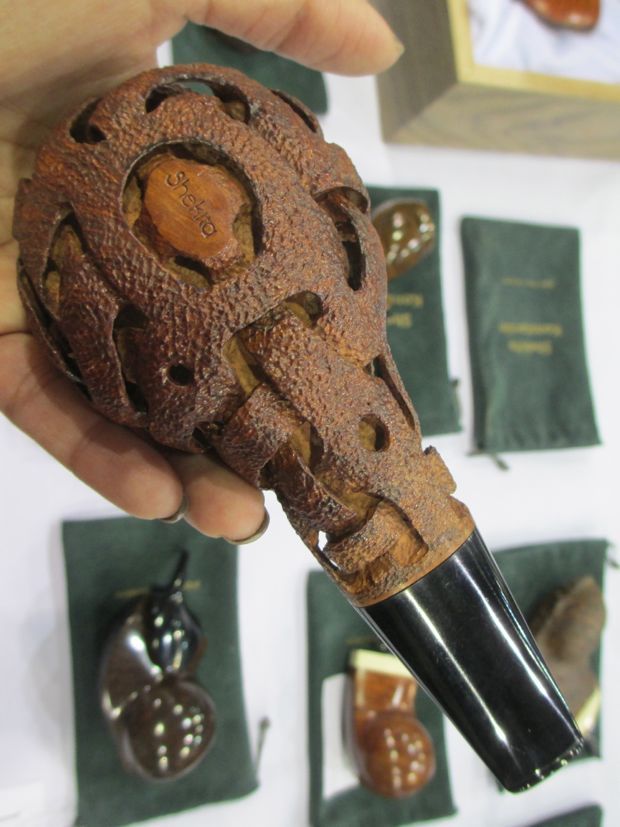 Brad Pohlmann.
Sorry for the heavy flash Brad. Makes you look a little like a ghost.
Konstantin Shekita again
My Swedish friend
Mikael Pertot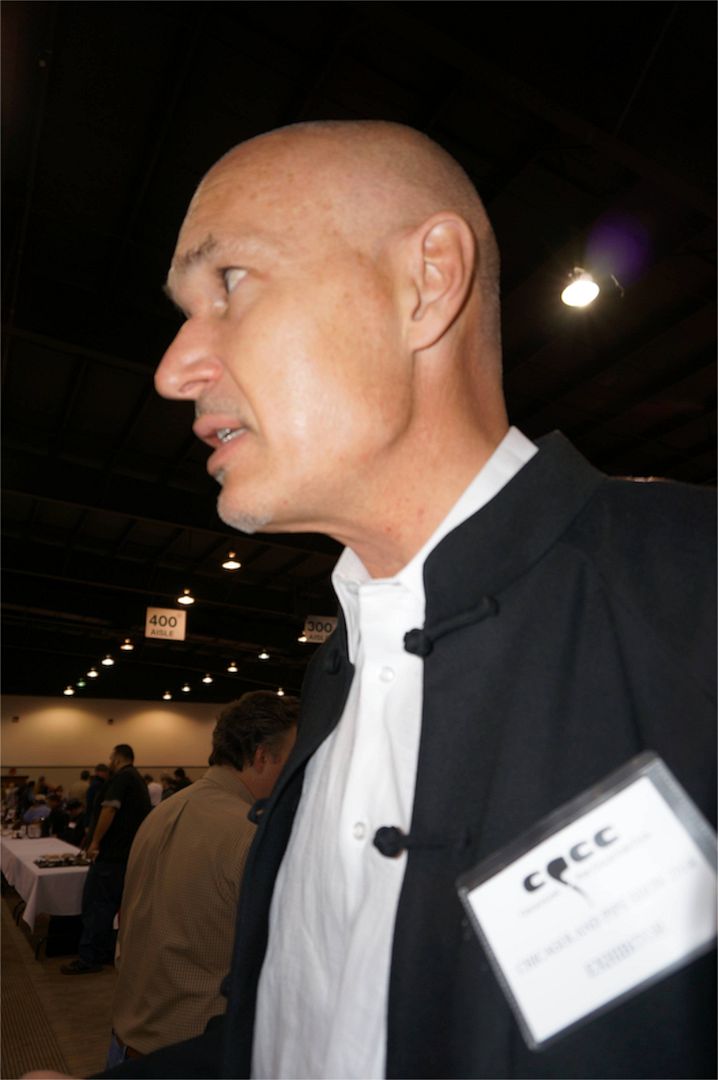 Roger Wallenstein Pipes.
This is his flock of birds.
Roger has been at the cutting edge of 'abstract pipe design' for quite some time.
His work has influenced many greats, including none other than Michail Revyagin.
Roger's motto is to have fun in his work and that idea shines through very clearly.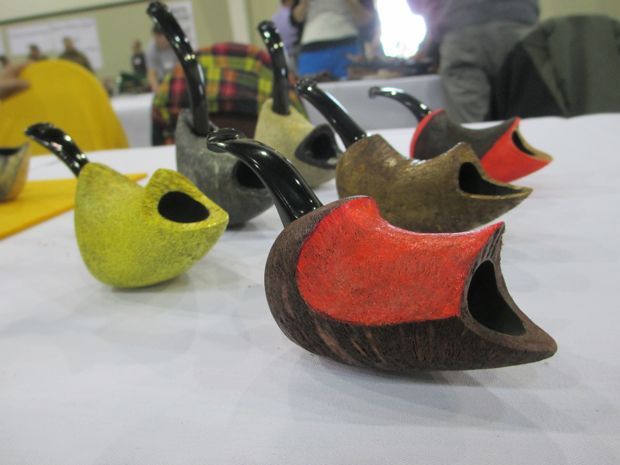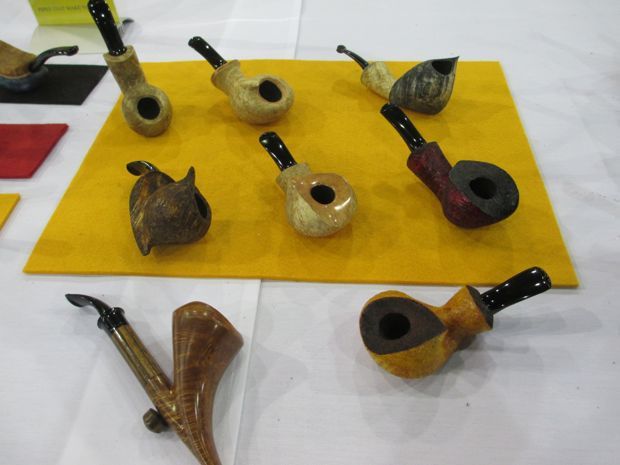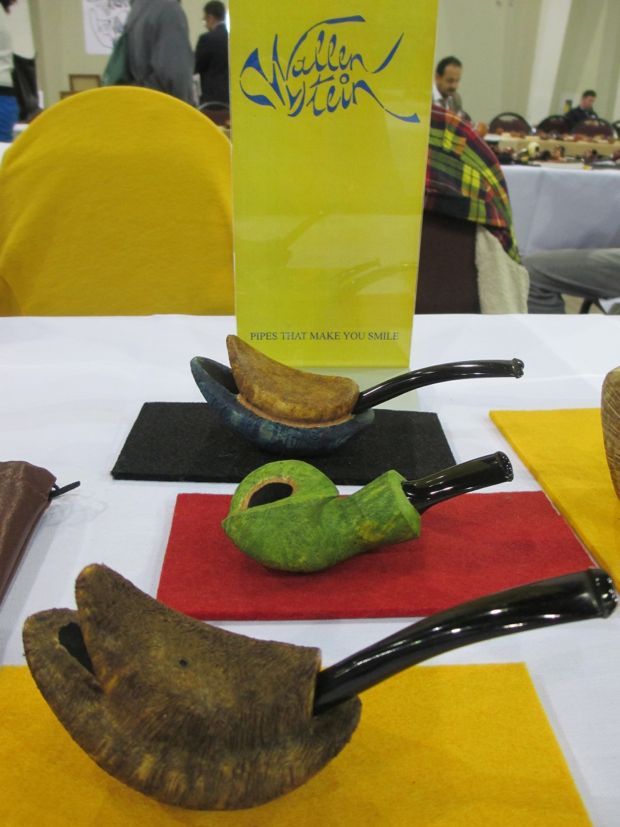 Bruce Weaver's Psychedelic pipe.
I spoke to Bruce about this pipe, trying to elicit a confession to some teenage fun he may have had with alternative substances. No such luck though. I believe him.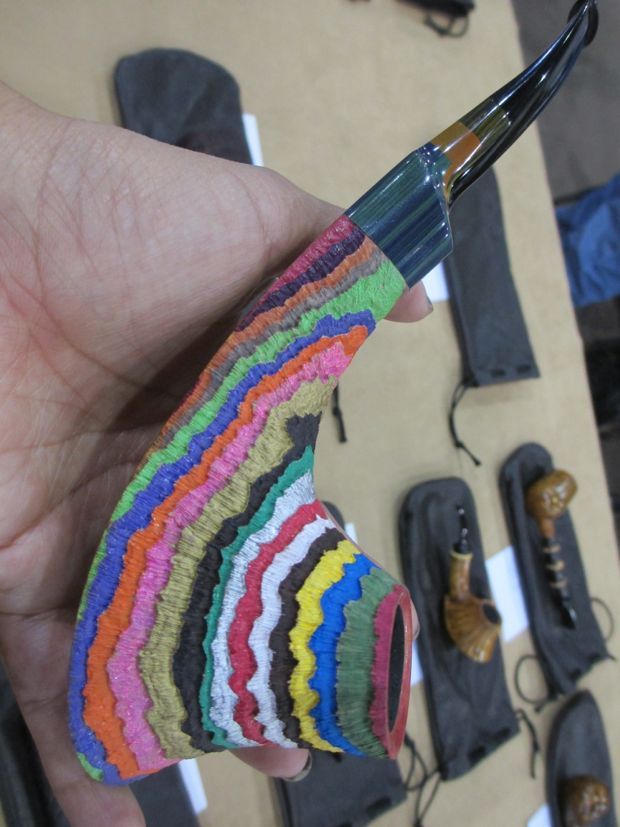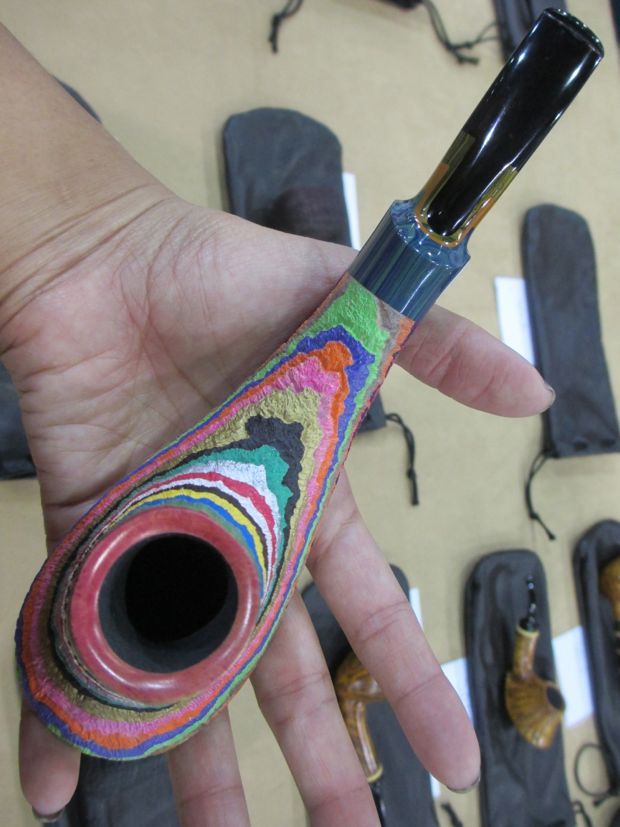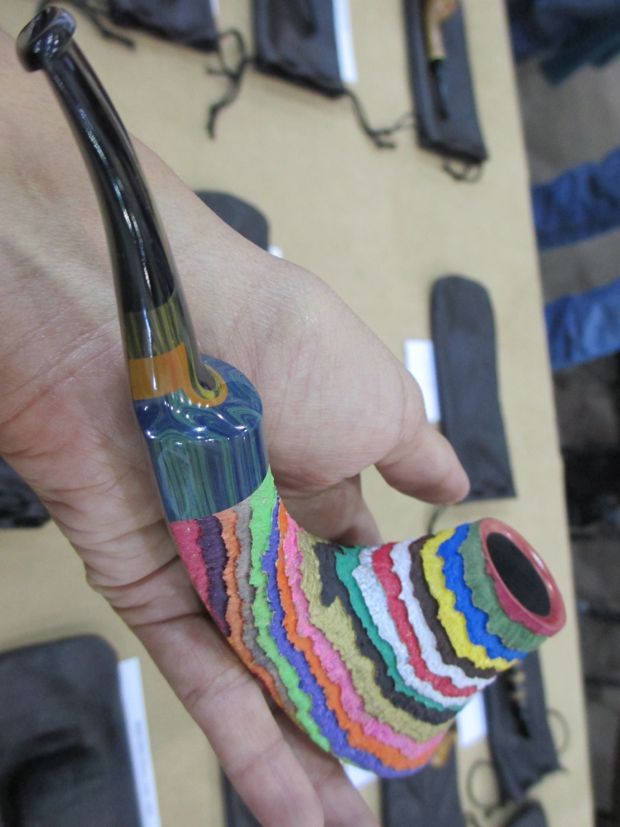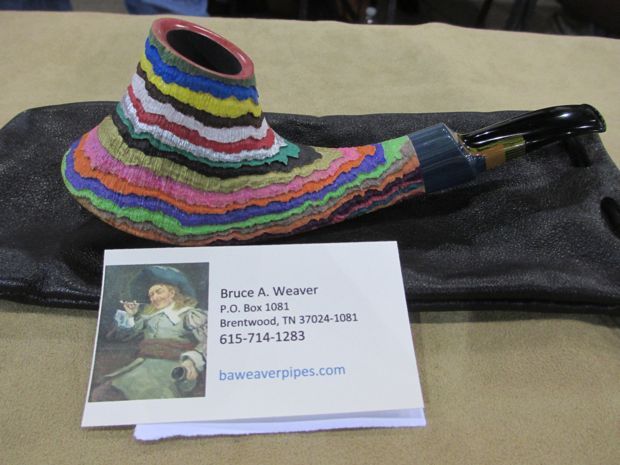 Uwe Jopp from Germany.
What I like about Uwe's pipes is that he has his own clear design language.
No matter which of his pipe's you pick up, you can tell it's a Jopp.
There are a few clear design ideas he enjoys very much and they are seen throughout his work consistently.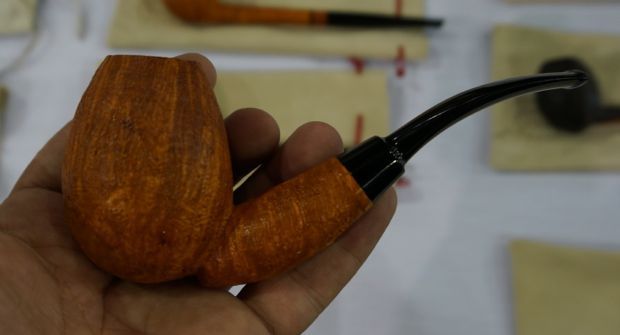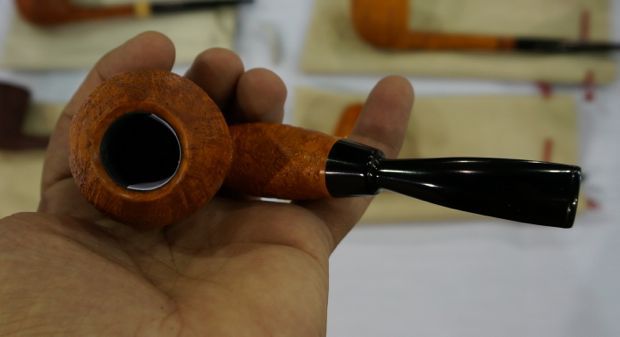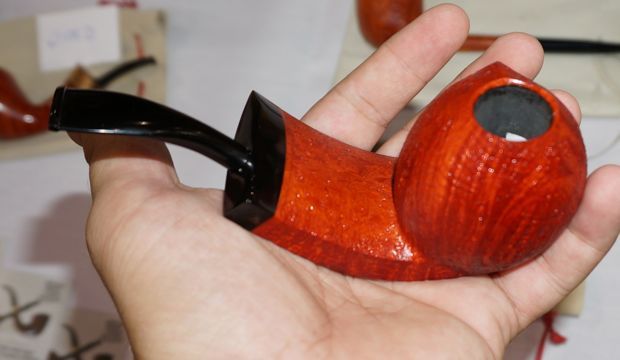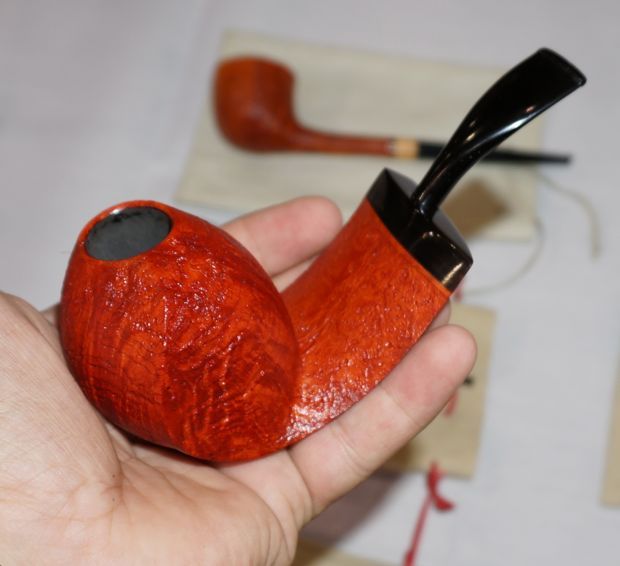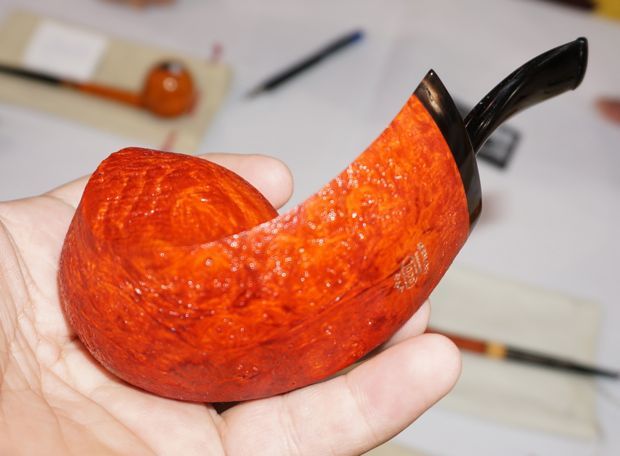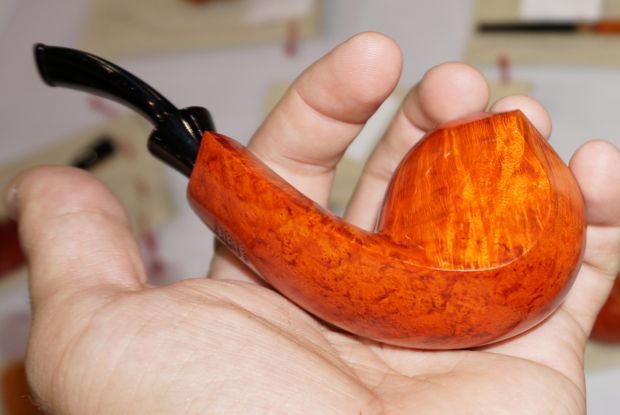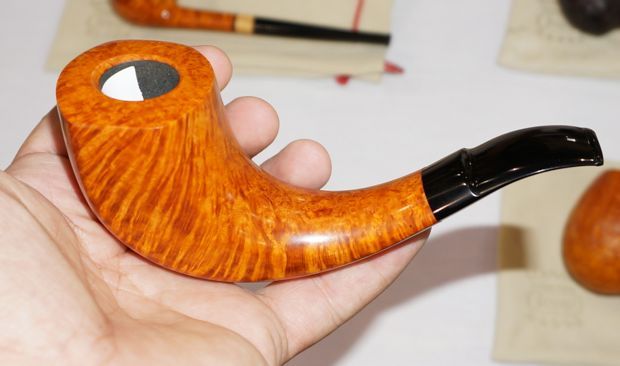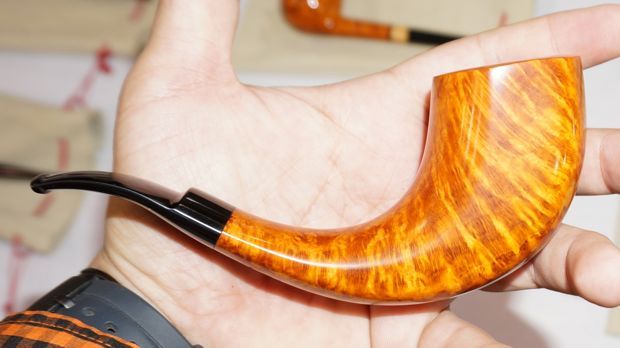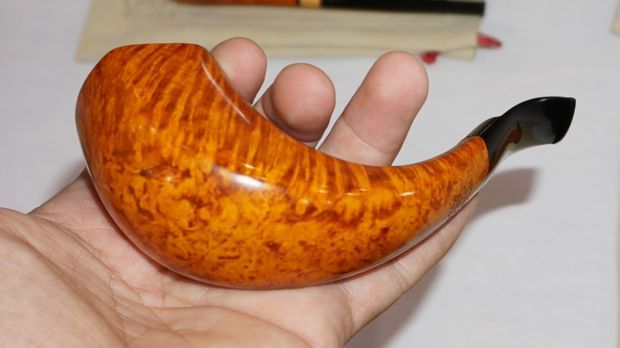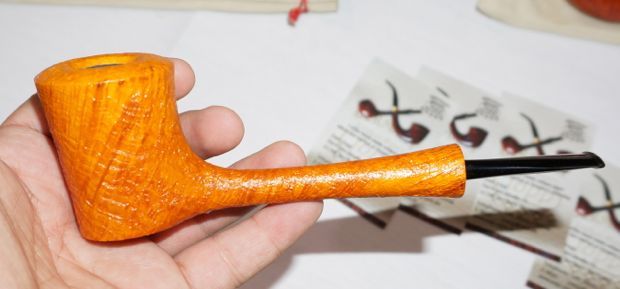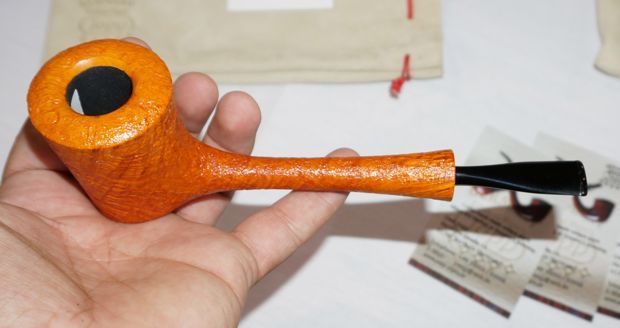 Some more Wallenstein Pipes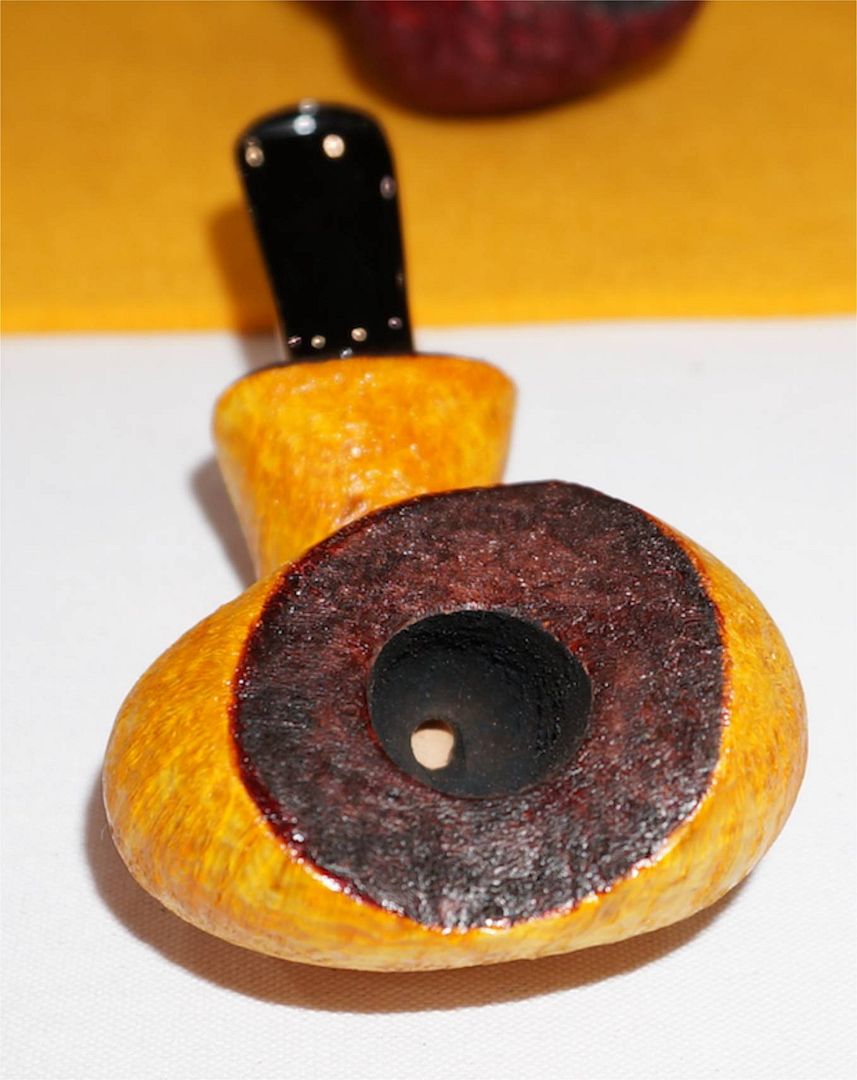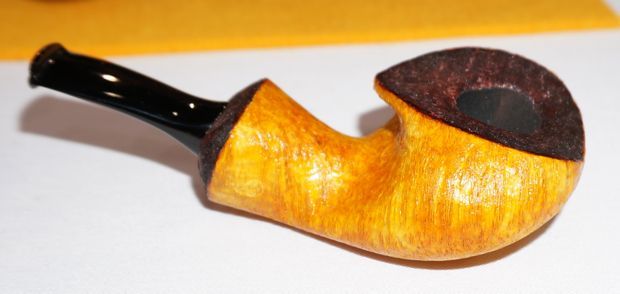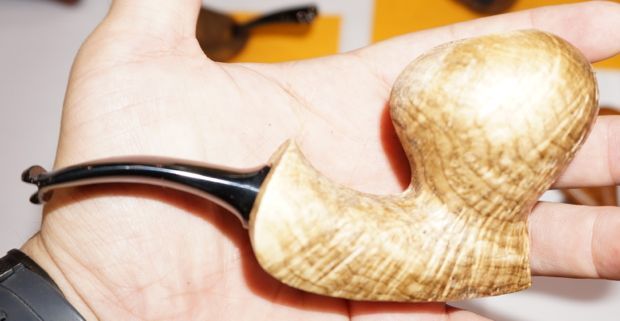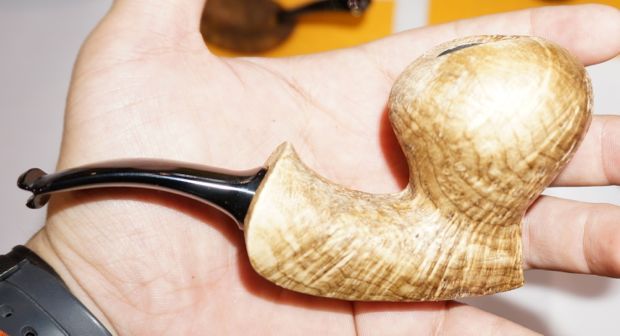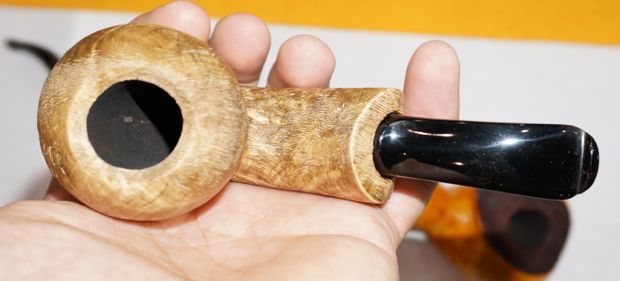 Roger Wallenstein.
He's a smart man. A crafty artist.
Enjoys using various house-hold cleaner agents to play with the surface of the briar.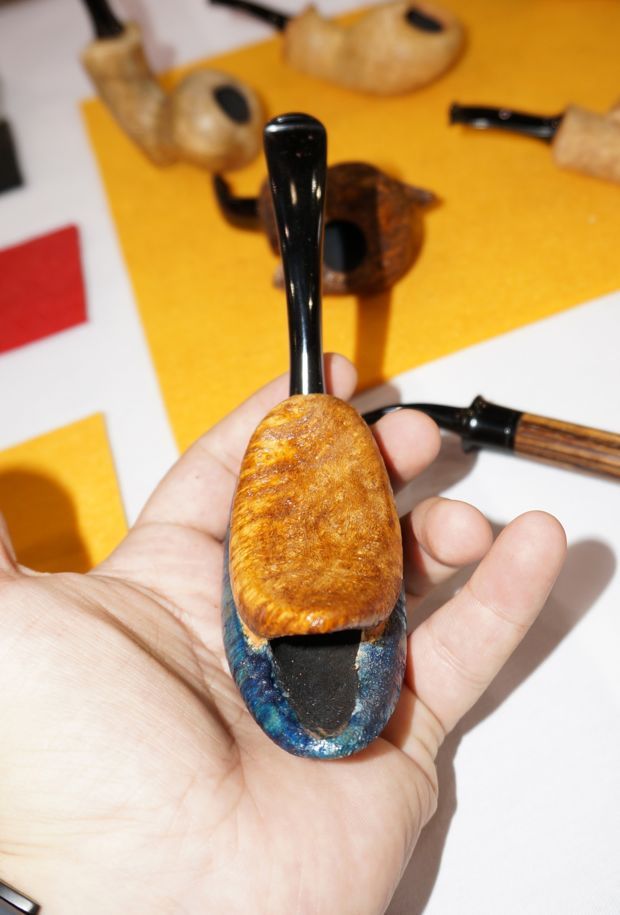 And he is one of the few pipe-makers who truly goes all out on color.
Color, color, color – we need to see more color in our pipes.
Yes, Roger's pipes are abstract and hence the color application may feel 'simple' but trust me,
there are ways to bring color into more
Traditional forms and that happens, by seeing more color in pipes in general, as with Roger's work.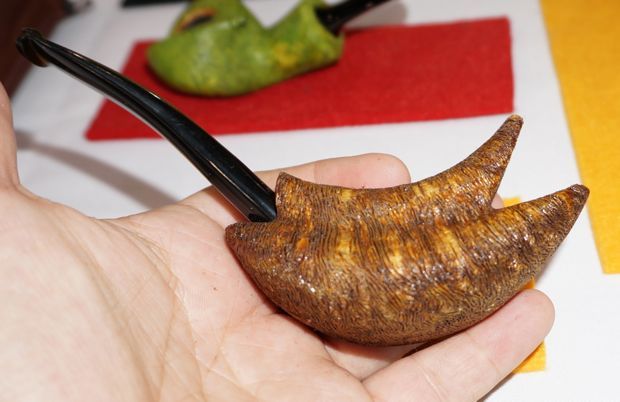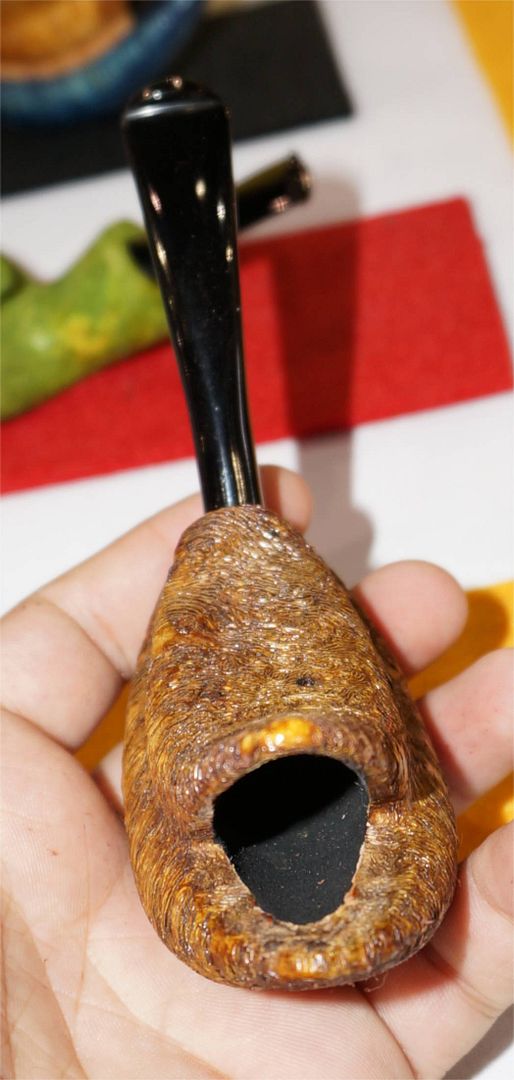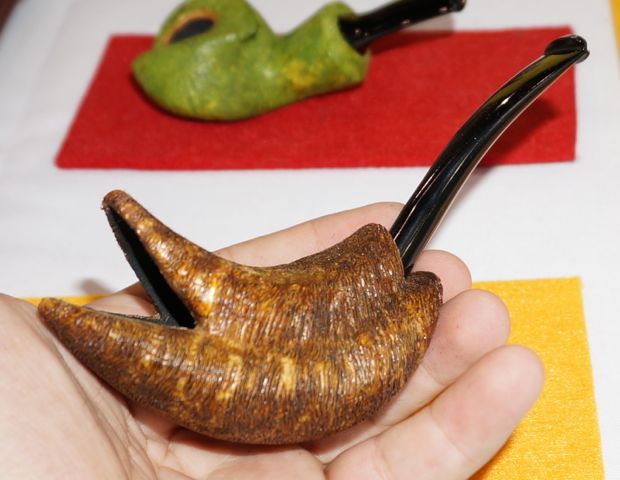 A group of Chinese Pipe-makers & their work.
This year's Chicago show had at least five Chinese pipe-makers representing themselves.
I imagine by next year that number will double to ten or more.
How this will impact the Pipe Market – we will soon see. A friend of mine believes it is going to be a positive for the 
market in general. We will find out soon enough.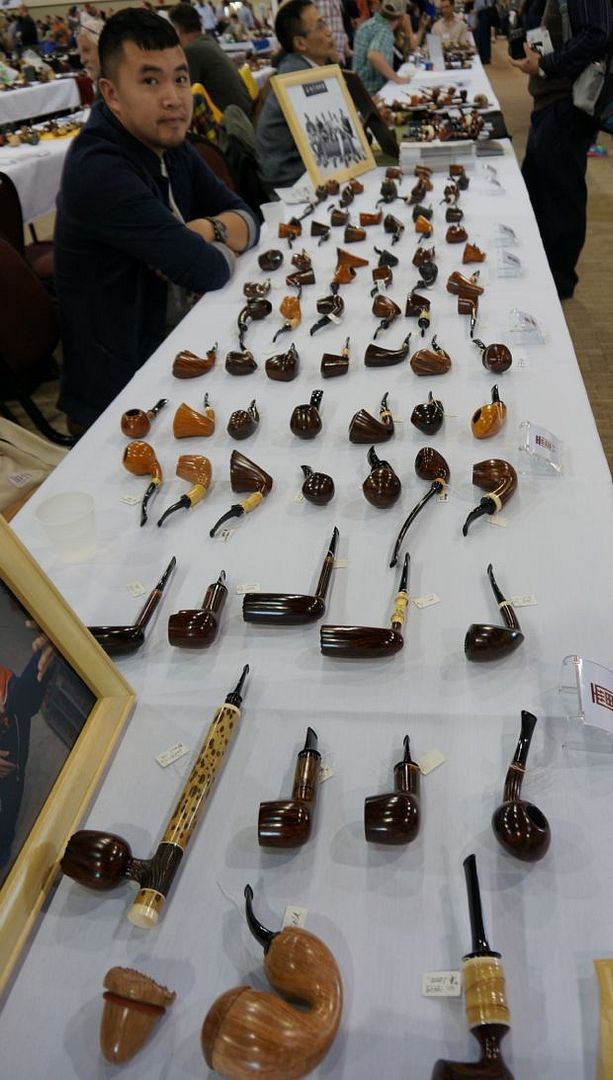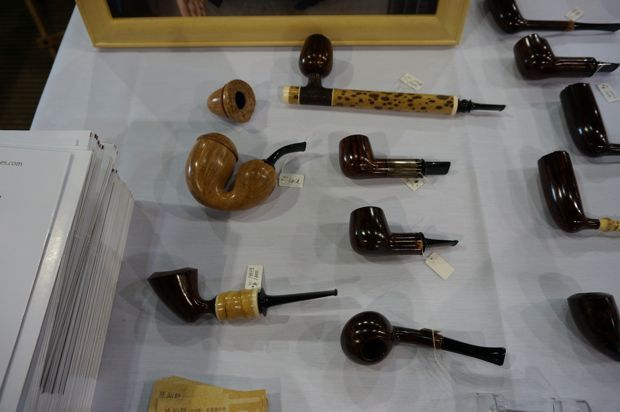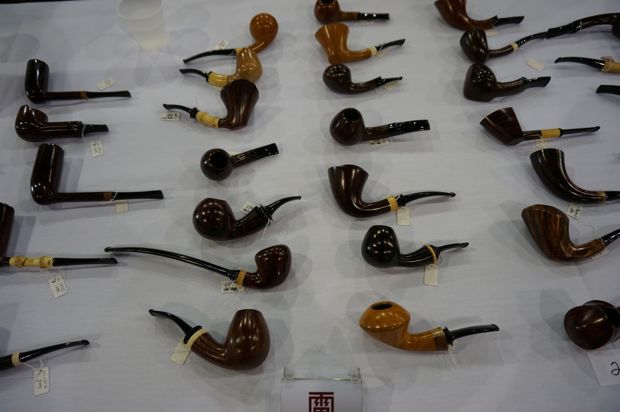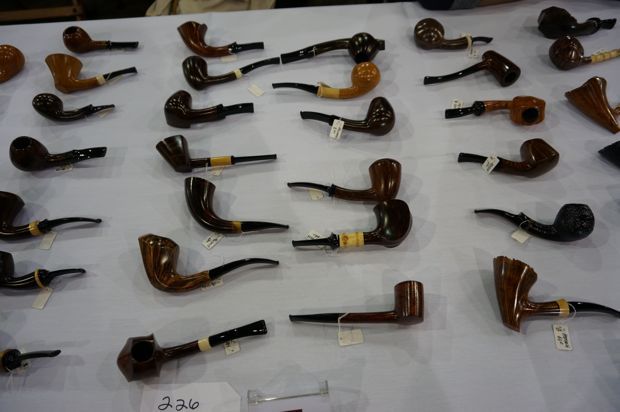 Chinese pipe-maker Zhesong Li & his pipes.
Quite an assortment on display.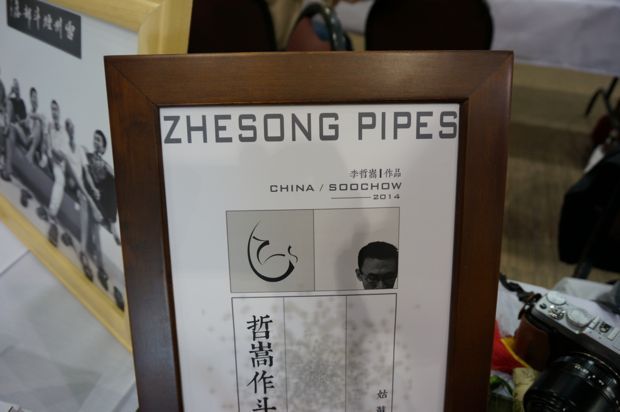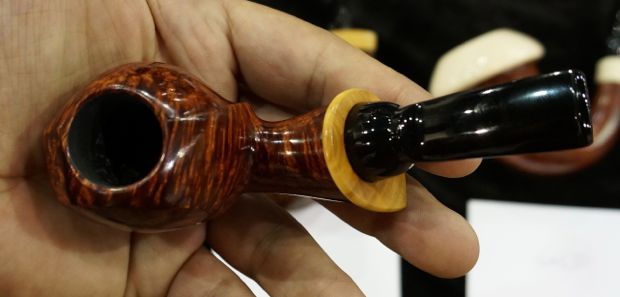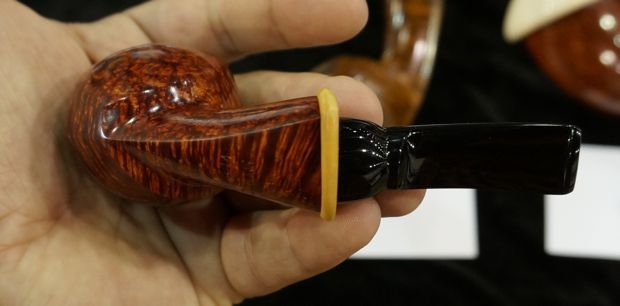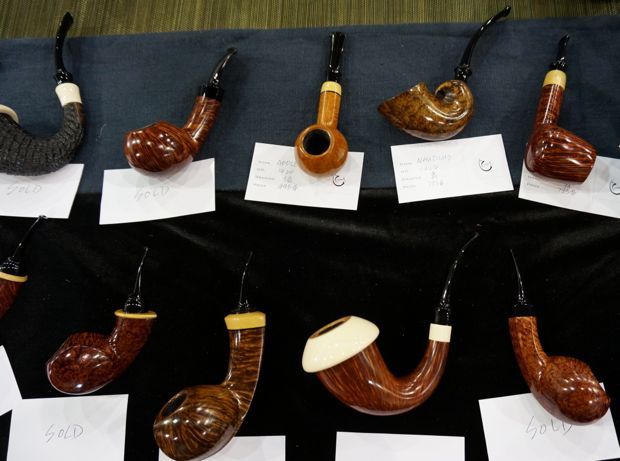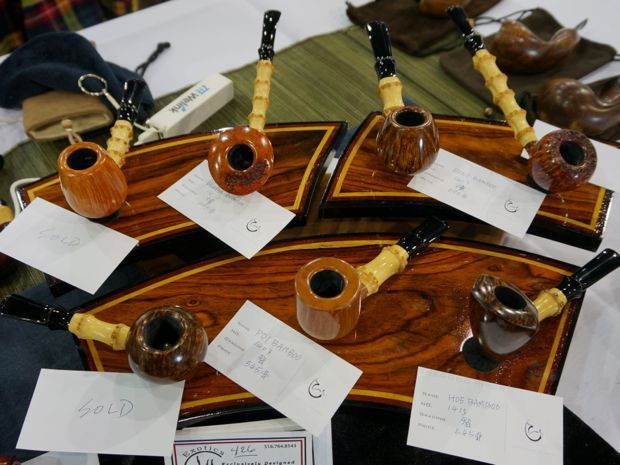 This is an alternative wood that some Chinese pipe-makers are using to make pipes.
Expect to see more of this wood, not briar, in the future.
I have no idea how it smokes. I simply assume it is a cheaper and more readily available alternative, especially in China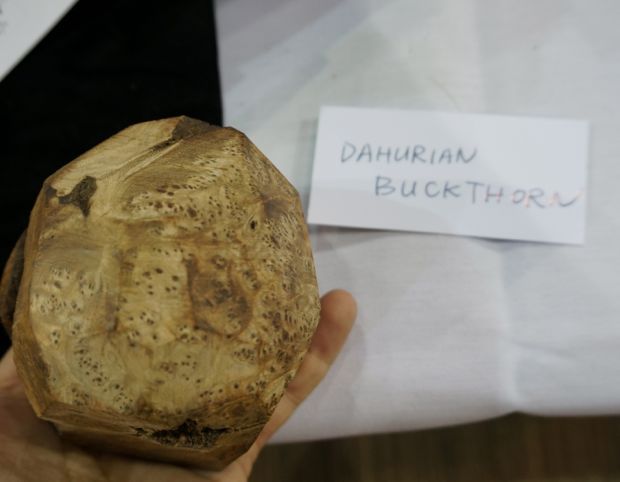 Pipes made out of this wood.
Grant Batson Pipes.

Grant's work is all over the place.
Try to put your finger on his pulse and you won't be able to read it.
It's a good thing. He seems to be exploring a lot. His pipes are selling. People enjoy his work.
So good for him to be exploring new roads. You'll see a lot of unique ideas here.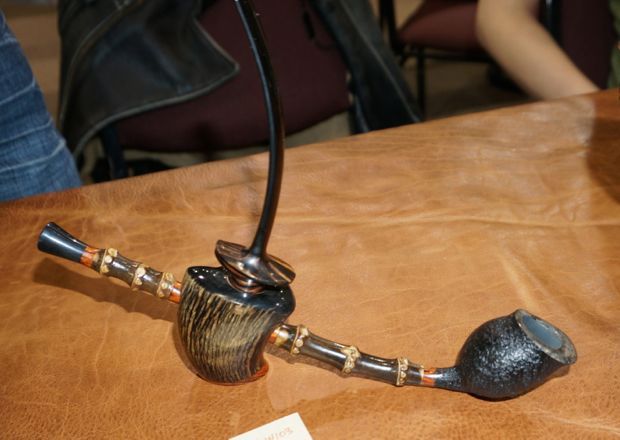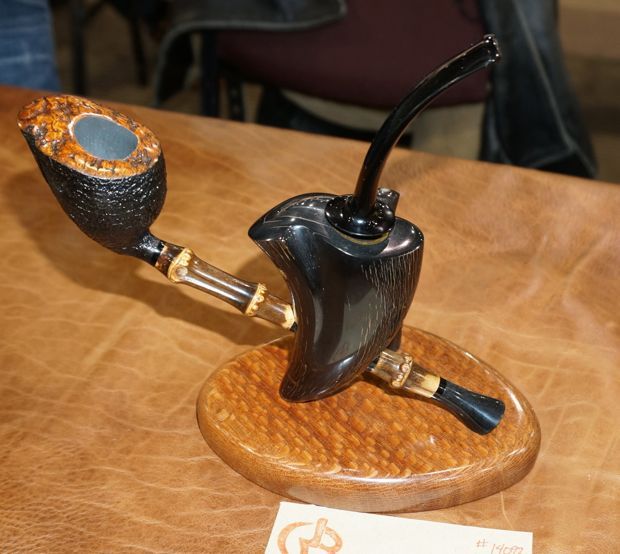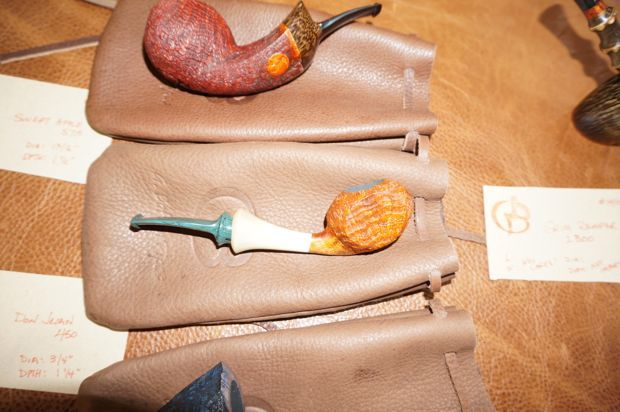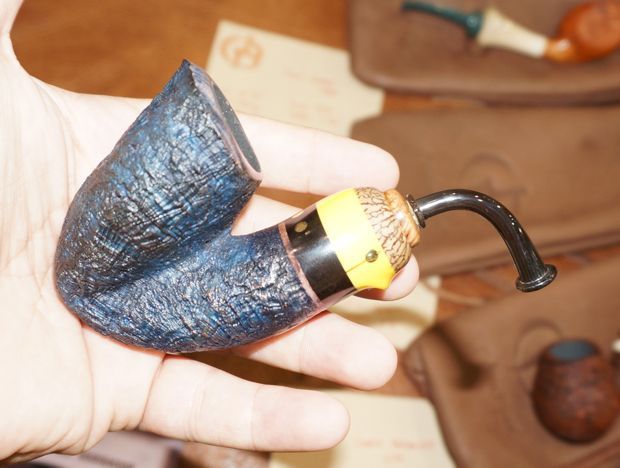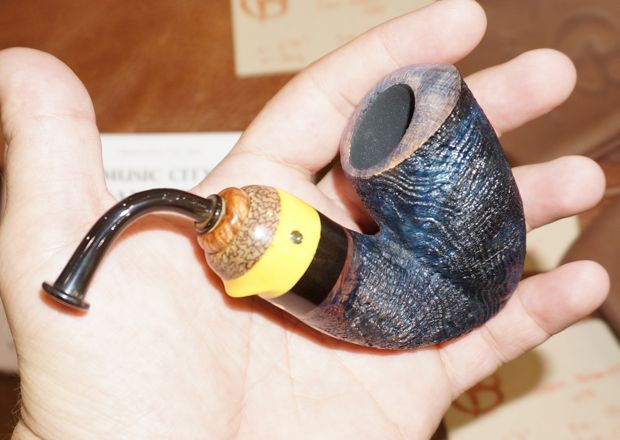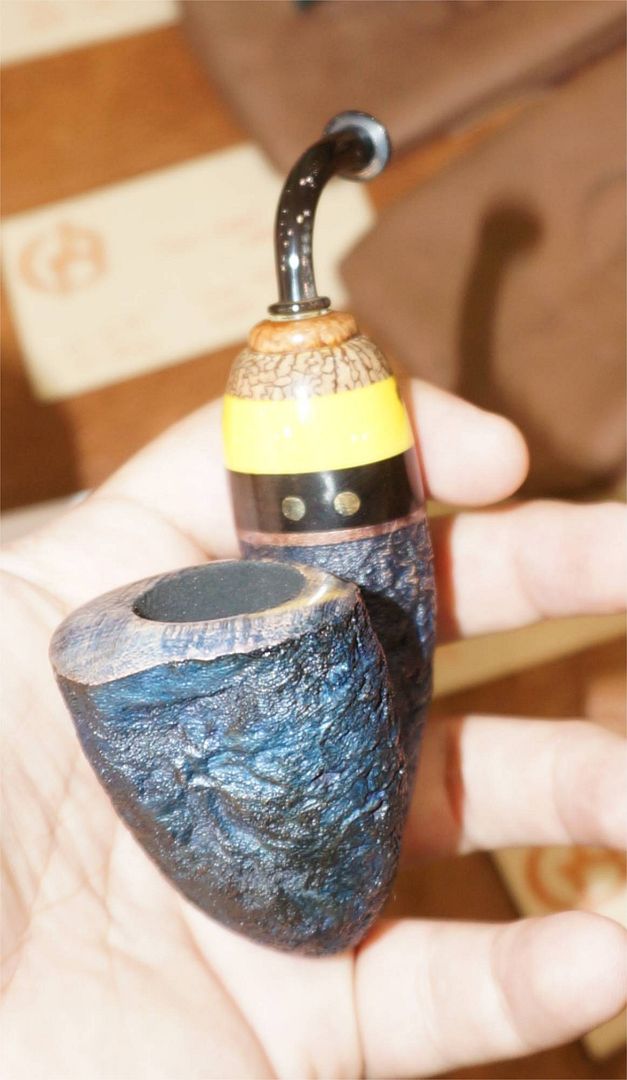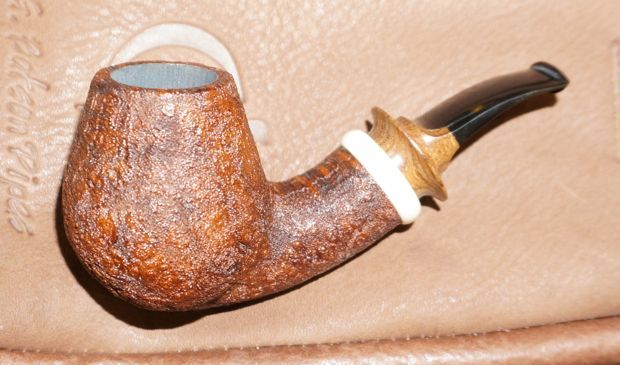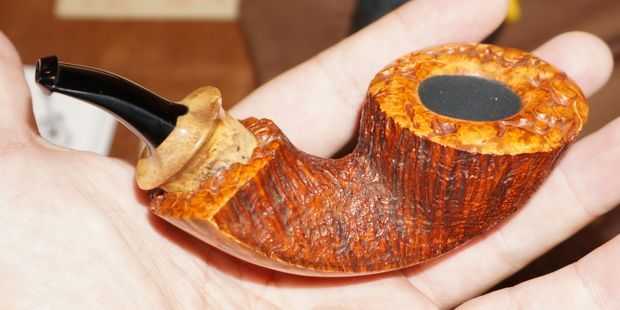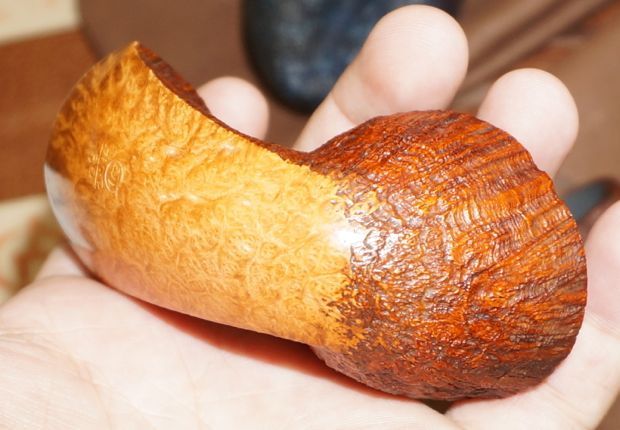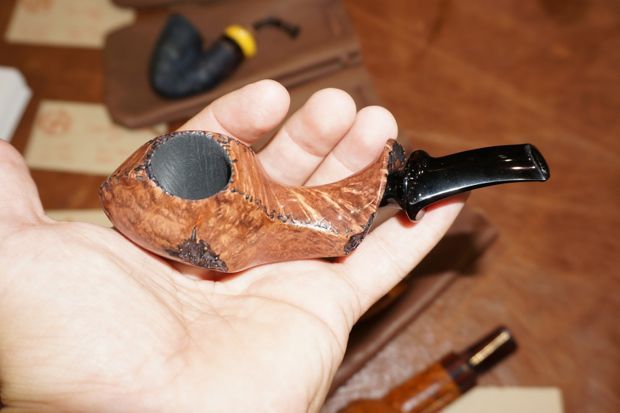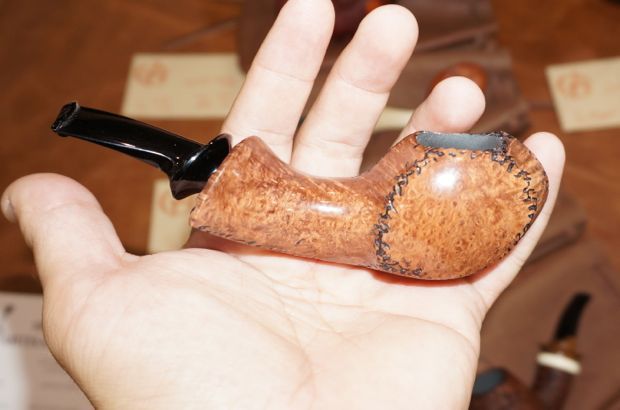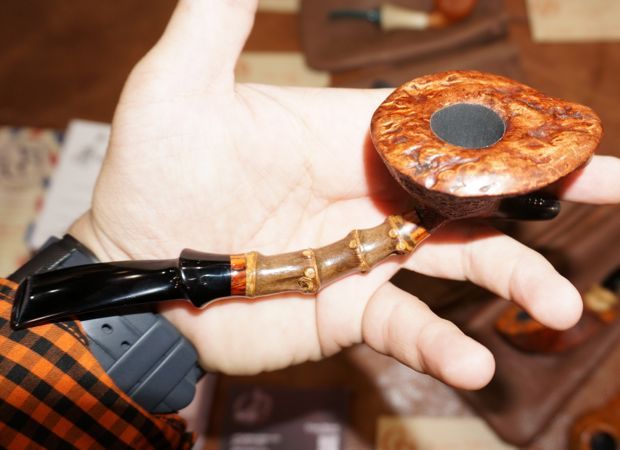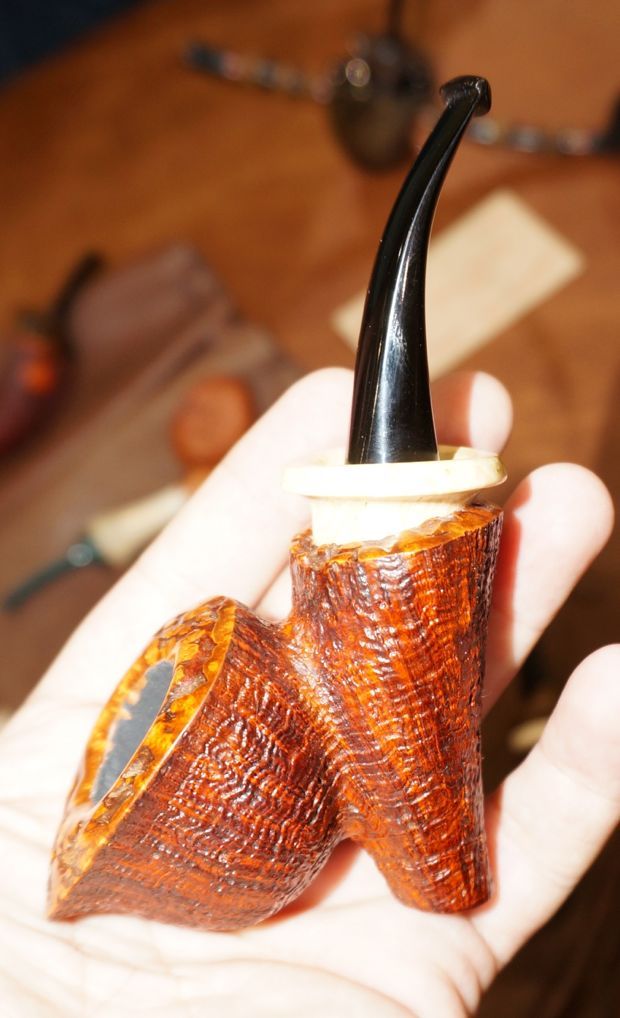 Grant Batson.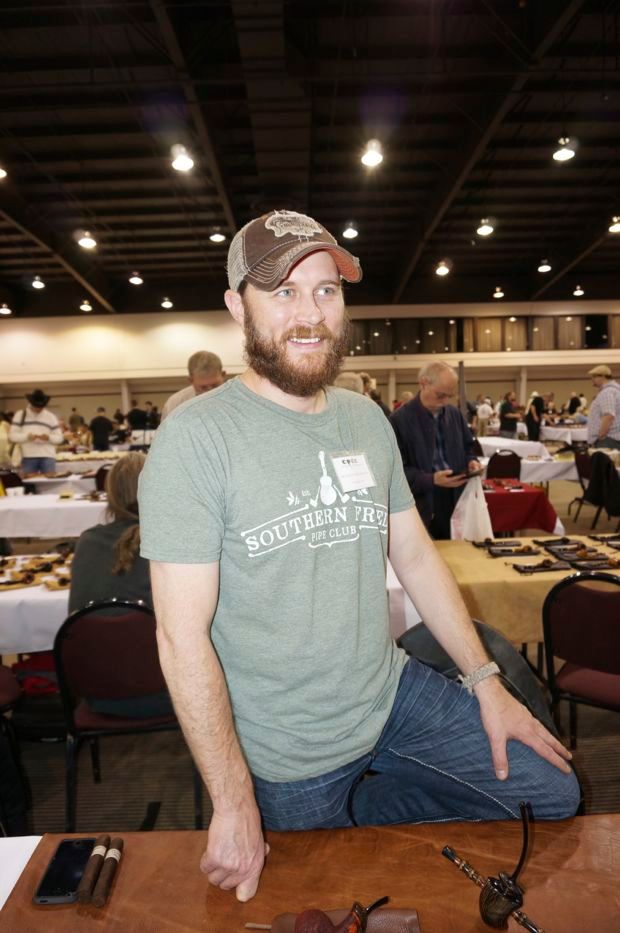 Back to the Smoking Tent where people enjoyed their down-time from the show.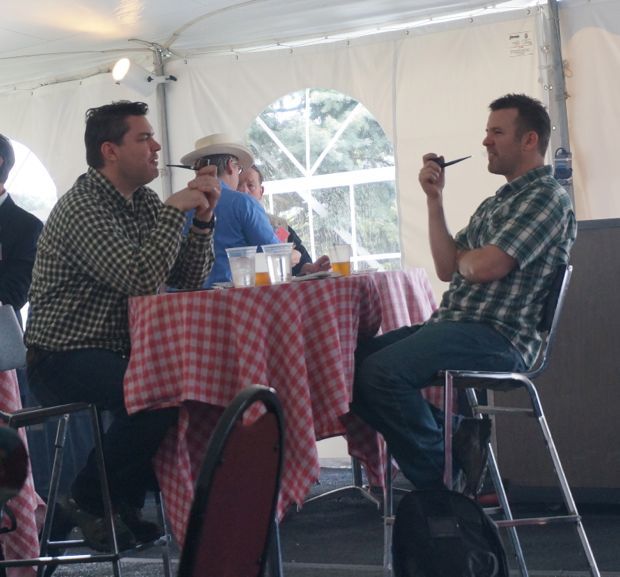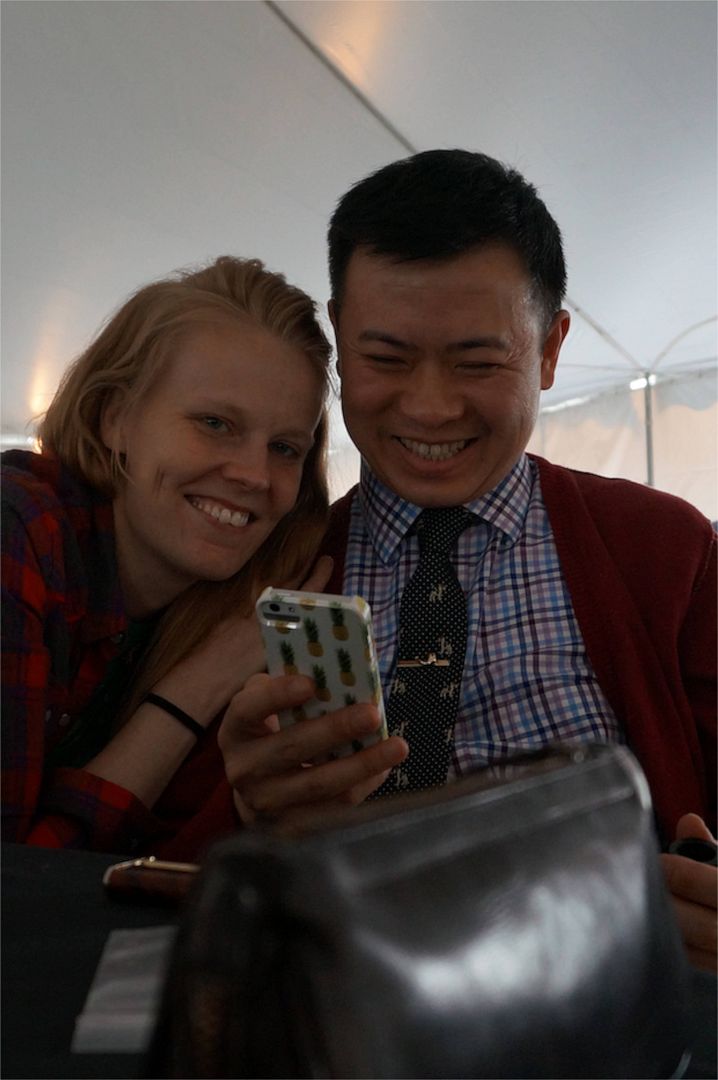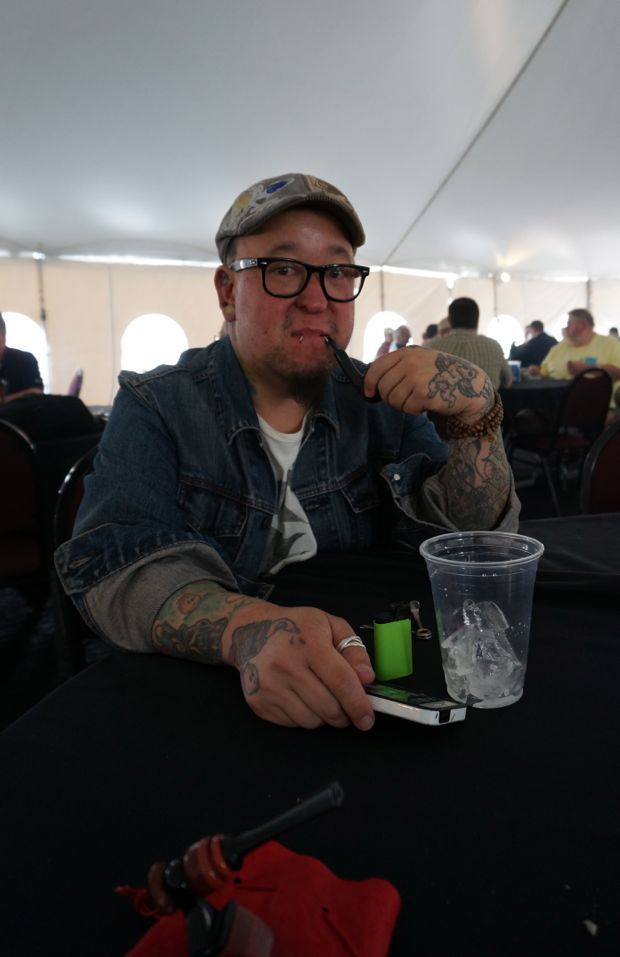 Female Danish Artisan, Manduela
Manduela had the immense benefit of being able to work with Danish Master Poul Ilstead.
They both spent a lot of time working together. It is therefore natural to see a lot of Poul's influence in Manduela's work.
More recently, Manduela's work has been charting it's own unique path.
She is applying color to her work in a more dynamic way. Surprisingly, we don't see this type of color expression too often. Especially in traditional shape pipes. Manduela plays with both the stem color and the stain color and allows the two to interact. A simple step (obviously) but overall rare to see.
The results are spectacular. The rare combination, executed so well, we barely notice the two colors. When this happens, the 'barely noticing' part, that's when work approaches a high level of design intelligence. I for one hope she explores this area more.
Beyond her intelligent approach to color application, she is also exploring other areas such as playing with surface texture. Adding some cubist ideas and other shape forms to her work. With such an amazing foundation as her's, I look forward to see what new areas of pipe design she will explore.
This cute little fella also made his way home with me.
How do I decide whether to call a pipe a She or a He? Good question!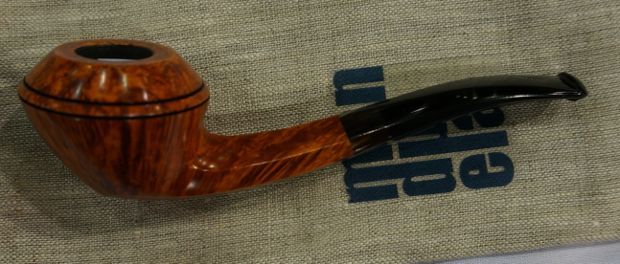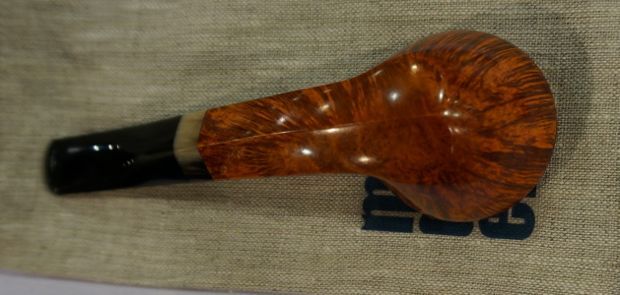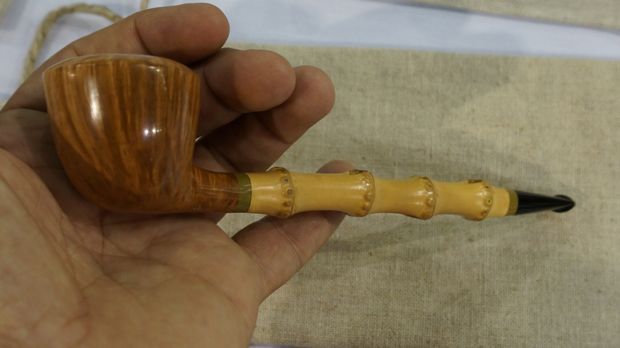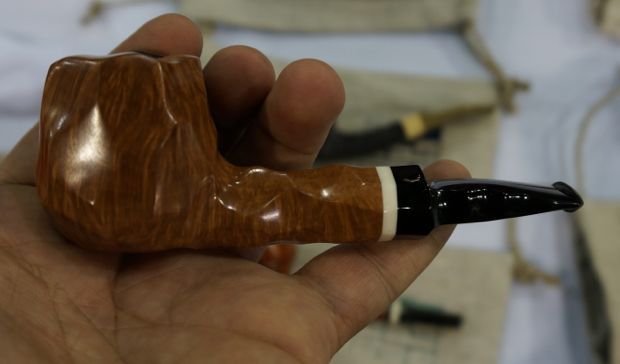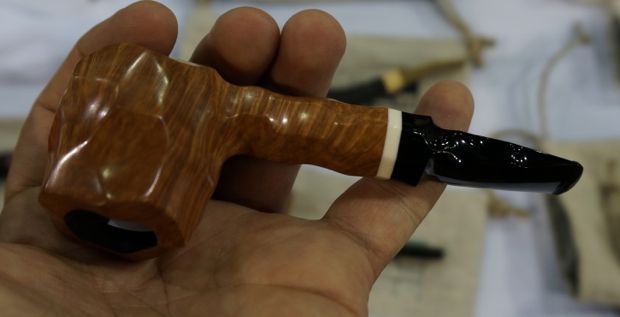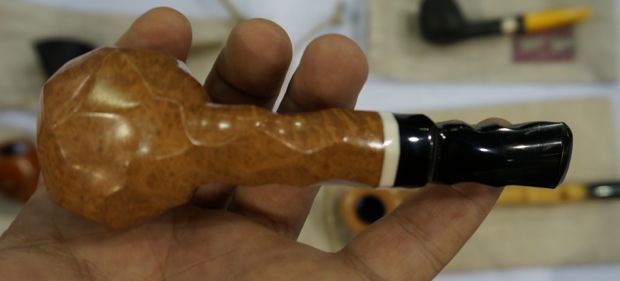 Mandu explaining the difficulties in getting a very long shank from such short pieces of briar.
Psshhh…excuses excuses. Please make that pipe for me Mandu.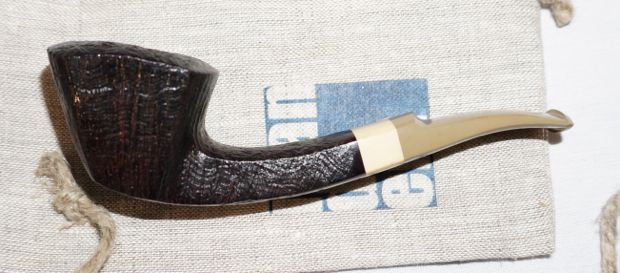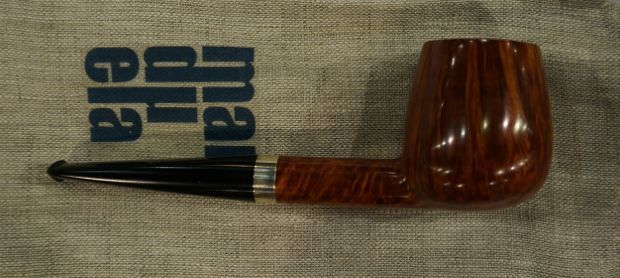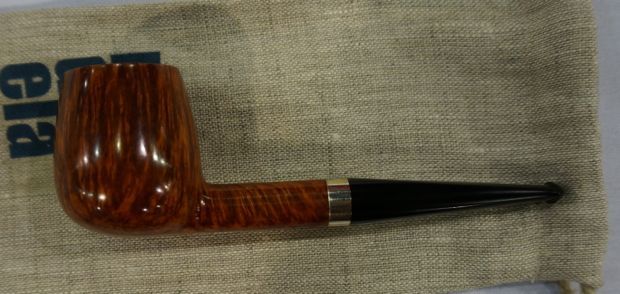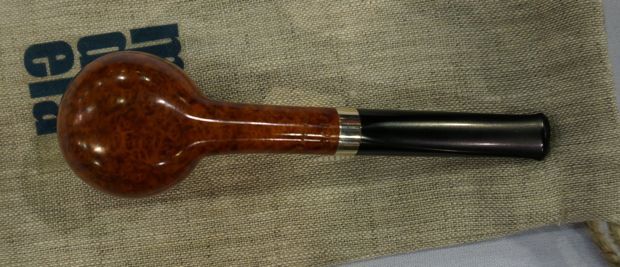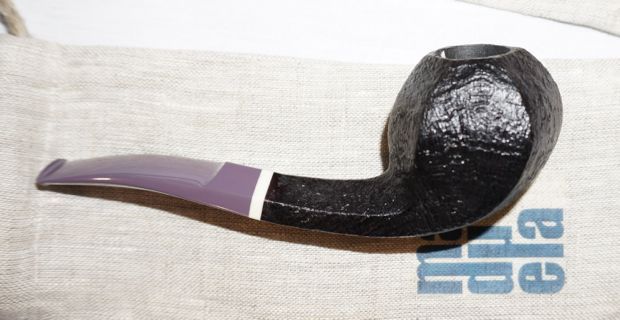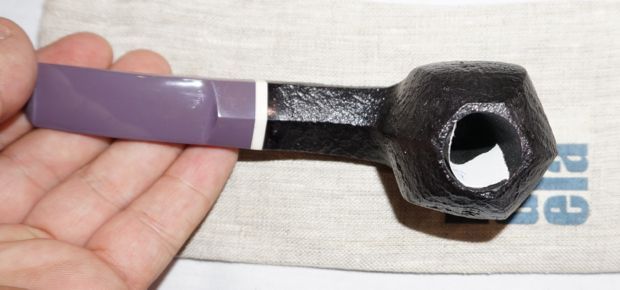 Micah Cryder of Yeti Pipes.

Alright. This young kid can carve & he can carve well.
The lines on his pipes are rather exquisite & very uniform.
Without a doubt, his pipe maturity level is far above his actual age of only 20 years.
This kid is someone to watch, assuming he keeps up with the craft. I hope he does.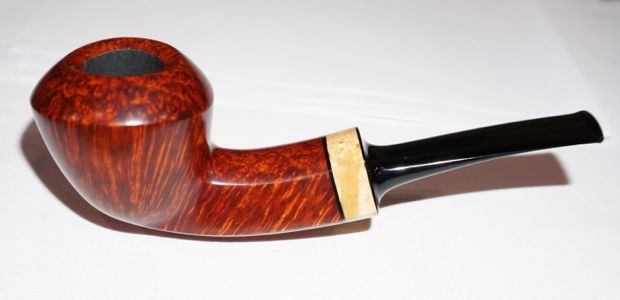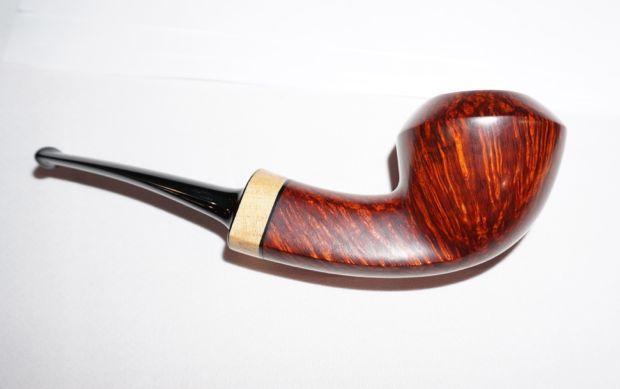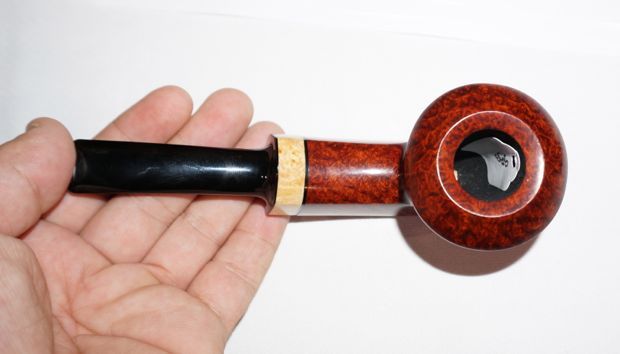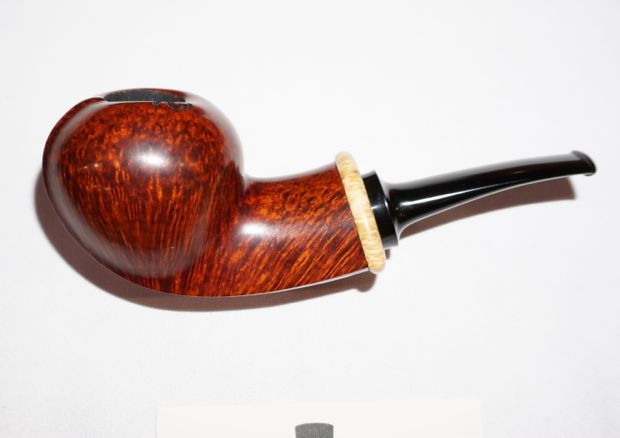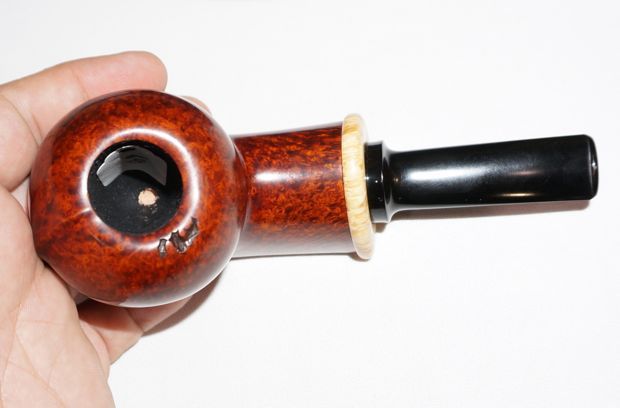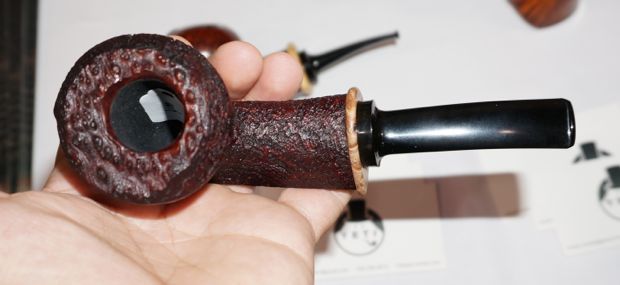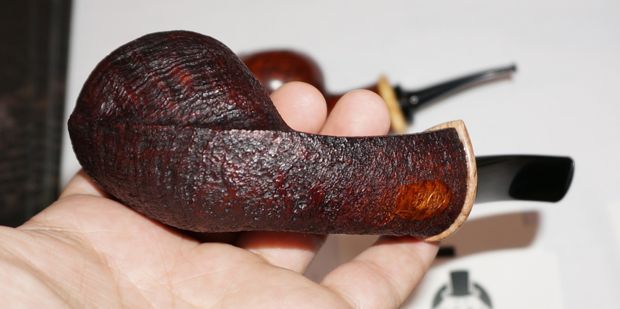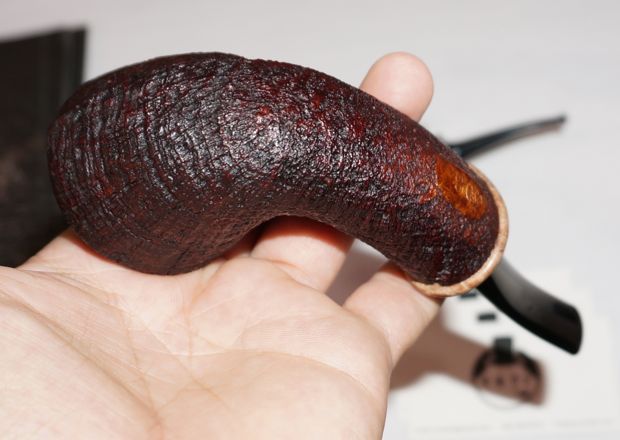 Bruce Weaver.
Innovator of the alternative approach to sand-blasting.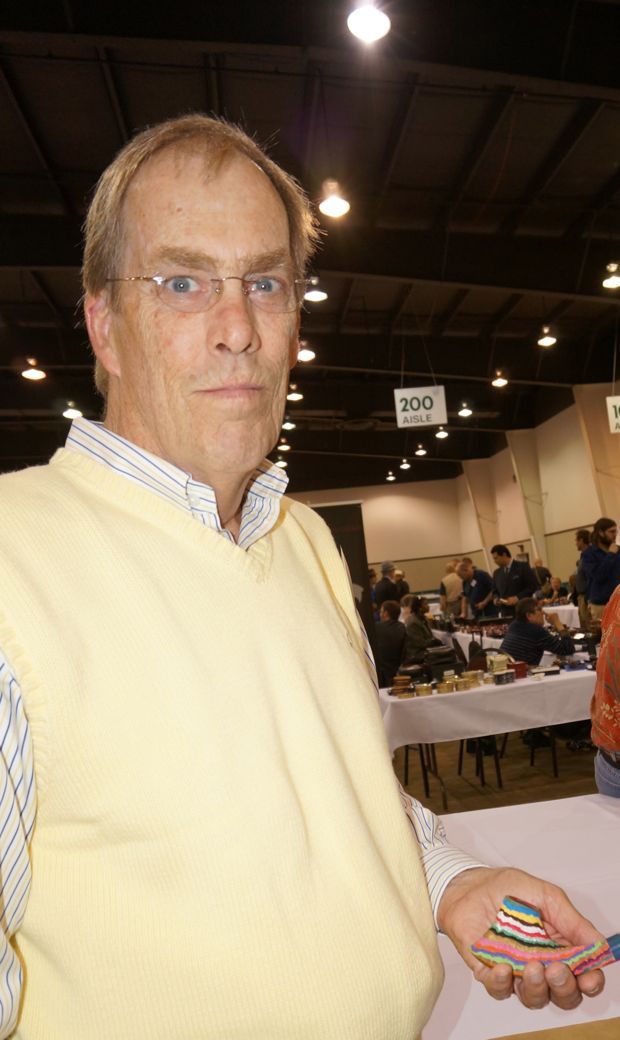 Tonni & Barbara Nielsen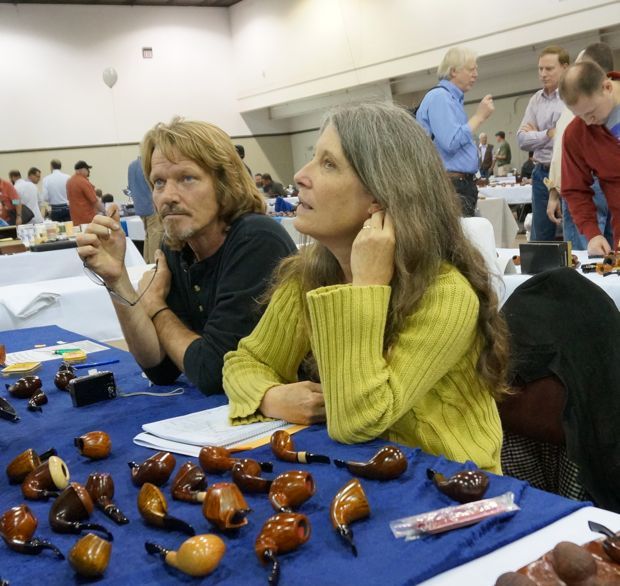 Per Bilhall of ScandPipes.
I asked him to stop reading TobaccoDays on his iPad while at the show and he told me flat out No!.
He said he could not stop reading my blog and there was nothing I could do about it.

I spent a lot of time with Per & Mikael at this year's show. Always good to hang out with friends.
Nate King flanked by the boys from J&J pipes.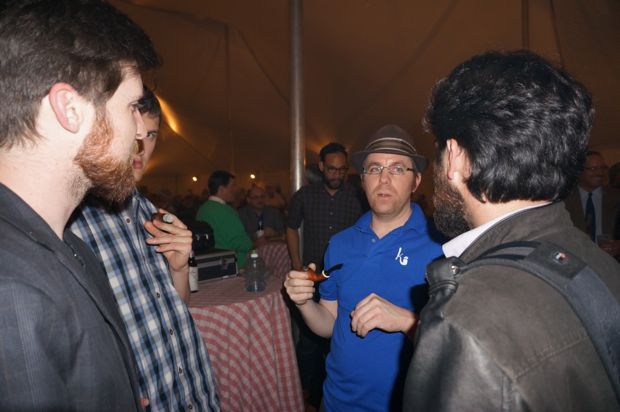 Abe Herbaugh.
Another talented new American carver.
Here are some of Abe's pipes.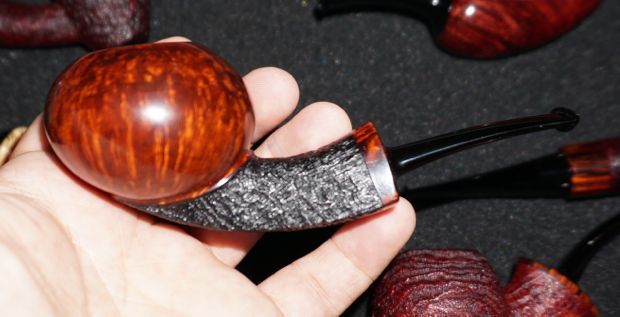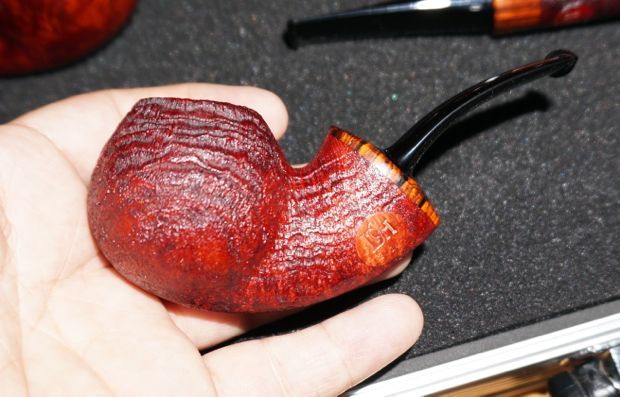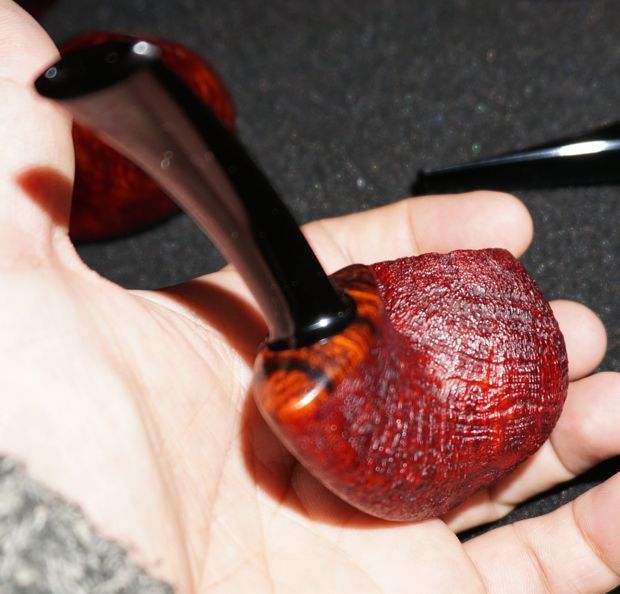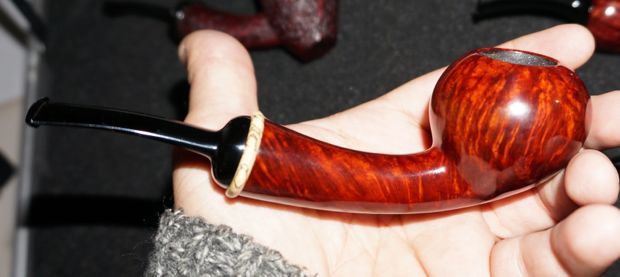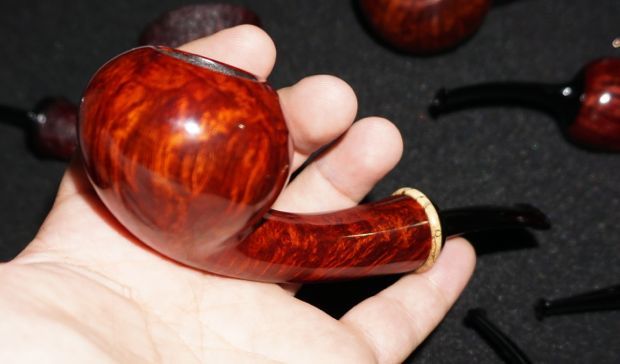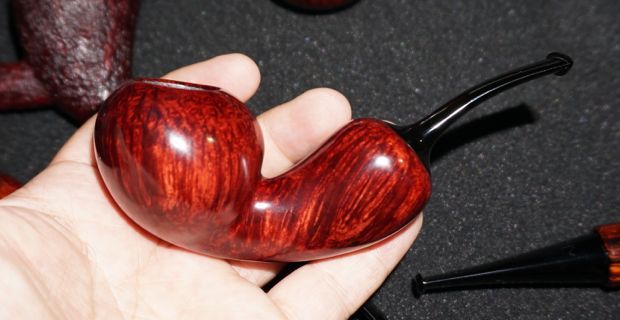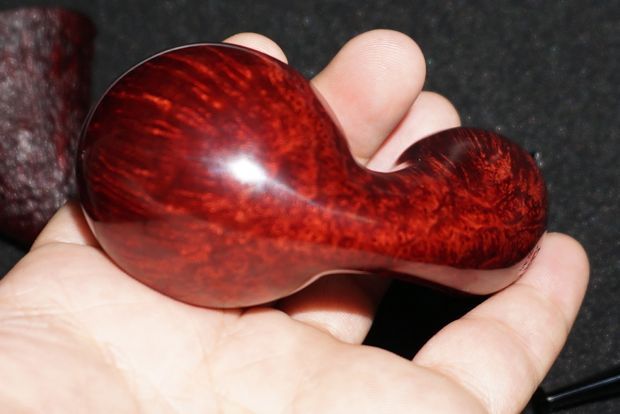 Jeff Gracik and Pete Provost.
Who doesn't remember that gorgeous Full Bent Billiard that Todd tweeted a few years back?
That Provost pipe is still ingrained in my memory. Hint hint Pete!!!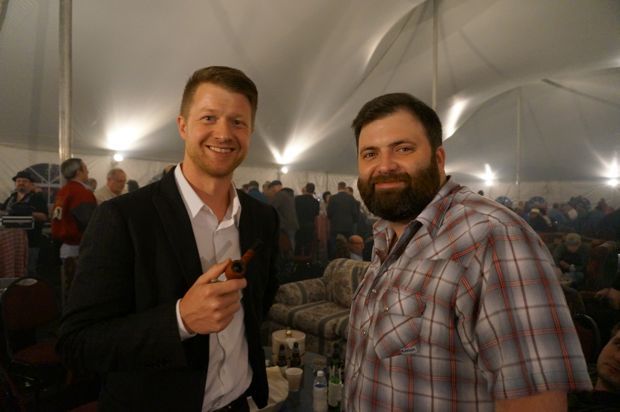 Chris Asteriou with Gerasimos Minetos
Sorry about the bad pic GM. I literally had to remove at least 10 Pipe-Maker shots just because I 
caught them at bad moments…such as this.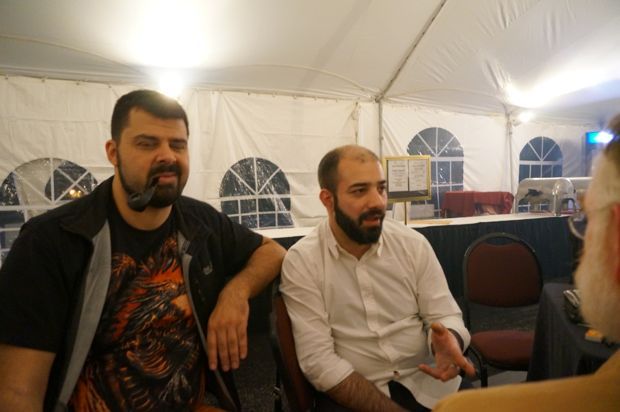 Brad & Joao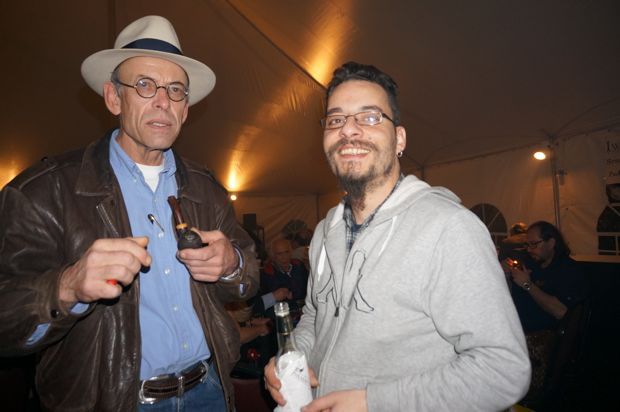 Neal Yarm & Scott Klein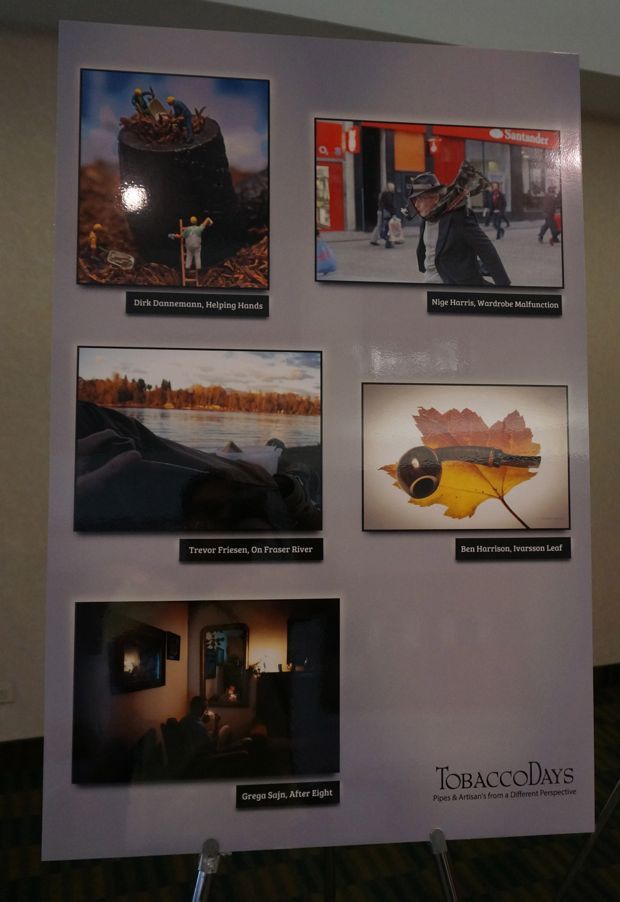 These are the Posters that I put up showing the Photos that all of you took
for the 'Most Creative Pipe Photo Contest' that TobaccoDays held.
It was very nice to see the great reaction from the show attendees.
If you want to see the final round pictures in full, click here

Special thanks to Aziz of CPCC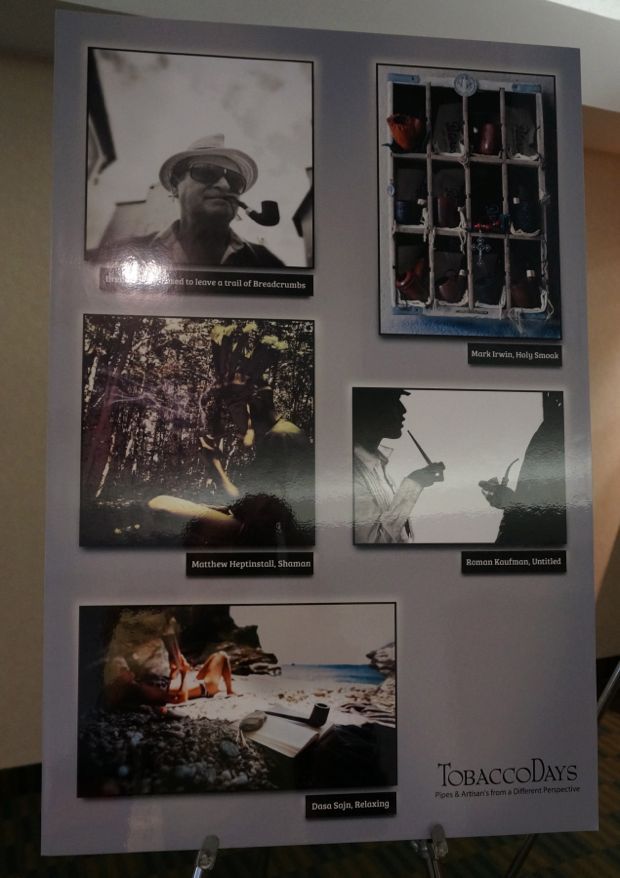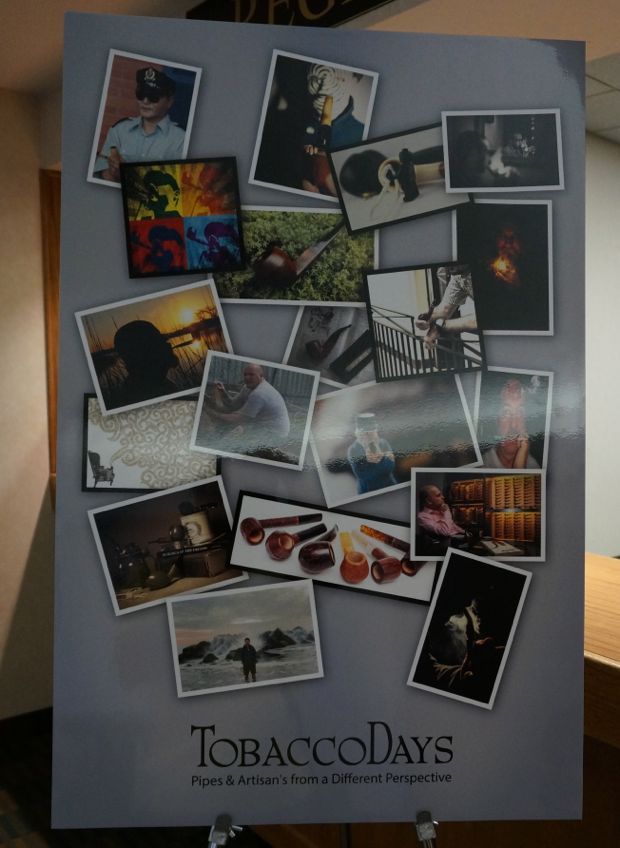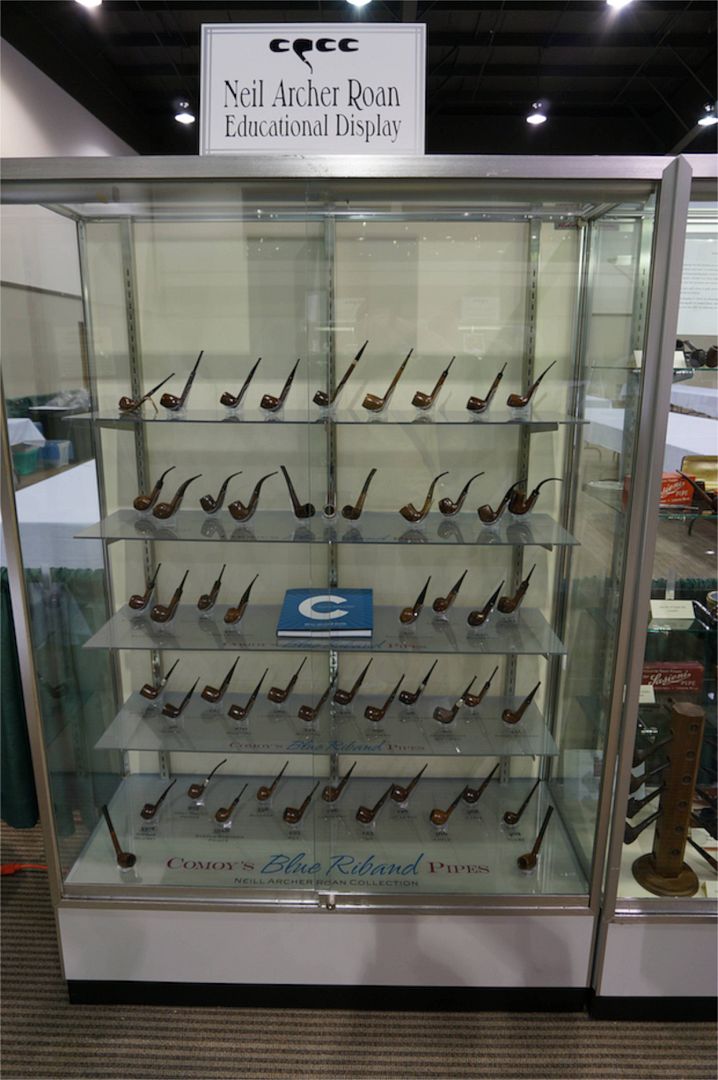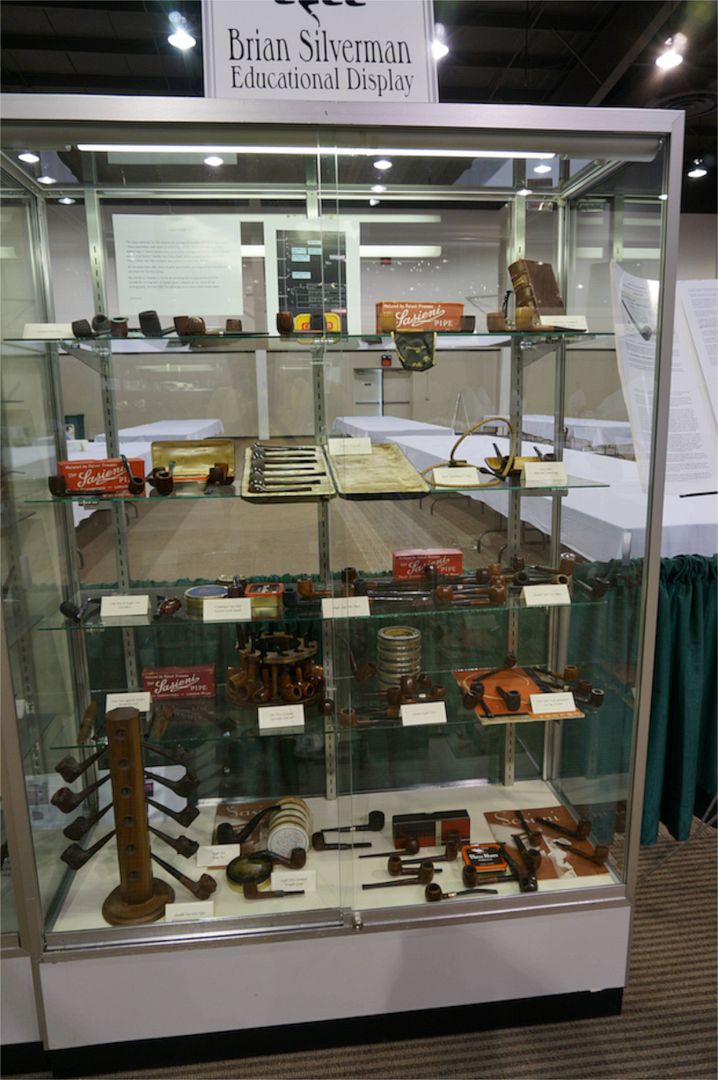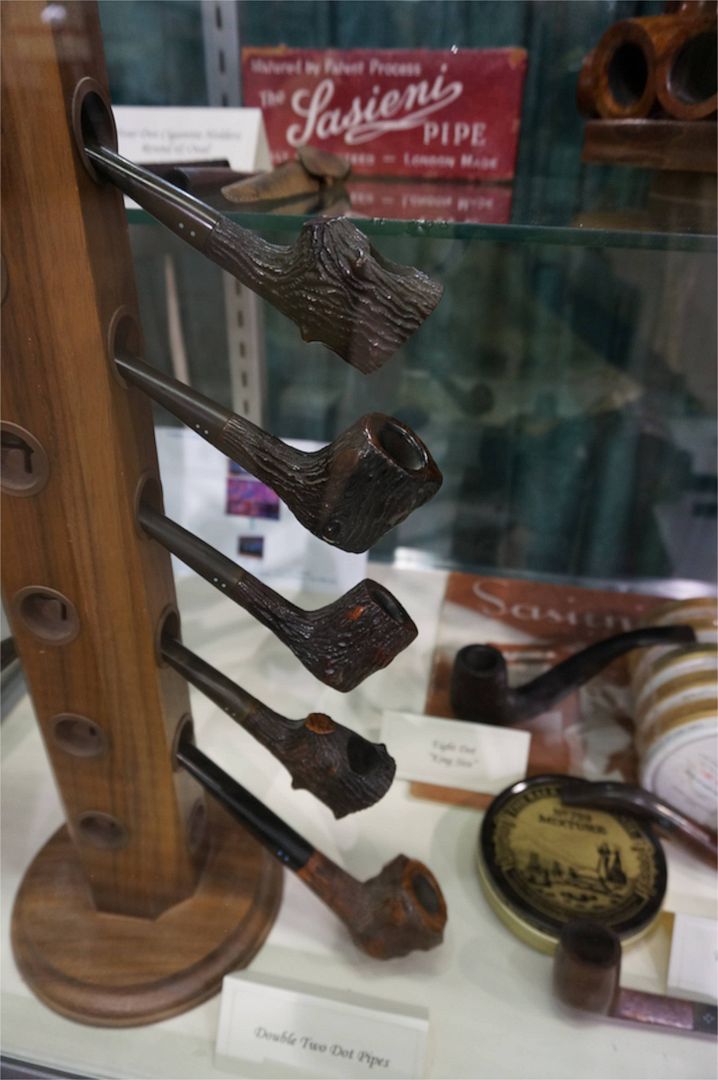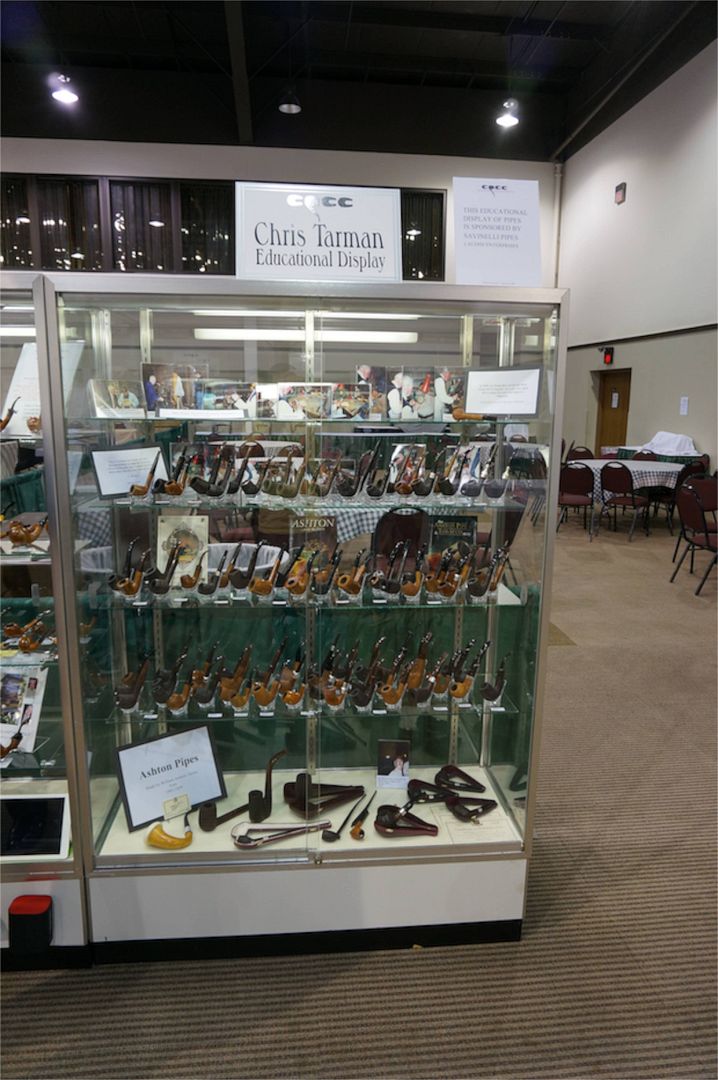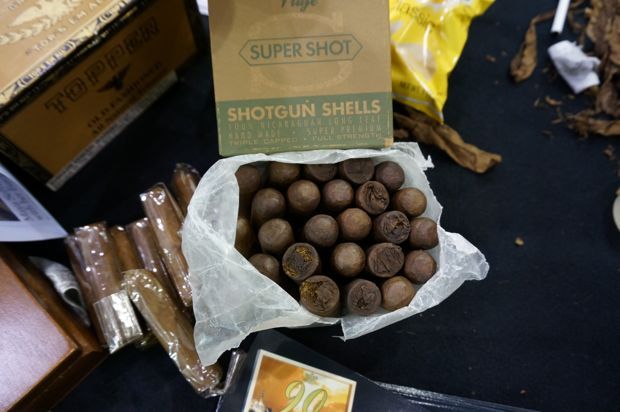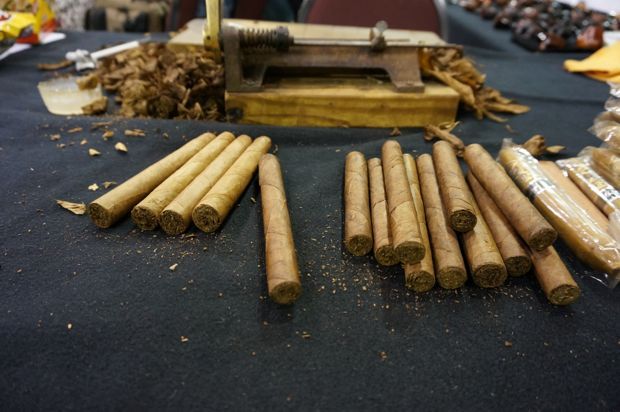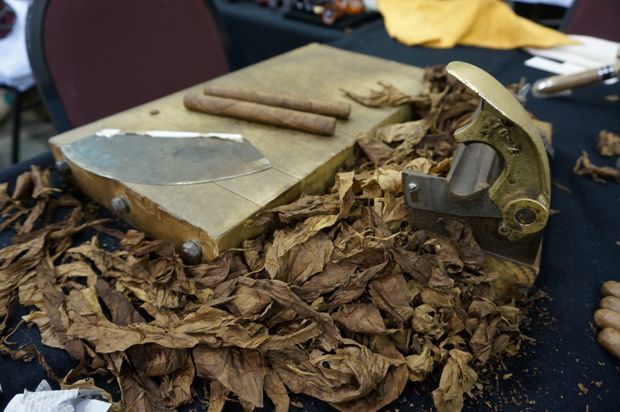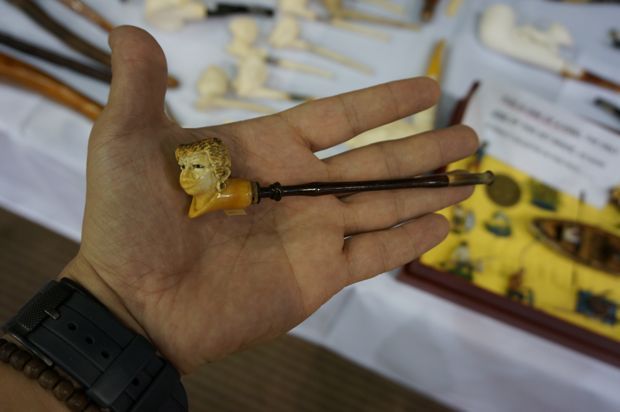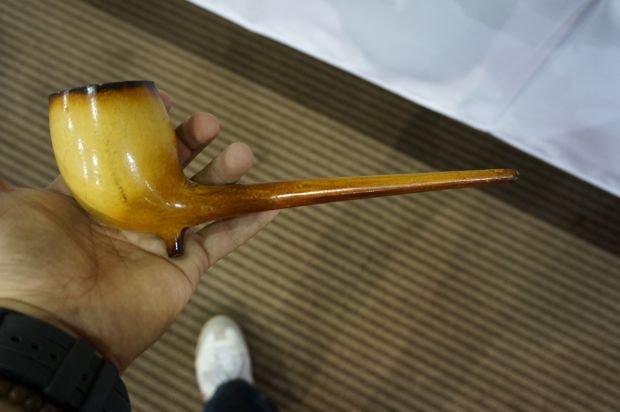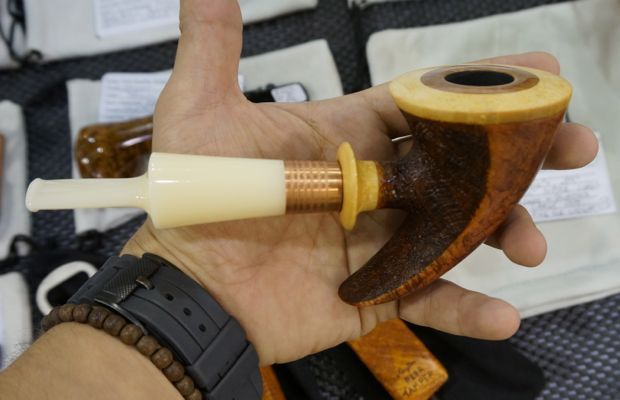 Clark Layton
This young carver, whose parents were absolutely amazing in their support of this young man.
While Clark was busy selling his pipes, his parents gave me a tour of his work.
They are so exceptionally proud of their son. Was very nice to see.
Clark has some interesting ideas he is playing with.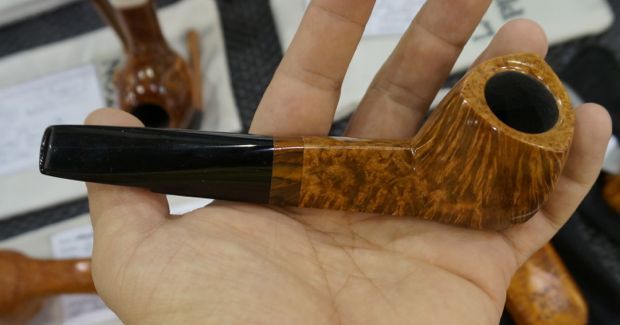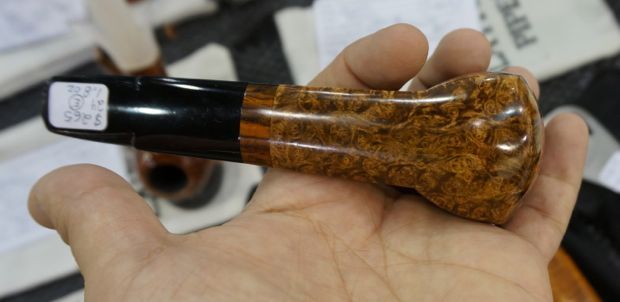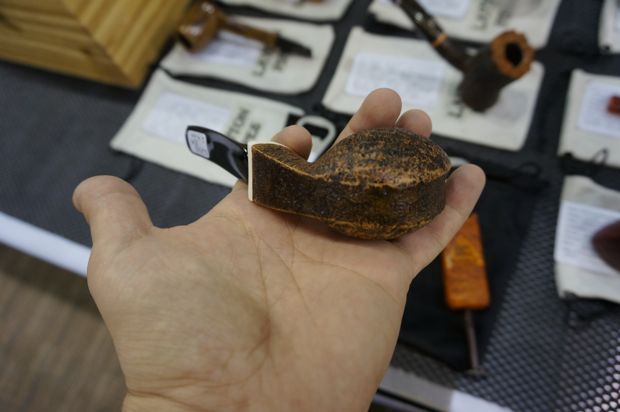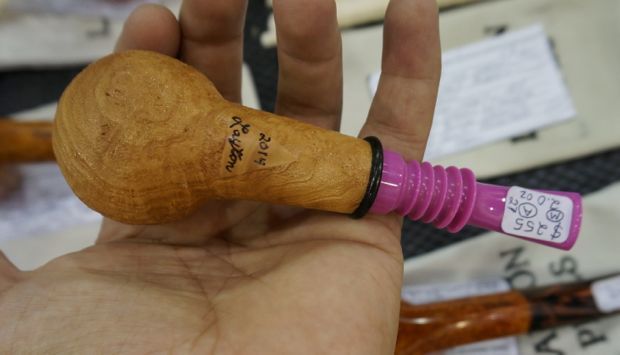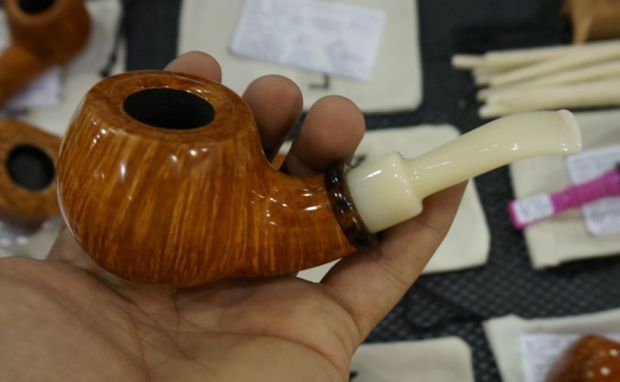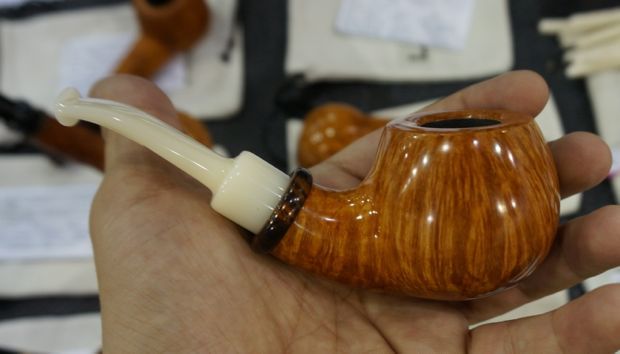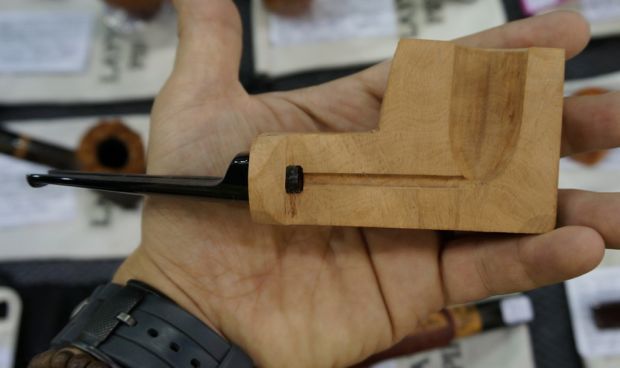 Clark Layton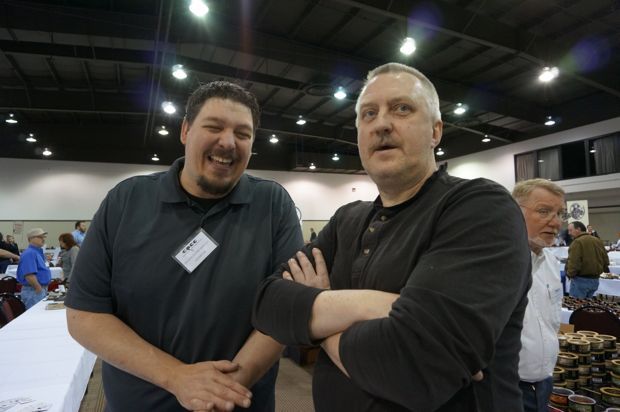 Dustin Babitzke and Maigurs Knets
I try to take candid images of people. I will point the camera up, without putting it near my eye and snap.
Makes for better people shots when they don't plan their smiles.
It took Maigurs a second to notice what I was doing and he said: "No, no, no…" while wagging his finger.
Hence, the laughter from Dustin.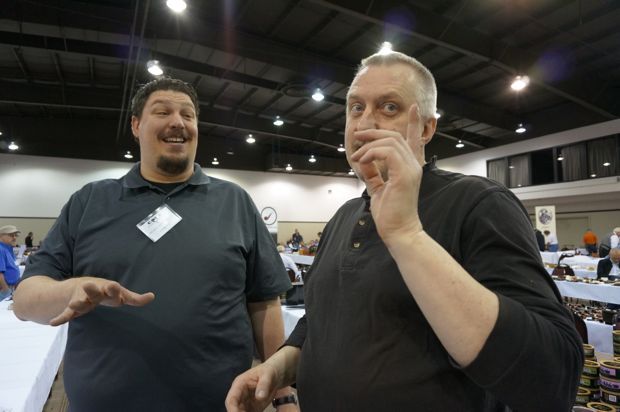 Maigurs Knets pipes.
Maigurs is a gem in our hobby.
The immense focus he will put on the smallest details on his pipes is amazing.
A trained classical artist, that fact shines through in all his work.
He explores a range of areas from insects to art nouveau  to flowers to a whole new line of pipes he is about
to surprise us all with. 
When you pick up a Maigurs, you can spend a good 20 minutes looking at the pipe and after putting it down & picking it up again, 
you can still find something you had not seen before.
We are lucky to have his mind in our hobby.
If you would like to read more about Maigurs, his mind & his pipes, please click here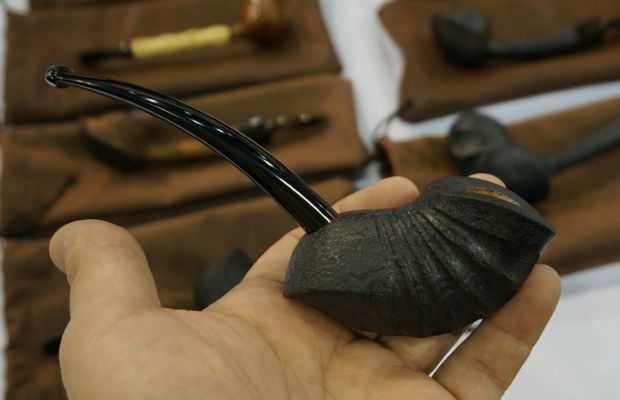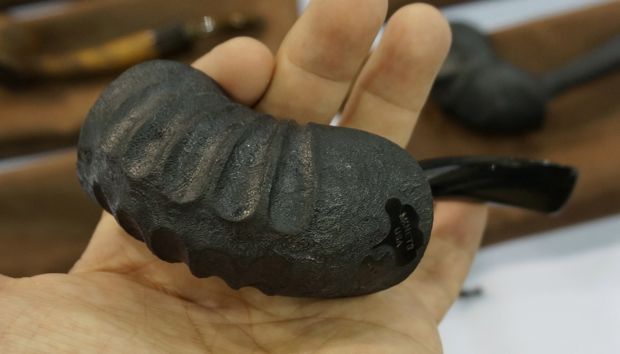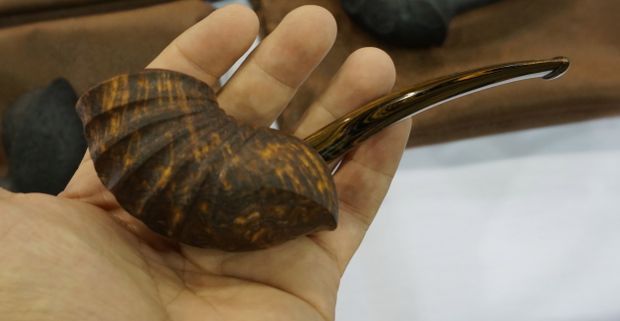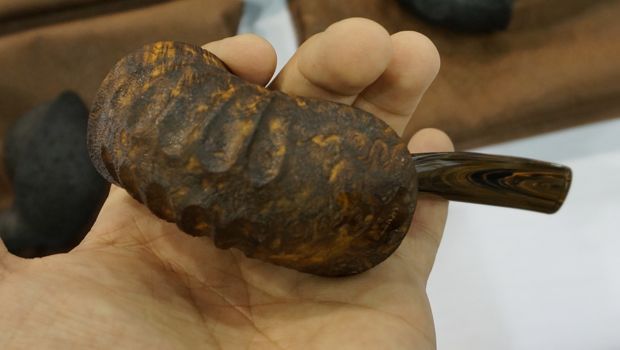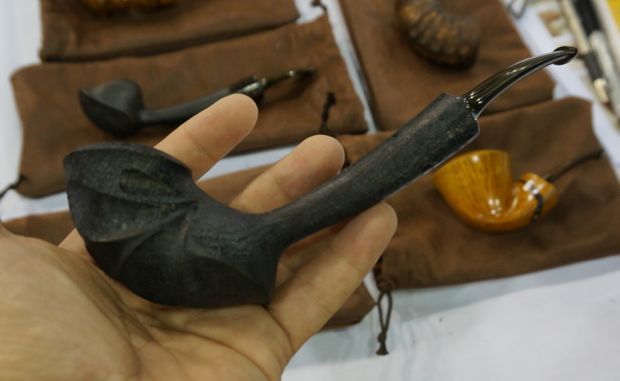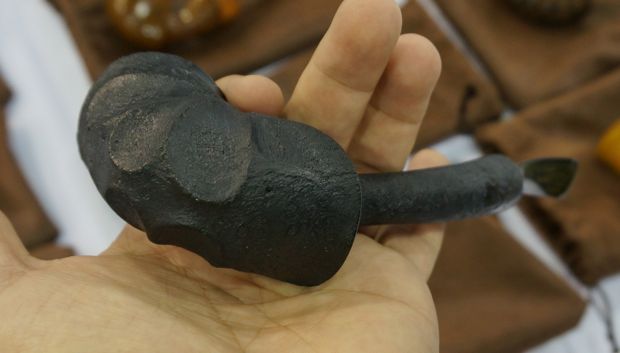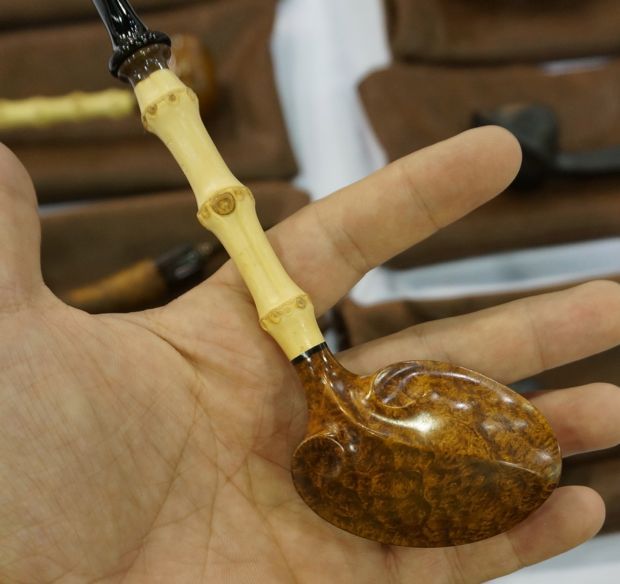 Maigurs will spend a lot of time on the smallest detail.
It pays off handsomely. Just exquisitely beautiful work.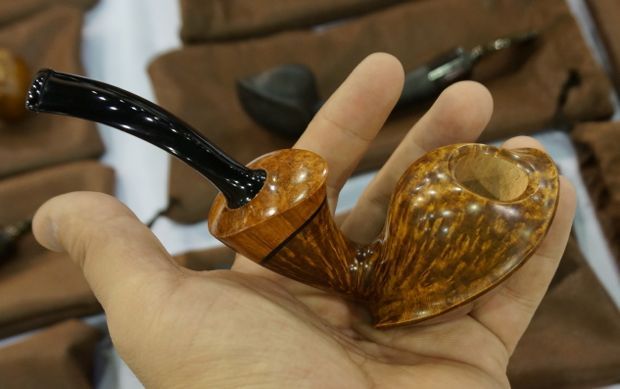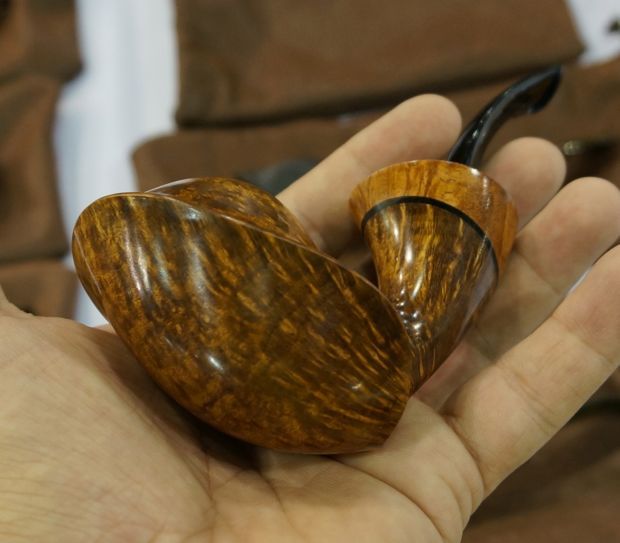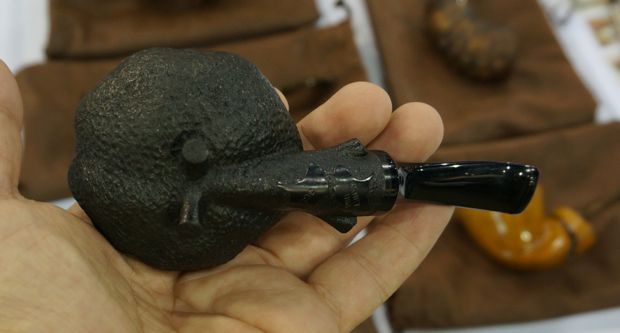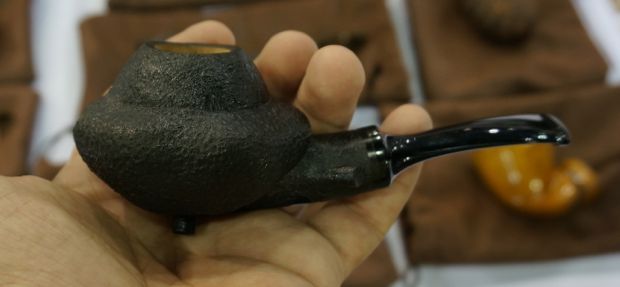 Jurgen Moritz
Jurgen hails from Germany. Jurgen is a big man with a teddy bear heart.
I always enjoy talking to him & Frank Axmacher. The two are inseperable at shows.
For such a large man, Jurgen tends to focus his art on smaller pipes, which I myself enjoy very much.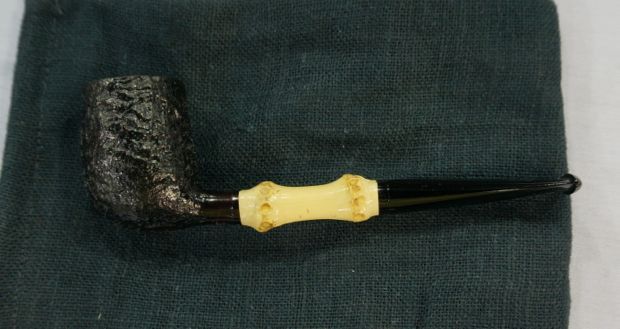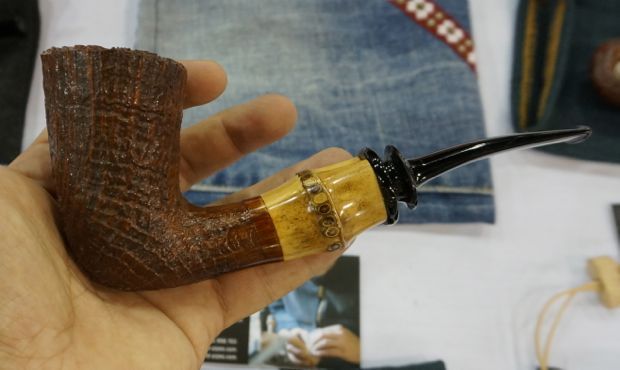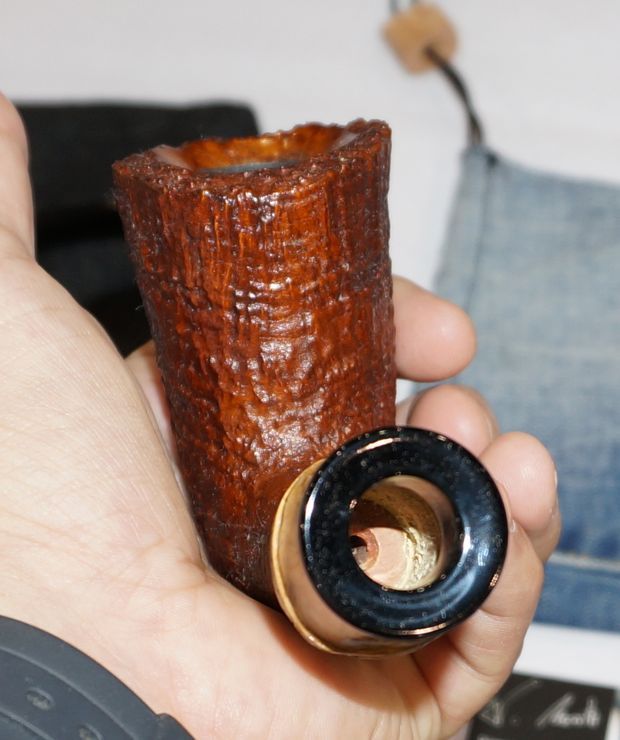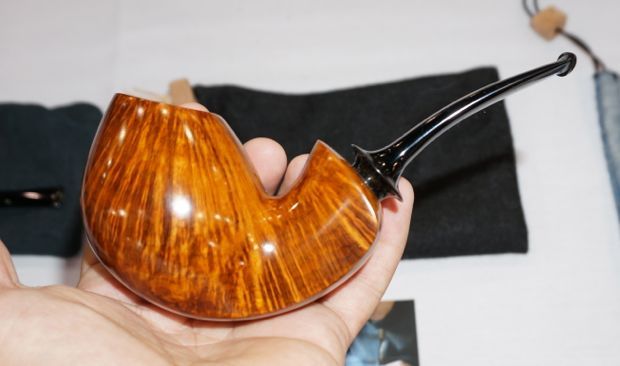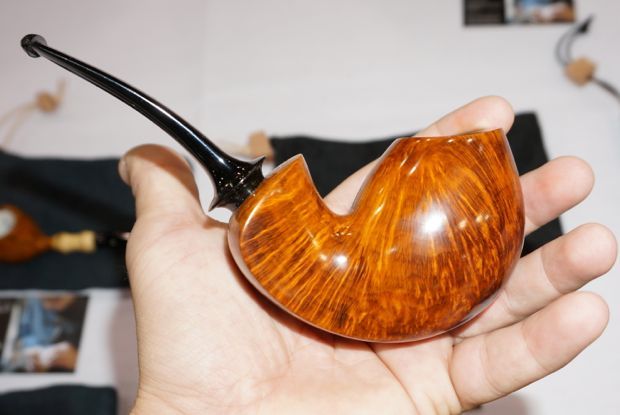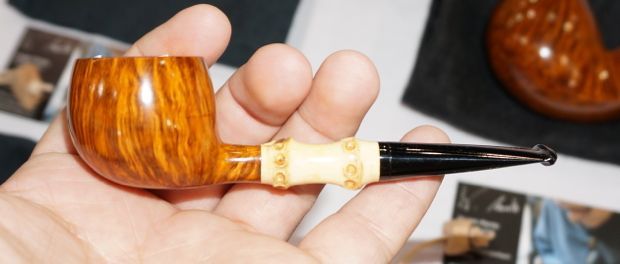 A beautiful & gentle bamboo Apple.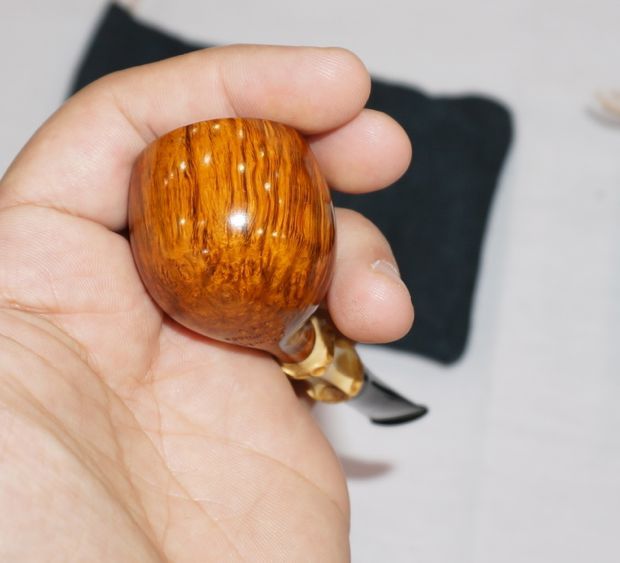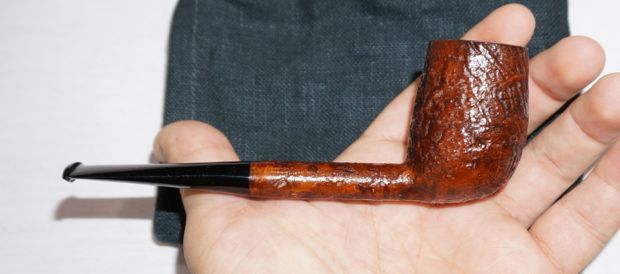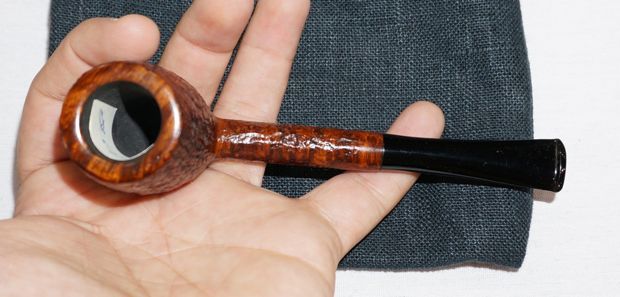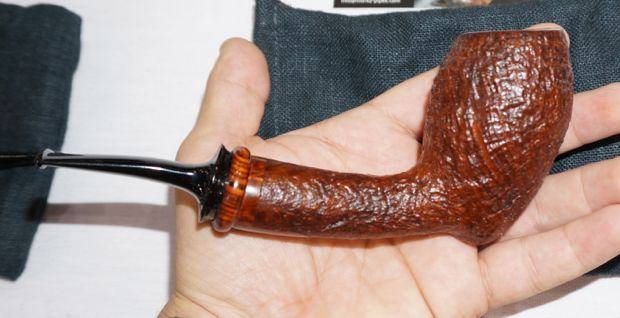 Werner Mummert.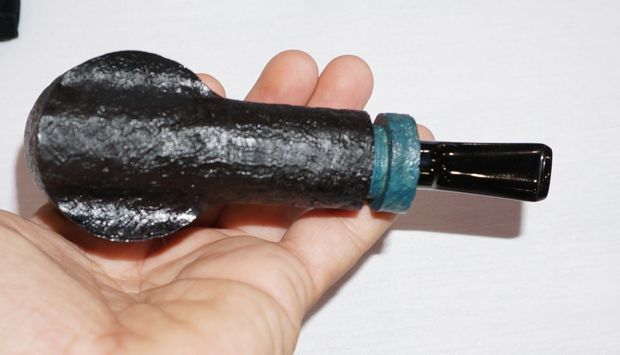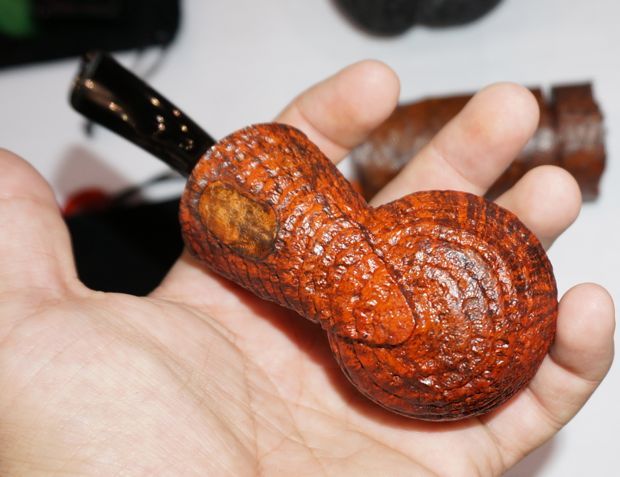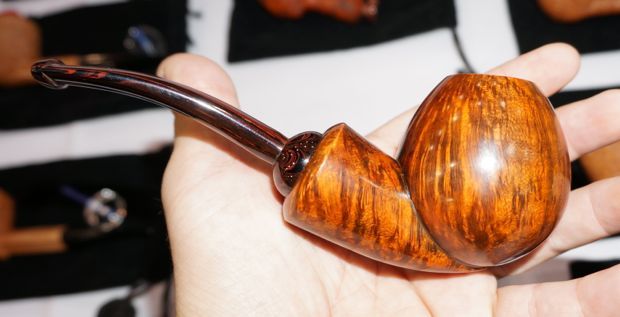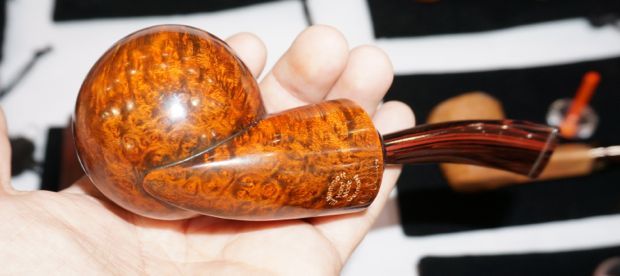 I think this photo tells Werner's story very well.
Devious. Crafty. Wanting to have fun & then some more fun.
Werner's pipes have been stretching the imagination on playful ideas since he came on the scene a few years back.
If Werner has an idea, he executes it right away.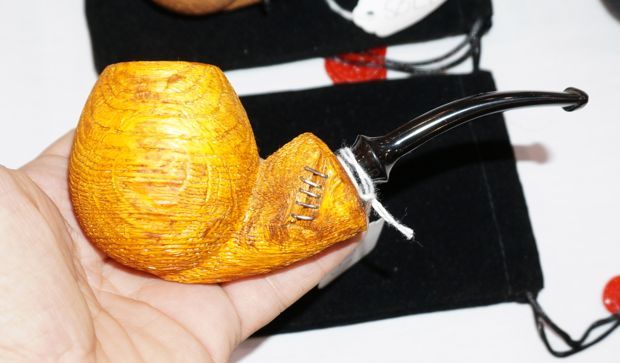 Frankenstein fix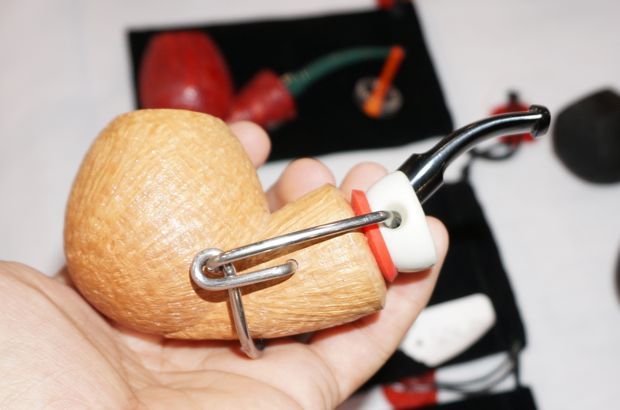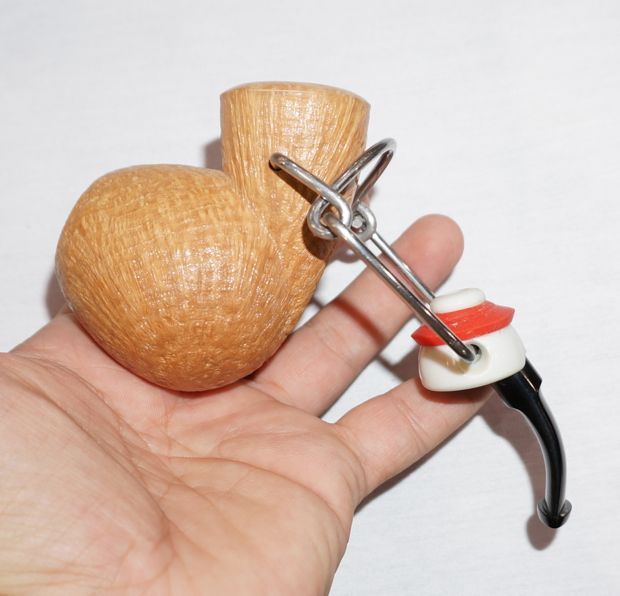 The beer bottle opener shank to stem never lose the stem connection.
Anthony Harris of ACME pipes.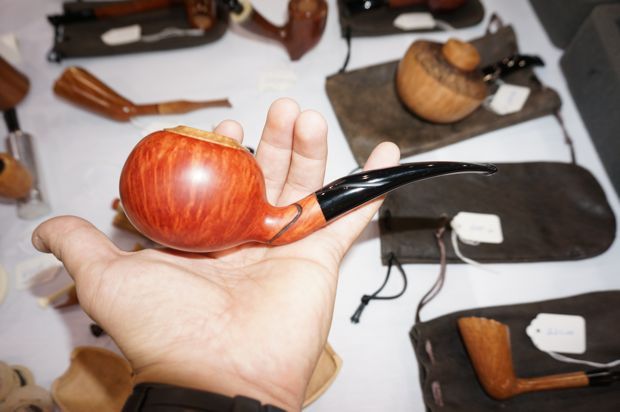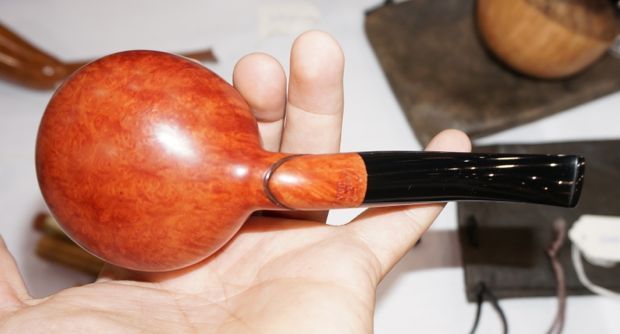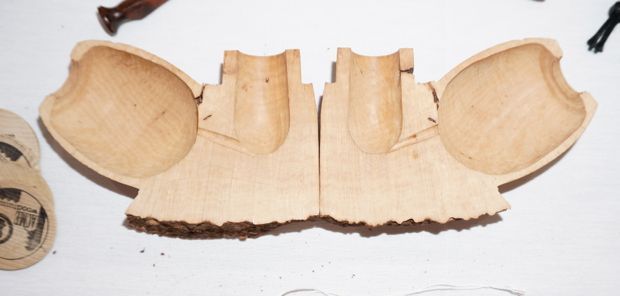 A cross-sectional view of those reverse calabash pipes Anthony loves making so much.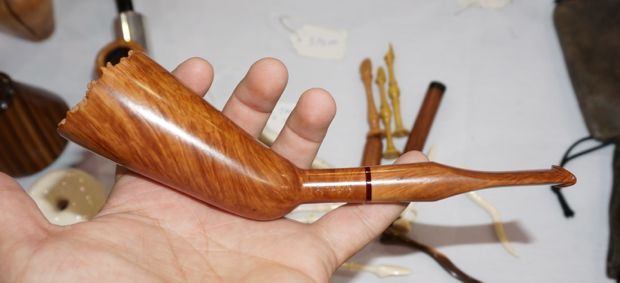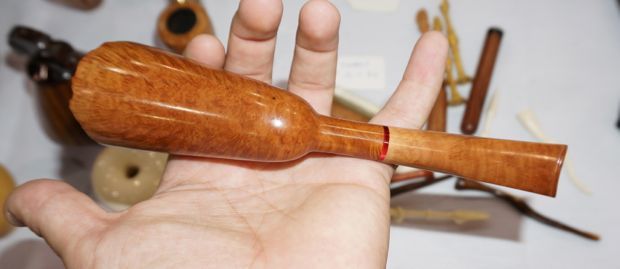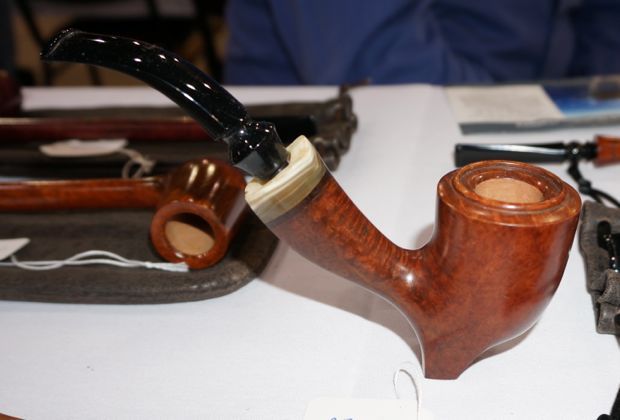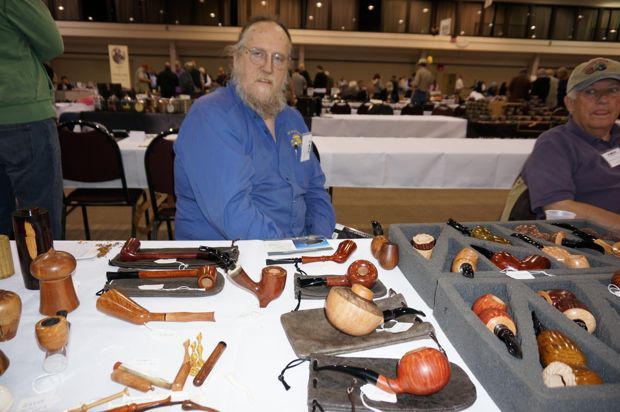 Anthony Harris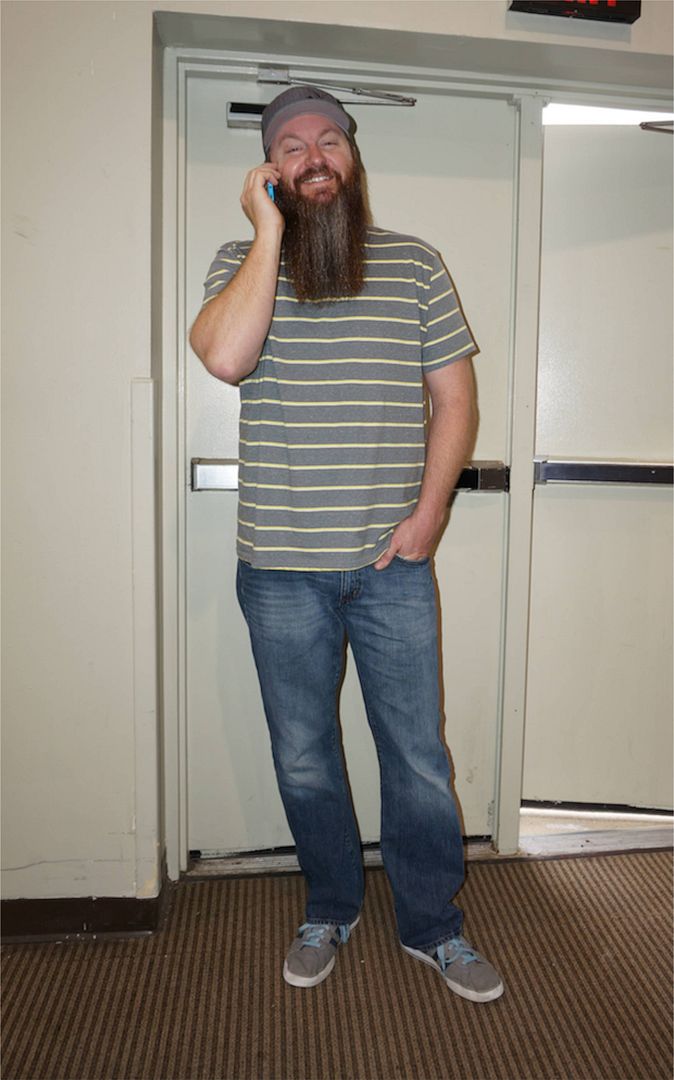 Caught Nathan Armentrout on the phone.
Olie Sylvester & his son, Brandon
Kevin Arthur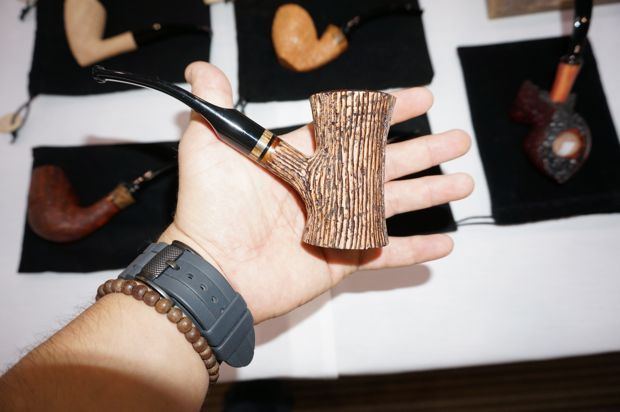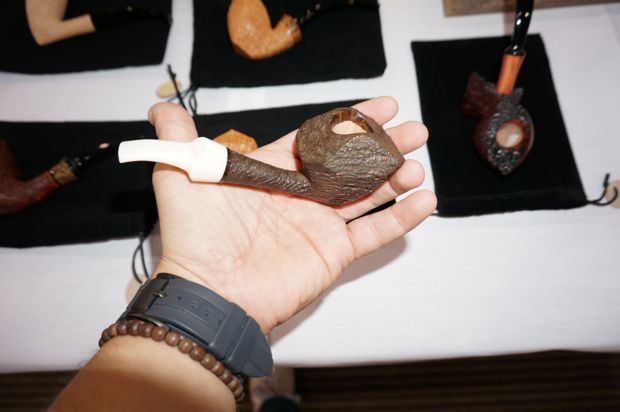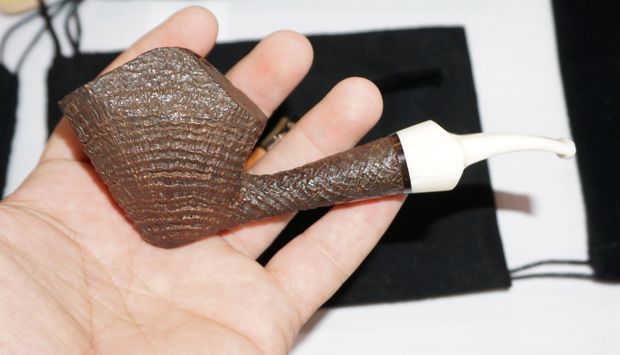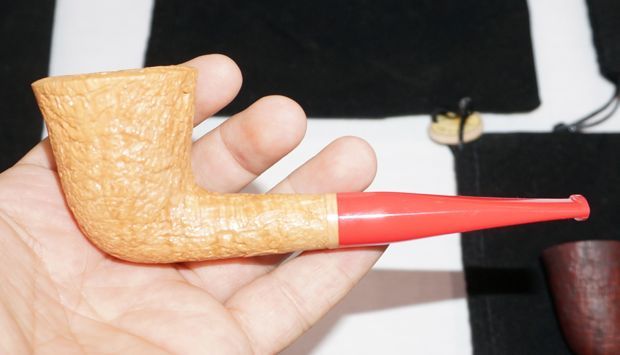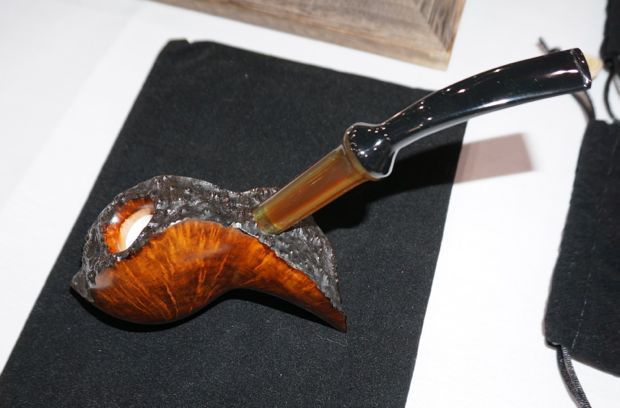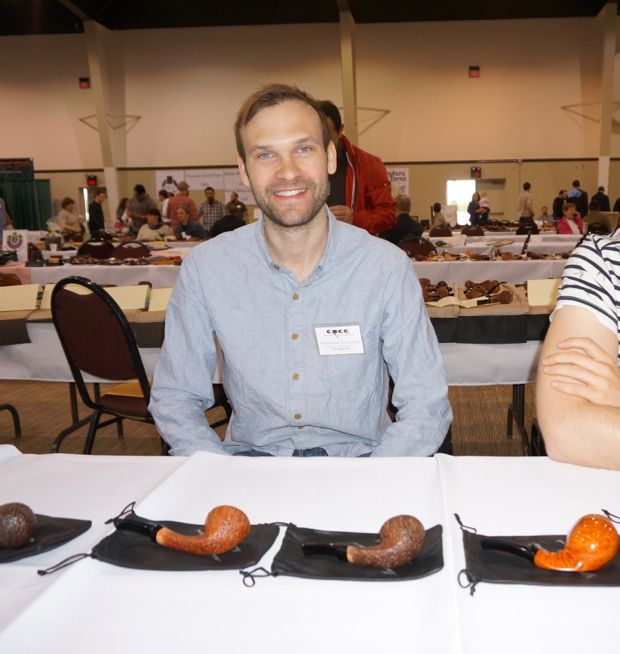 Lasse Skovgard
I rarely see Lasse's smooth pipes. Have you noticed the same?
US retailers almost always, exclusively get only his blasted pieces. Or so it seems to me.
It was very nice to see some of Lasse's smooth work as it is clearly exceptional.
Enjoy the grain and birds-eye on these pieces.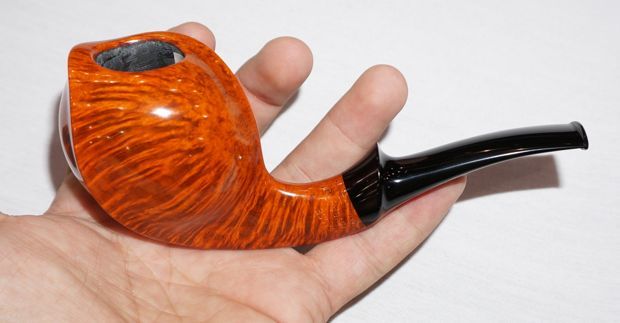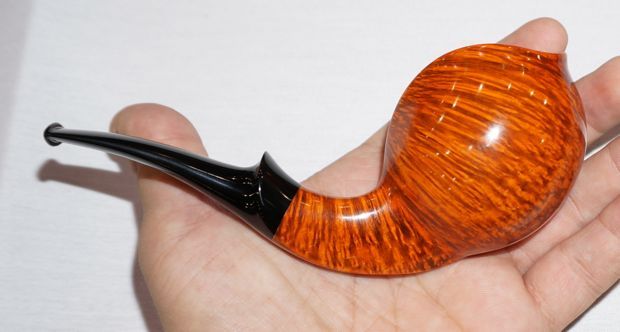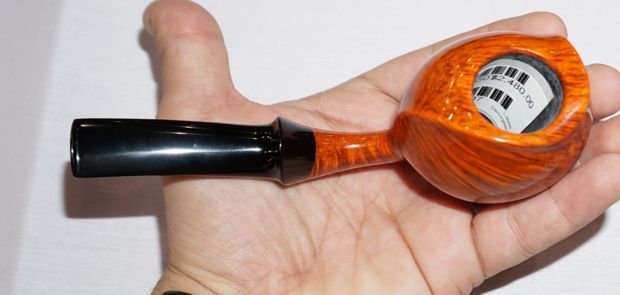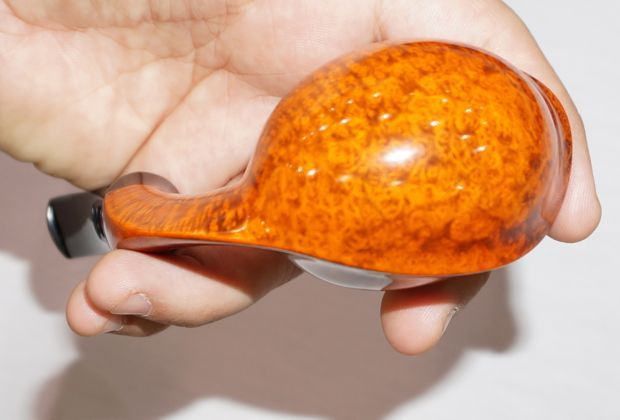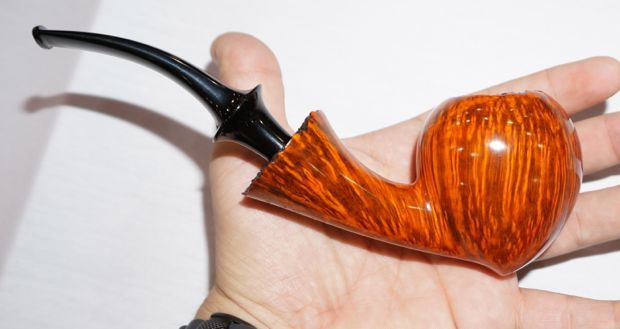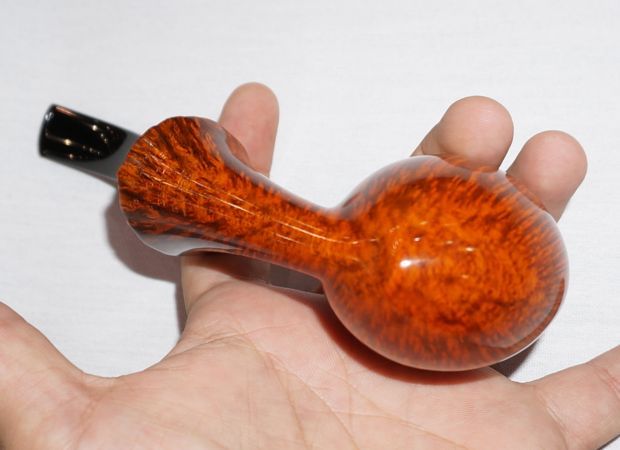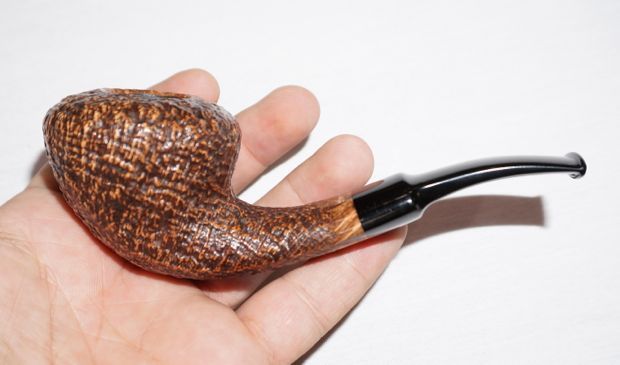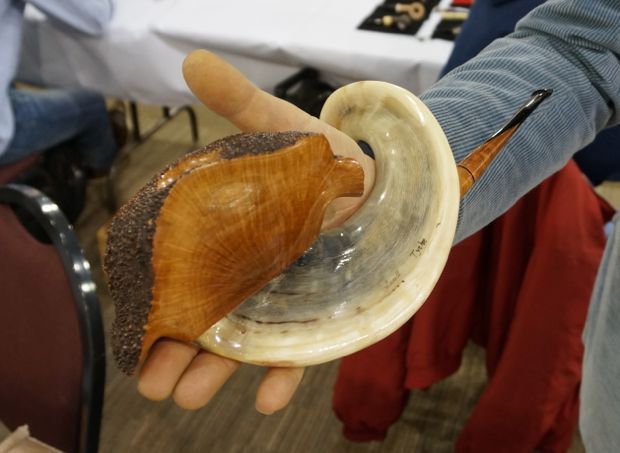 Mr. Amorelli showing us his horn & briar pipe.
Fits snugly in the hand.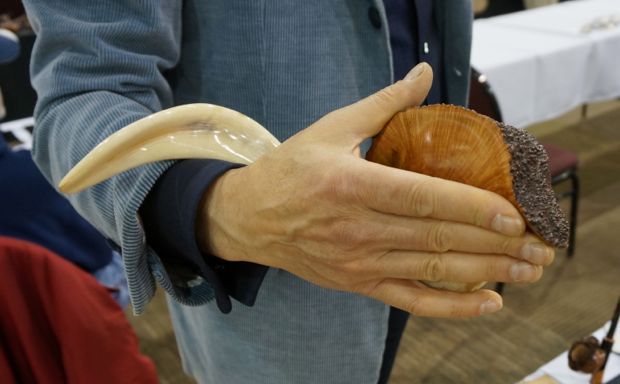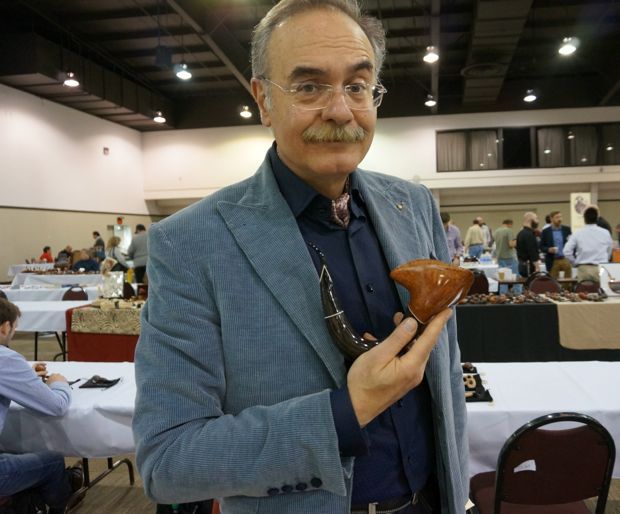 Mr. Amorelli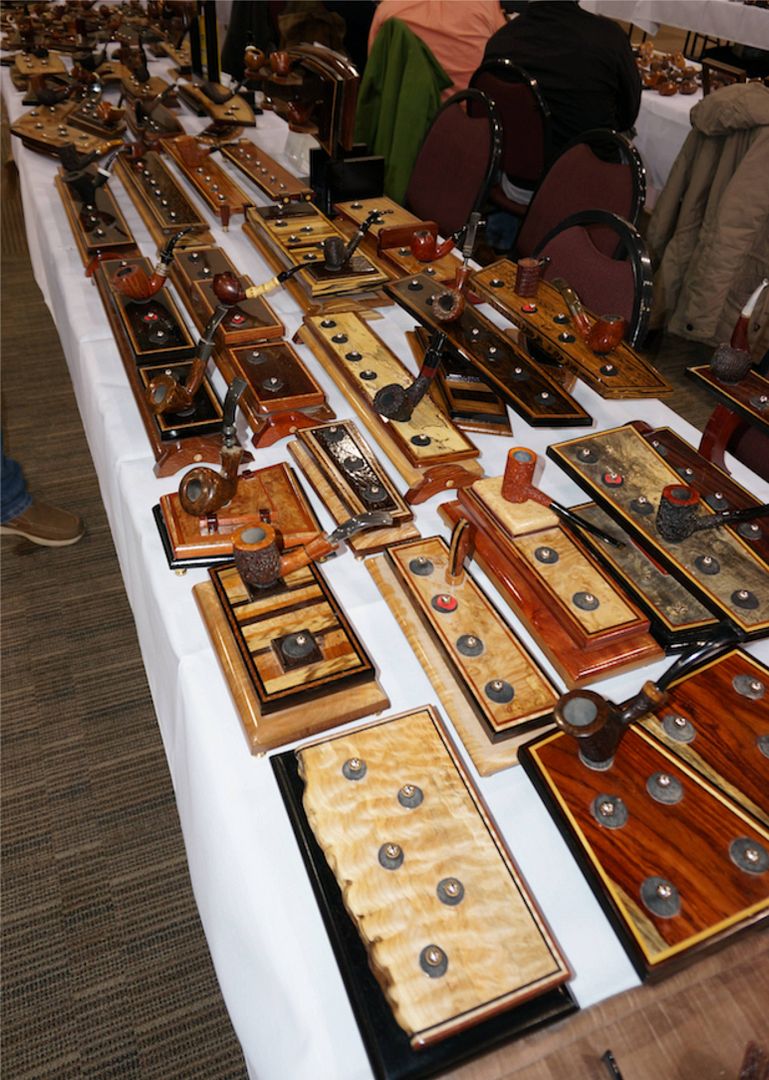 Neal Yarm & his pipe stands.
Neal has taken pipe display to a whole new level & I thank him for it.
We adore our pipes. We love them. We caress them. We treat them as they should be treated, very well.
Placing them on a stand that matches their beauty makes so much sense.
In December of last year, Neal and I worked on a new pipe stand idea.
One that took the pipes off the table and onto the wall. In my mind, a better display.
If you would like to see that pipe-stand and the process that went into it, 
please click here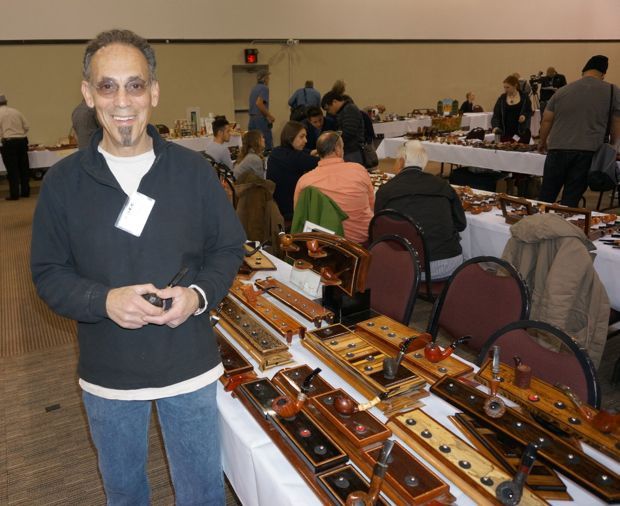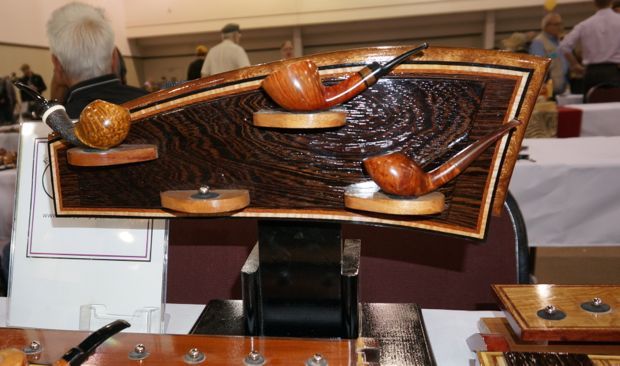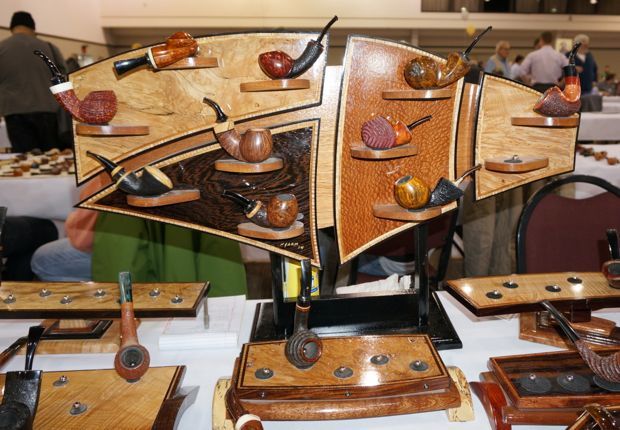 Is there any better way to see your pipes? I think not.
Taking the art in pipes and adding an additional layer of art & beauty behind them,
to accentuate the art everywhere. Beautiful.
A quick detour to Tyler Lane.
Neal had this pipe on one of his stands and I could not stop looking at it.
An exceptionally beautiful and absolutely perfect piece.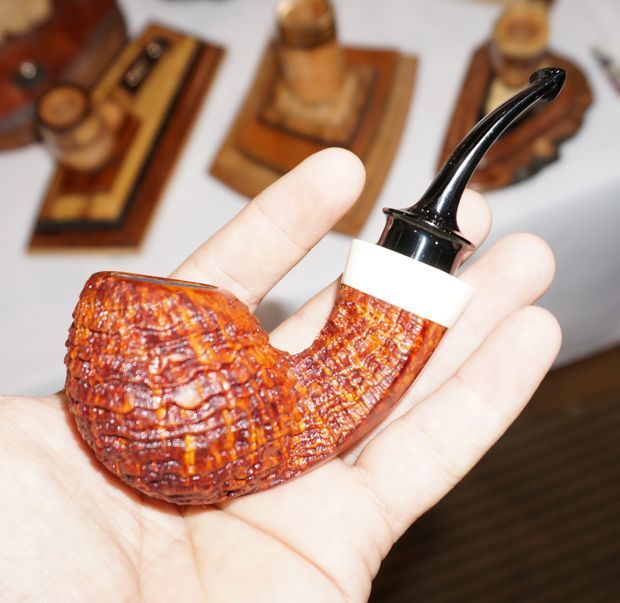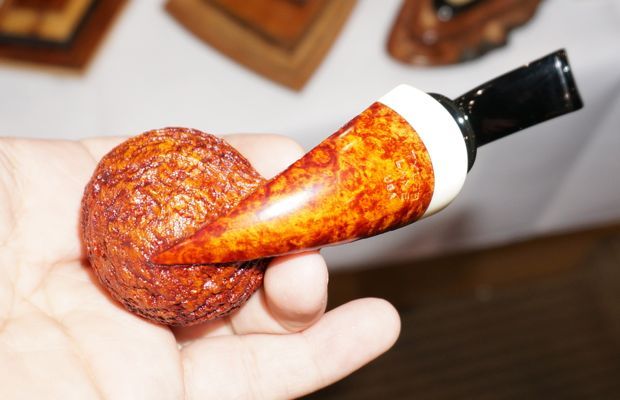 One of the sexiest rears I saw at the show.
Beautiful work by Tyler Lane.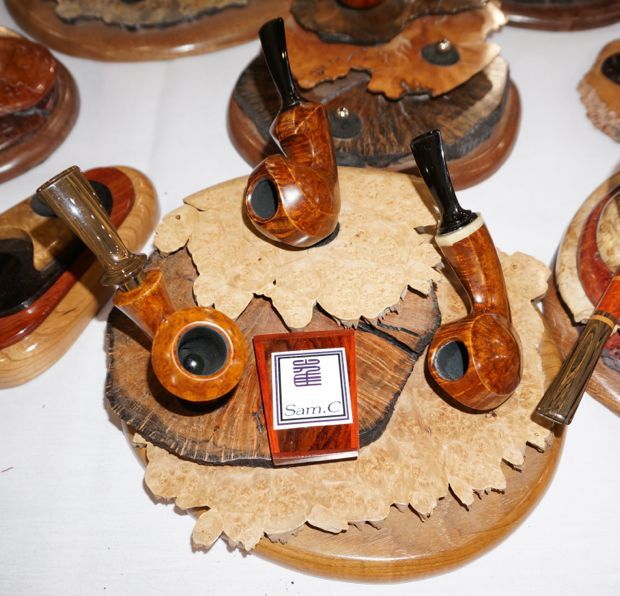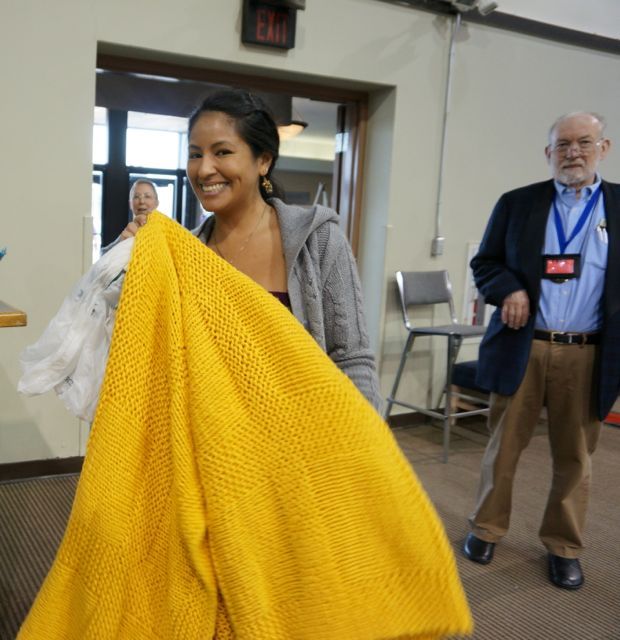 The CPCC held a raffle for the women at the show, giving away this blanket?
Melissa, an avid knitter, was very focused on winning this item and….She Won!
Craig Cobine (behind her) looks a little disappointed.
I wonder if he wanted to win the blanket as well?
Got a treat and smoked some Marcovitch.
Courtesy of a very dapper posing Mr. Fred Hanna.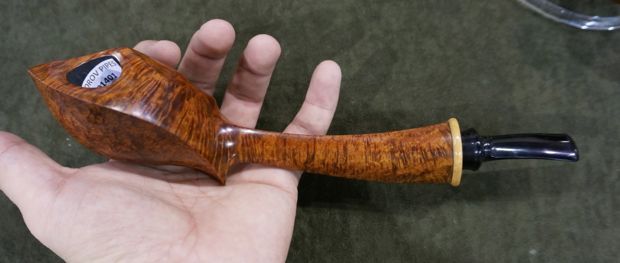 Alex Florov
Russian born, now living in America.
Alex is so talented. His mind is full of so many ideas.
His thoughtful execution covers every form of pipe design that exists.
He nails new pipe design ideas with amazing force.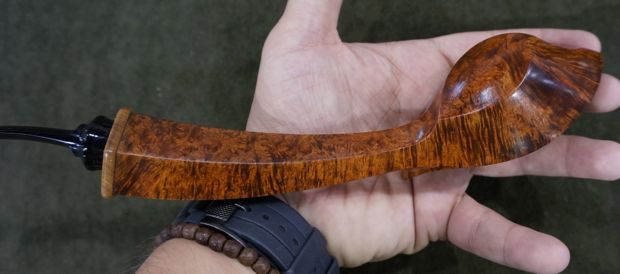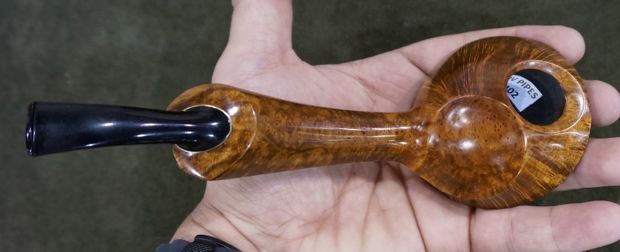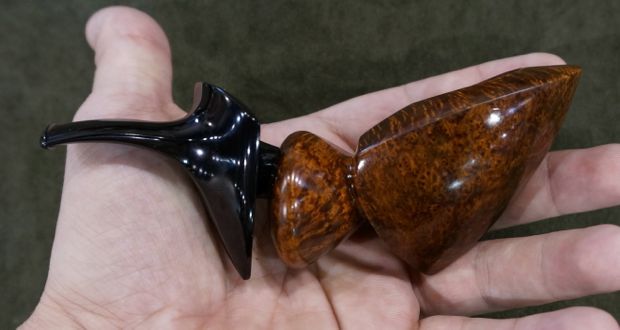 Triple layered design. Extremely difficult to execute properly.
Alex has a way of hitting the mark.
He knows when & where to apply any counter balance element to make the entire piece work properly.
I highly doubt Alex read my article on Understanding Pipe Design but he follows many of
the design systems outlined in the article. If you'd like to read it, please click here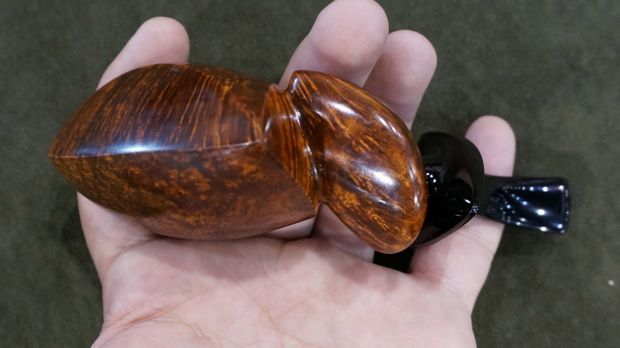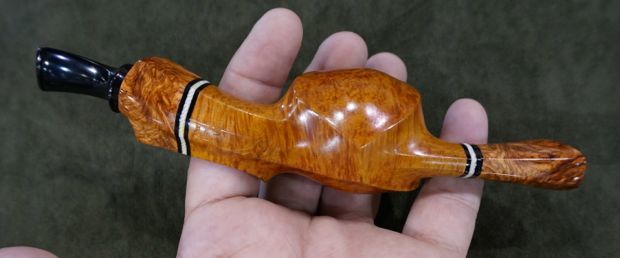 Not too much, not too little.
So difficult to make these complex designs look very good.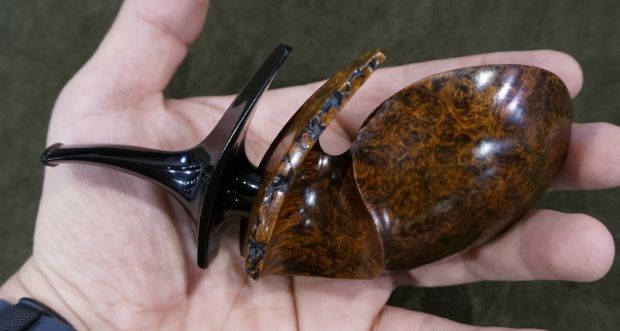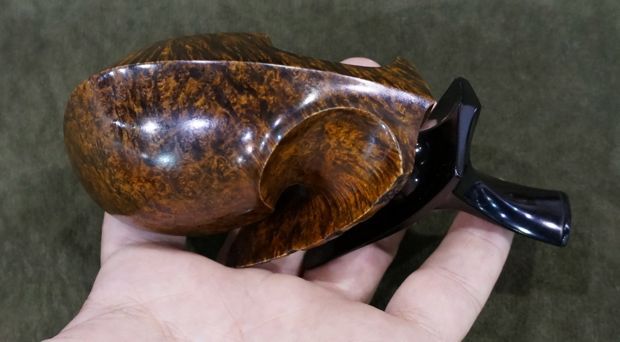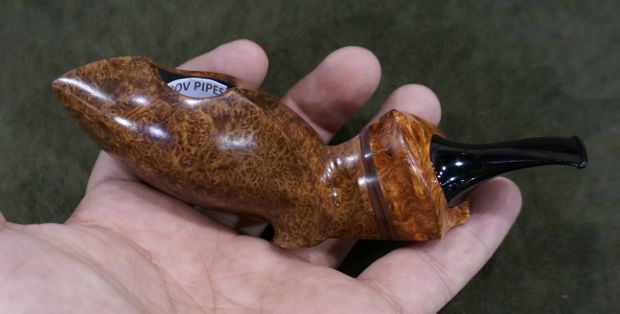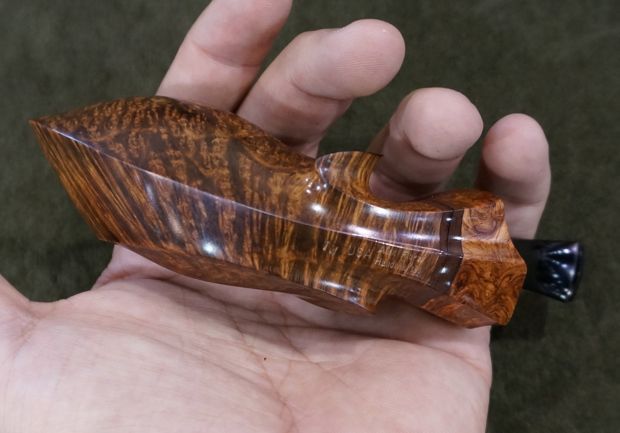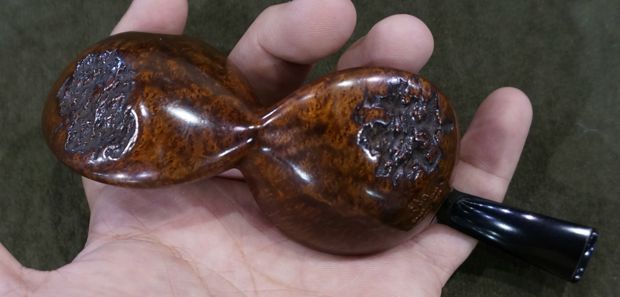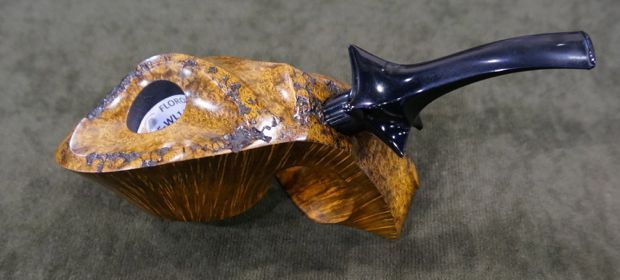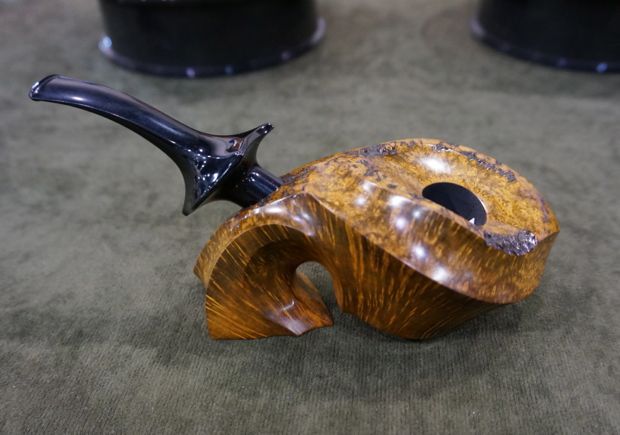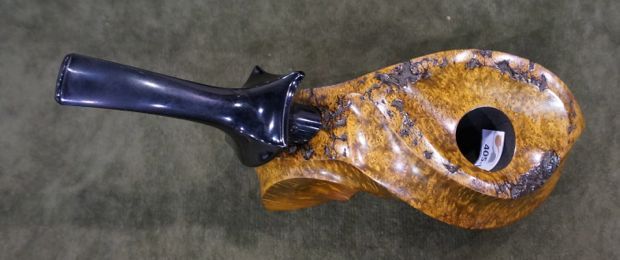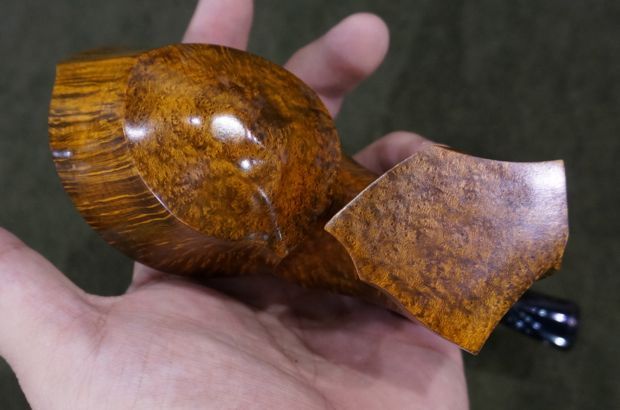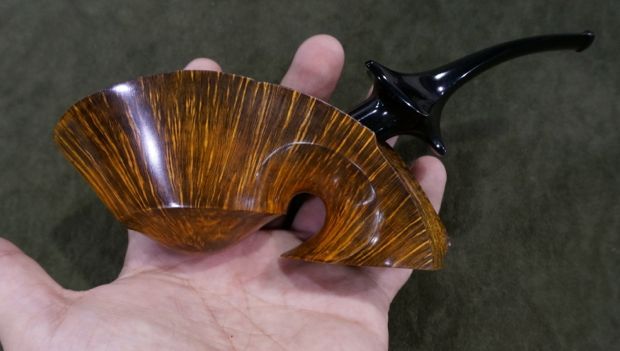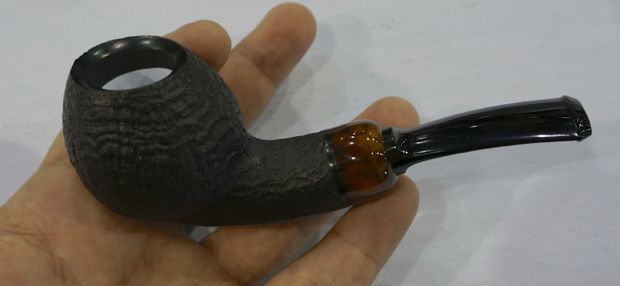 PS Studio Pipes
The pipe line from Vladimir Grechukin & the younger masters under him.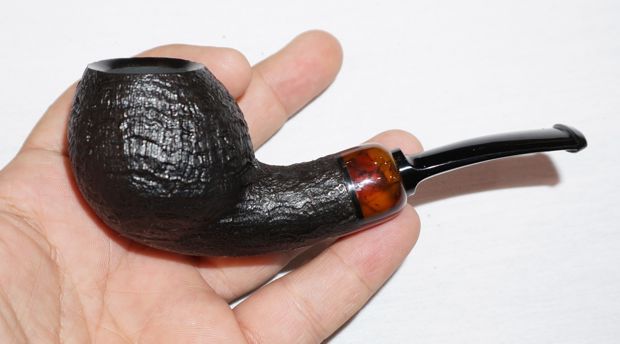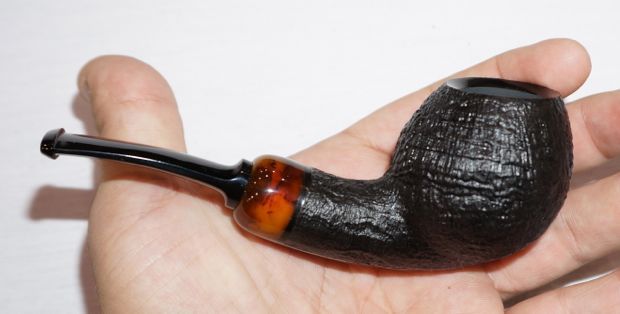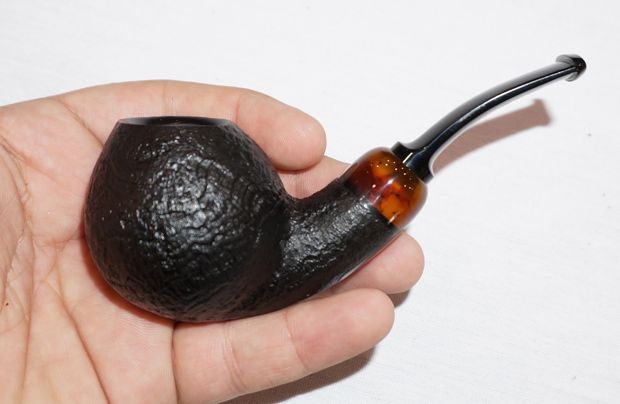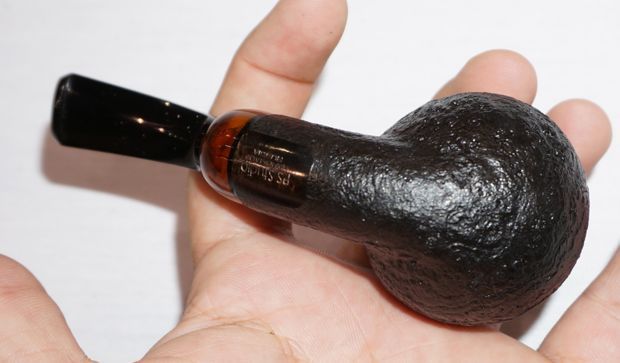 Multiple views on this incredible piece by Konstantin Shekita.
Pretty mind-bending.
First, that's a huge chunk of briar.
Second and again, just imagine how much time goes into this type of pipe.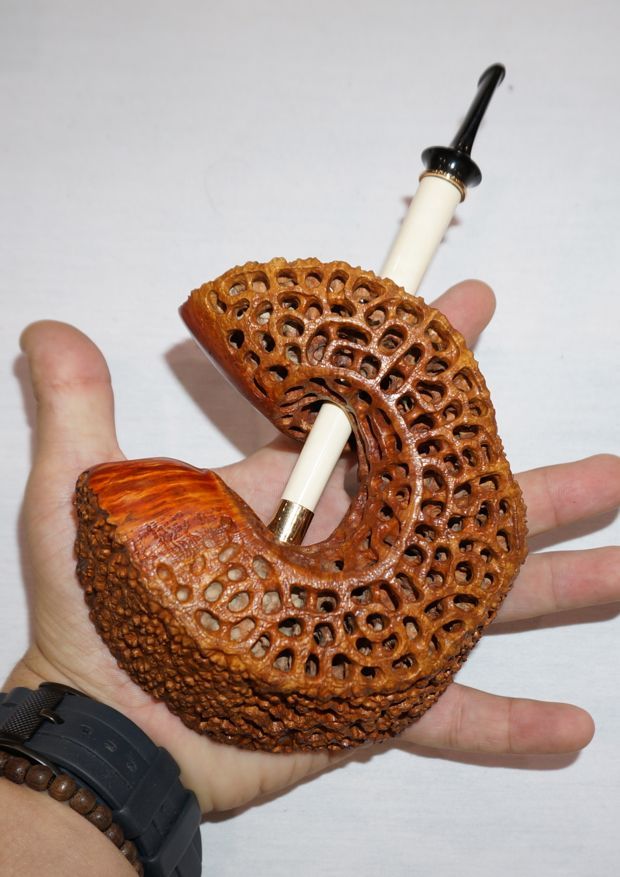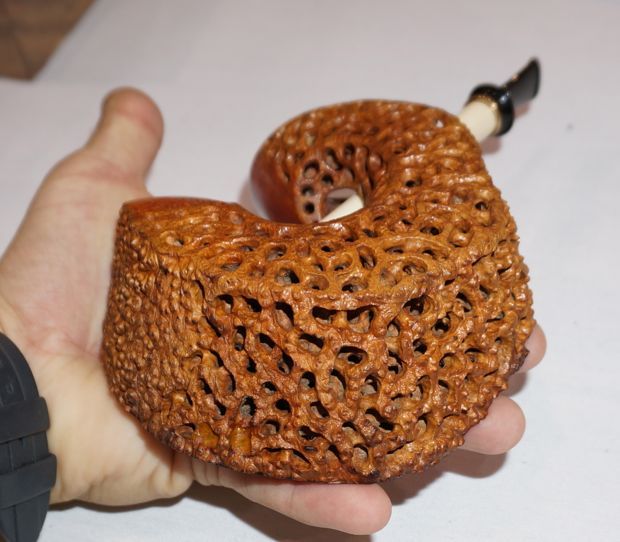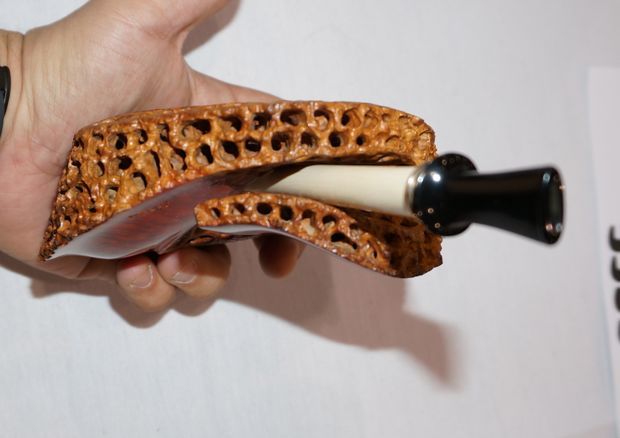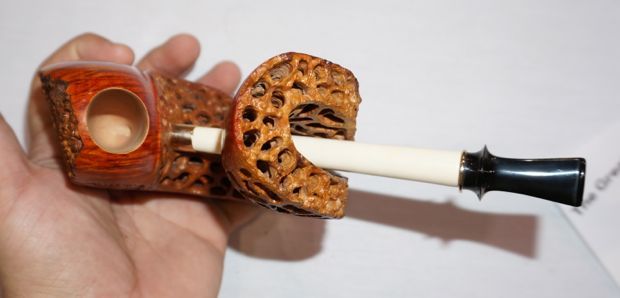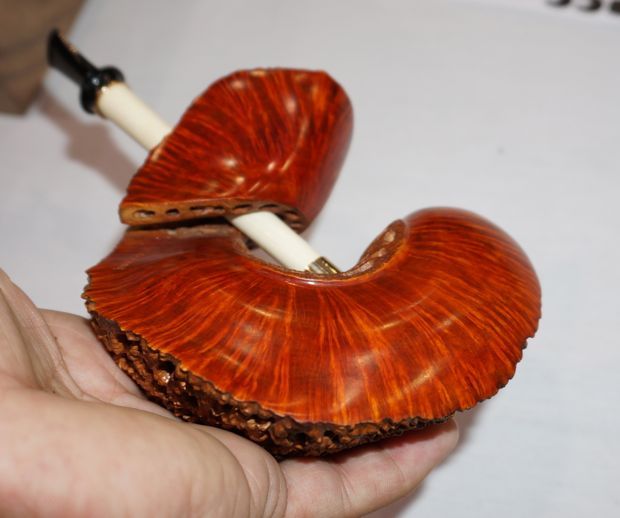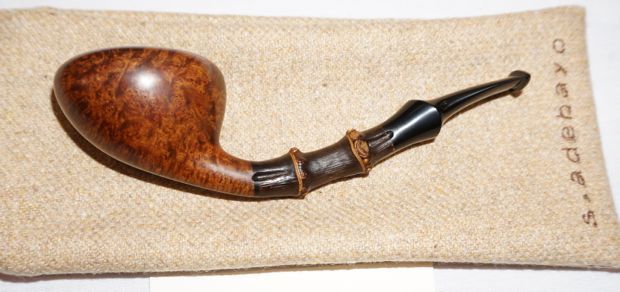 Native to Chicago, new US pipe-maker Sam Adebayo.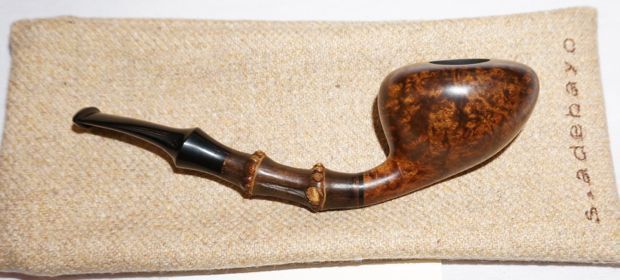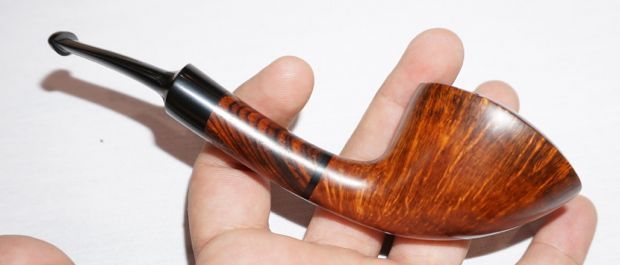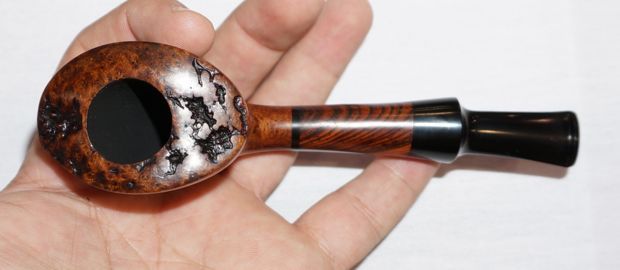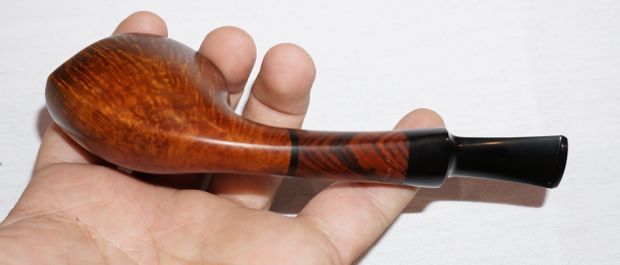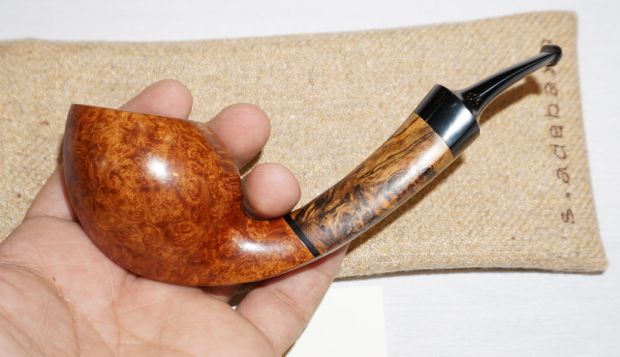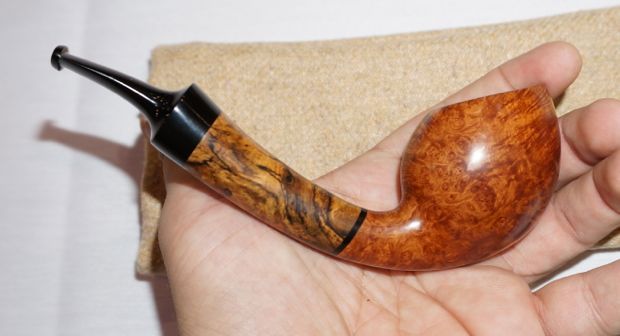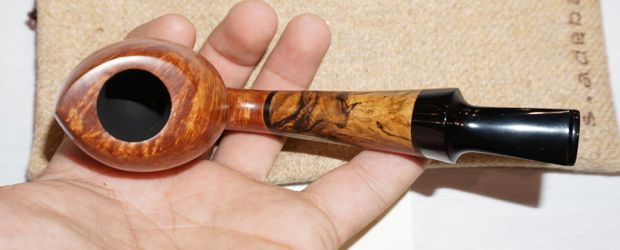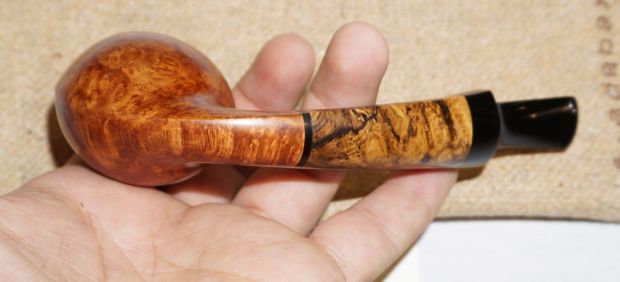 Ryan Alden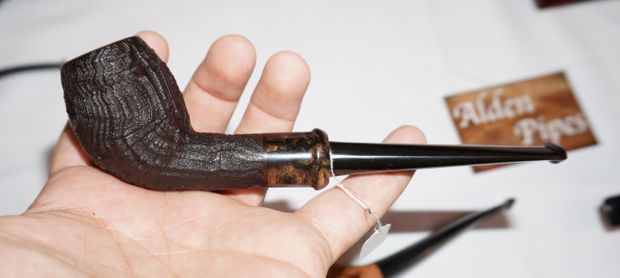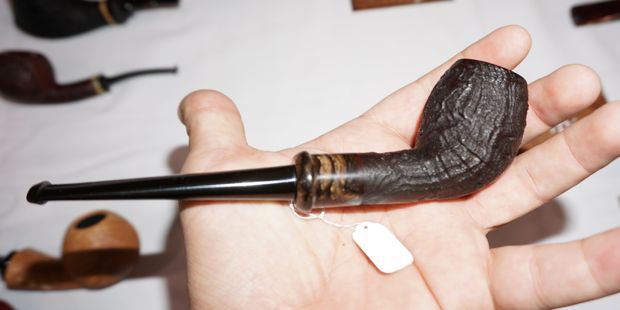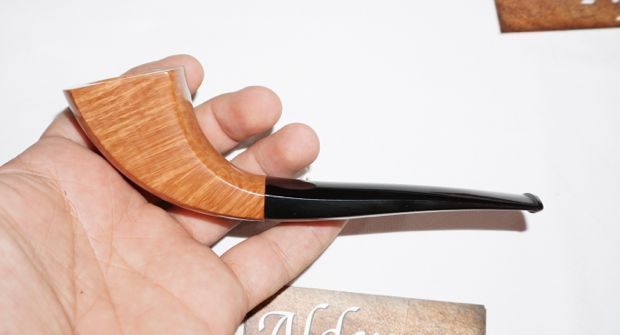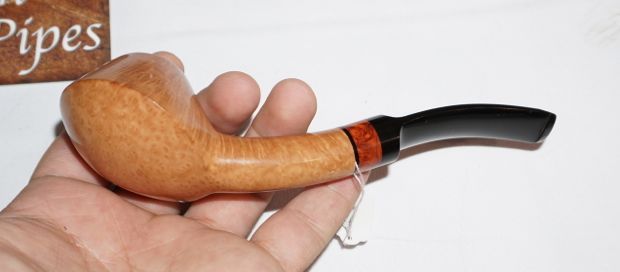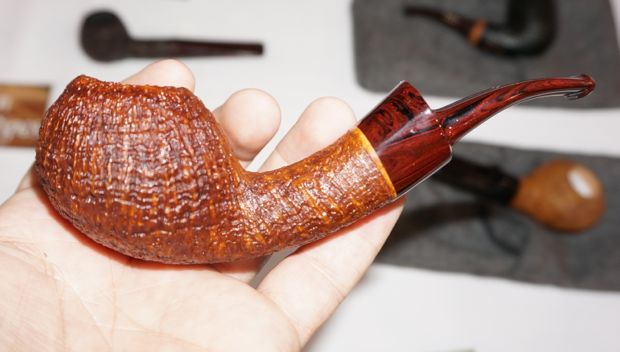 Bill Shalosky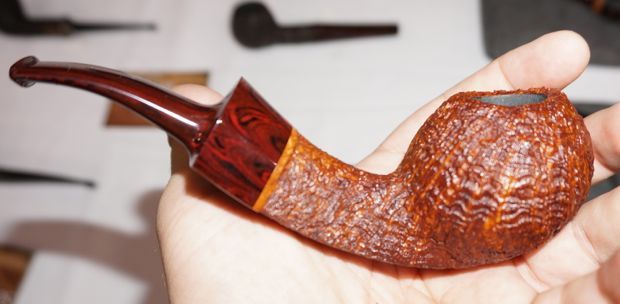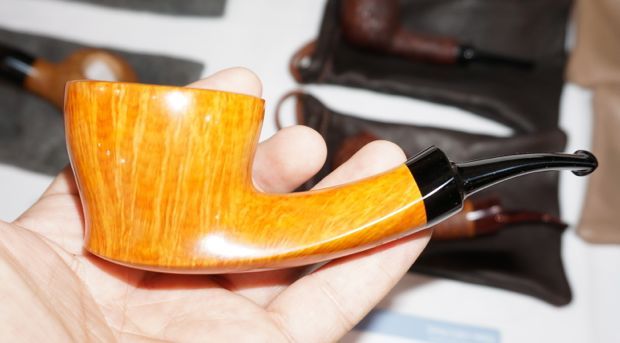 Premal Chheda
I really like Premal's use of a natural orangey / yellow stain in this pipe.
Feels different.
Beautiful work that stands out.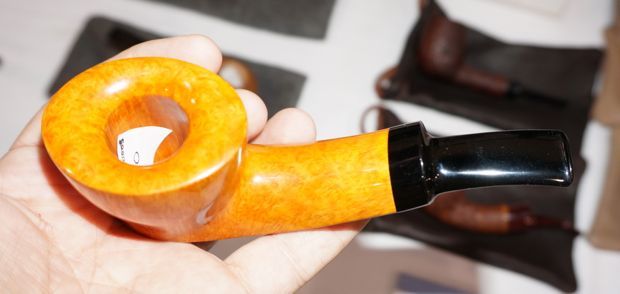 Micah Redmond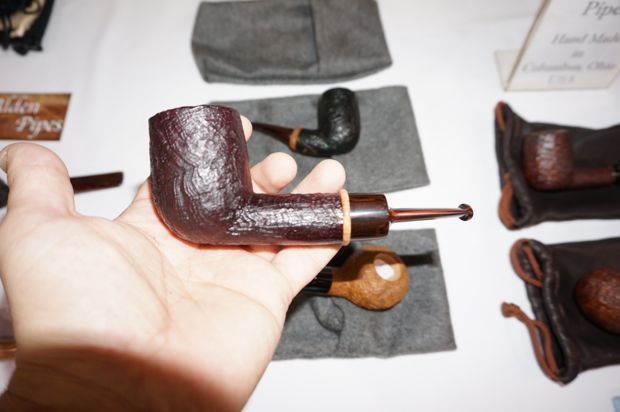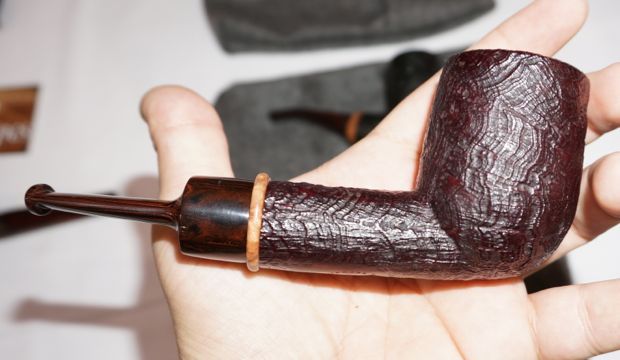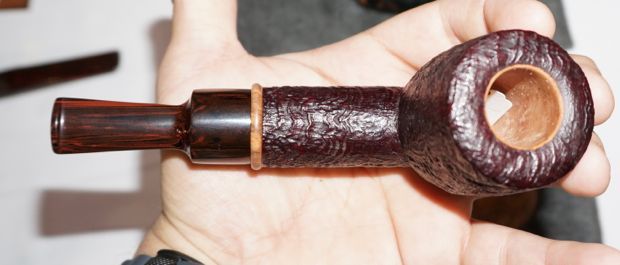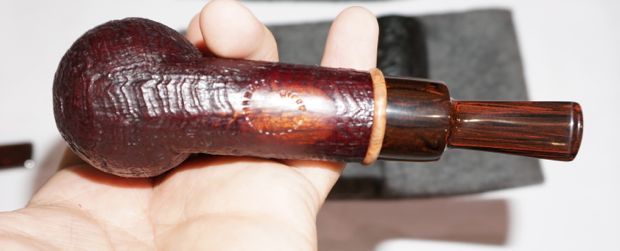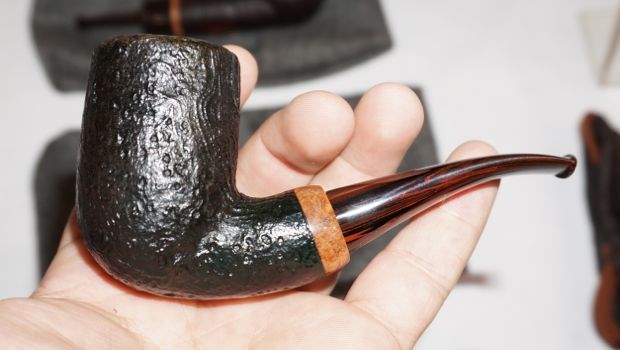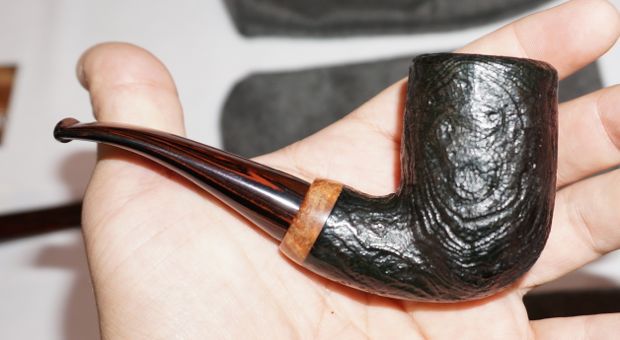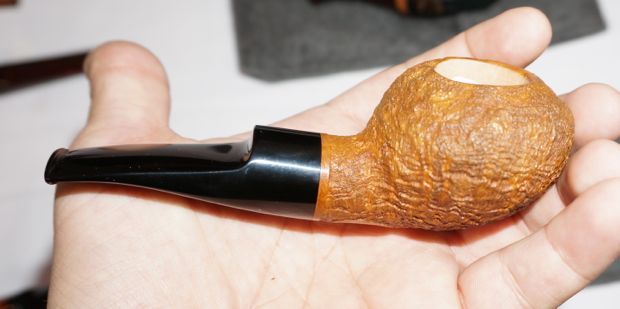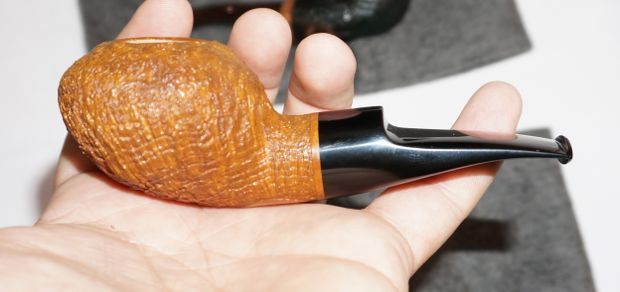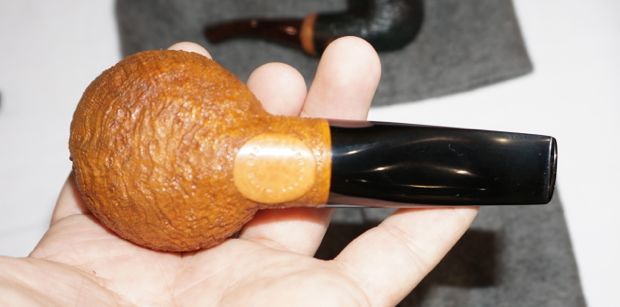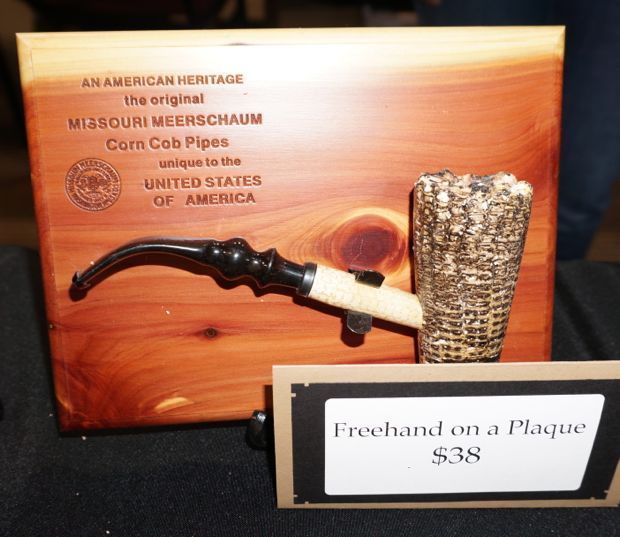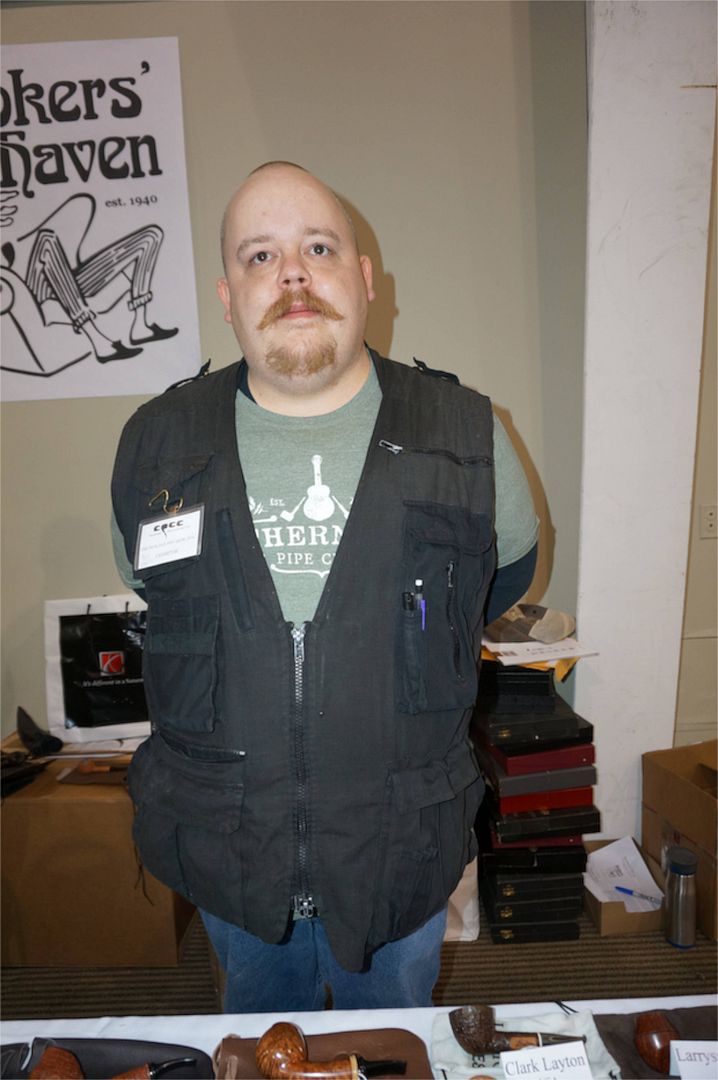 Bill Shalosky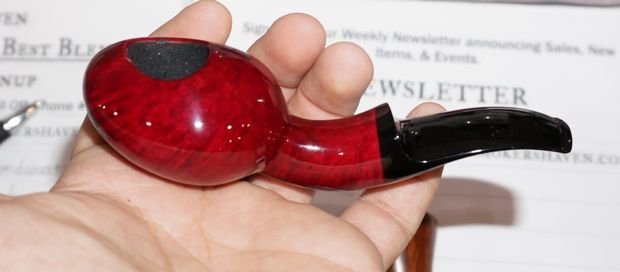 Andrew Staples & his pipes.
First time I met Andrew.
He has a very fun approach to pipe-making.
From this tadpole shape to the other's below. Andrew is having fun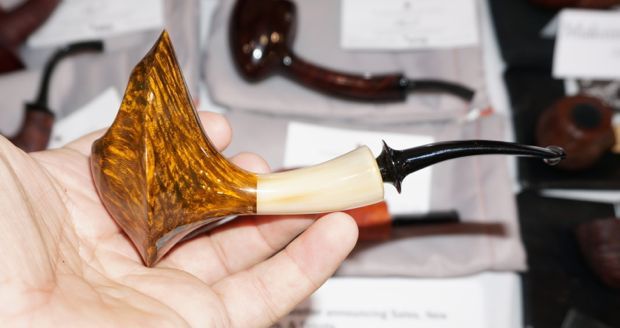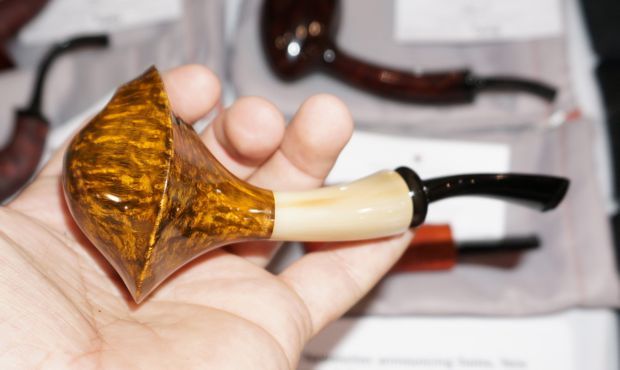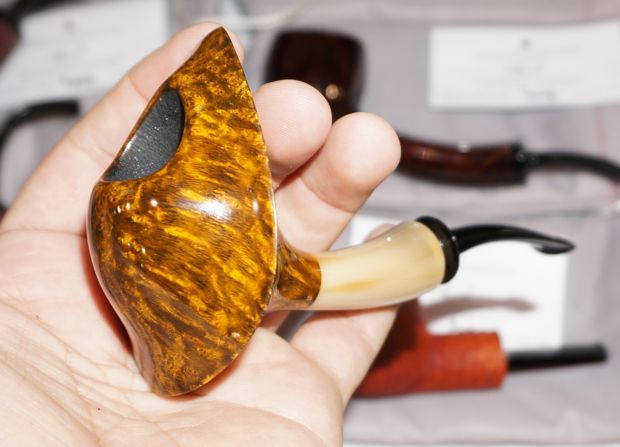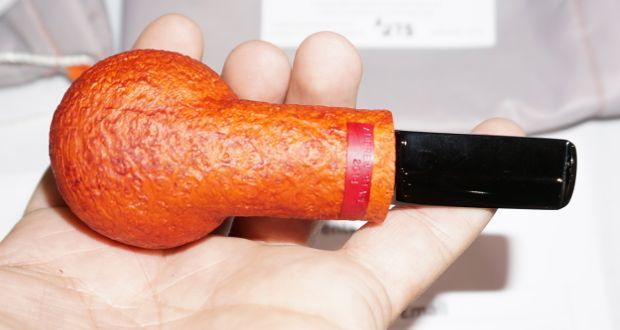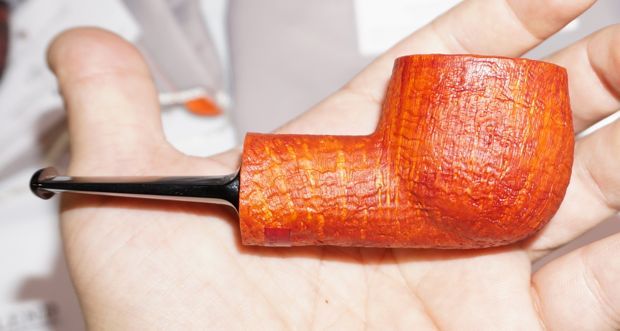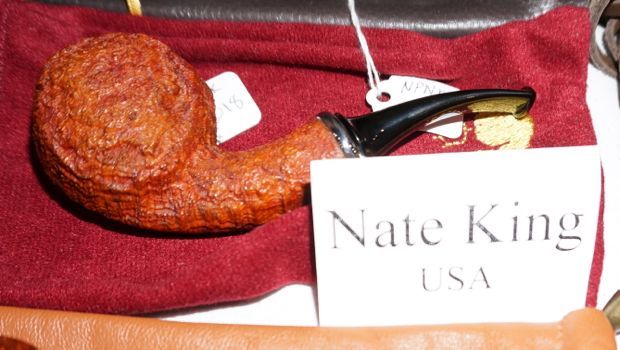 Nate King
There is something about Nate's work that really attracts me.
The lines in his pipes have this raw, un-finished element in them that I enjoy.
I guess because it appears to be part of his system. You see it throughout a lot of his blasted work.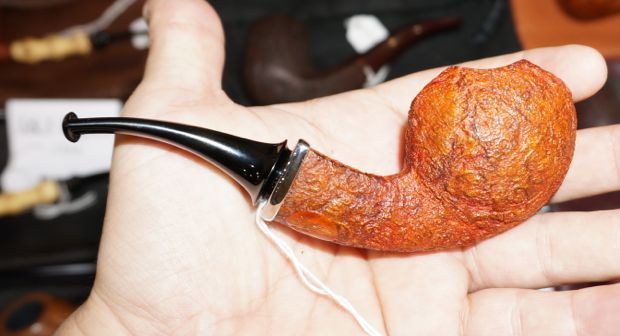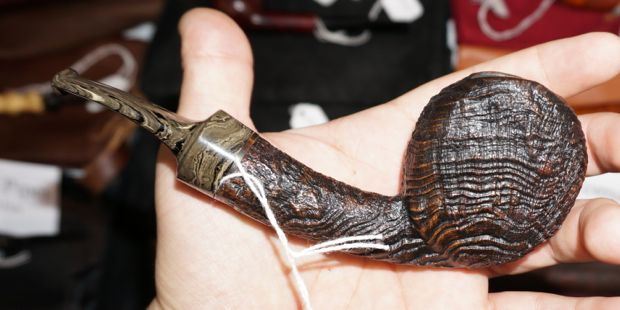 Check out that grain.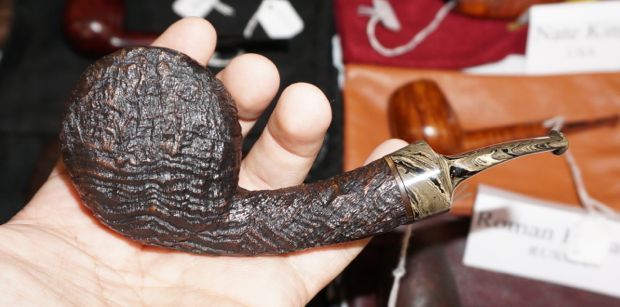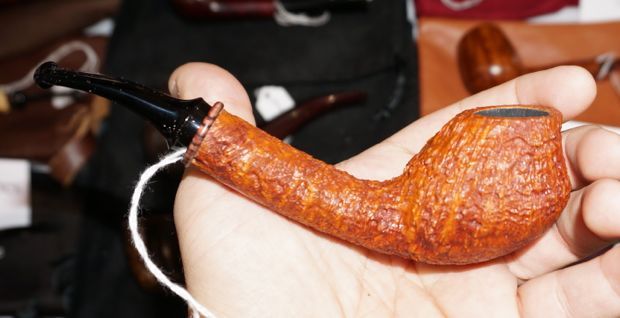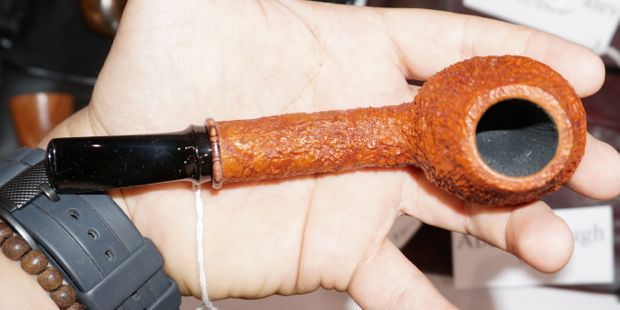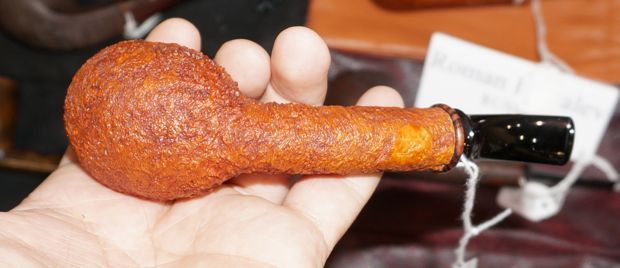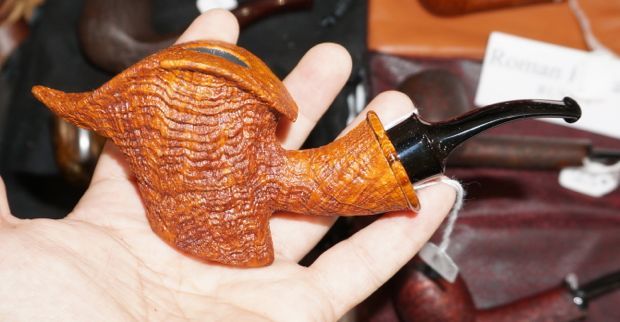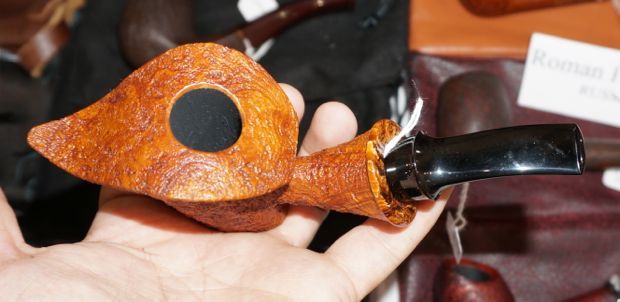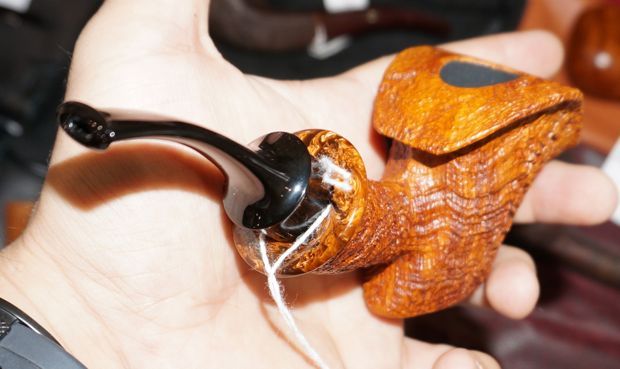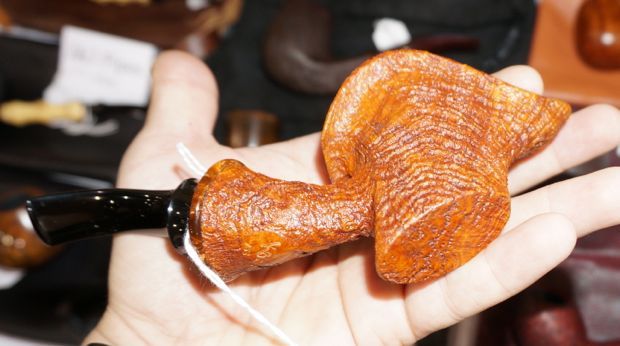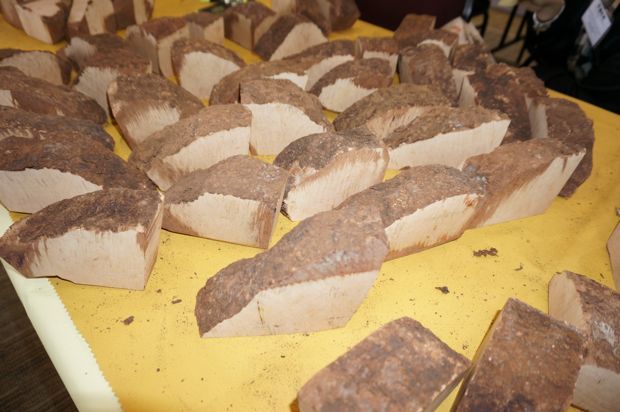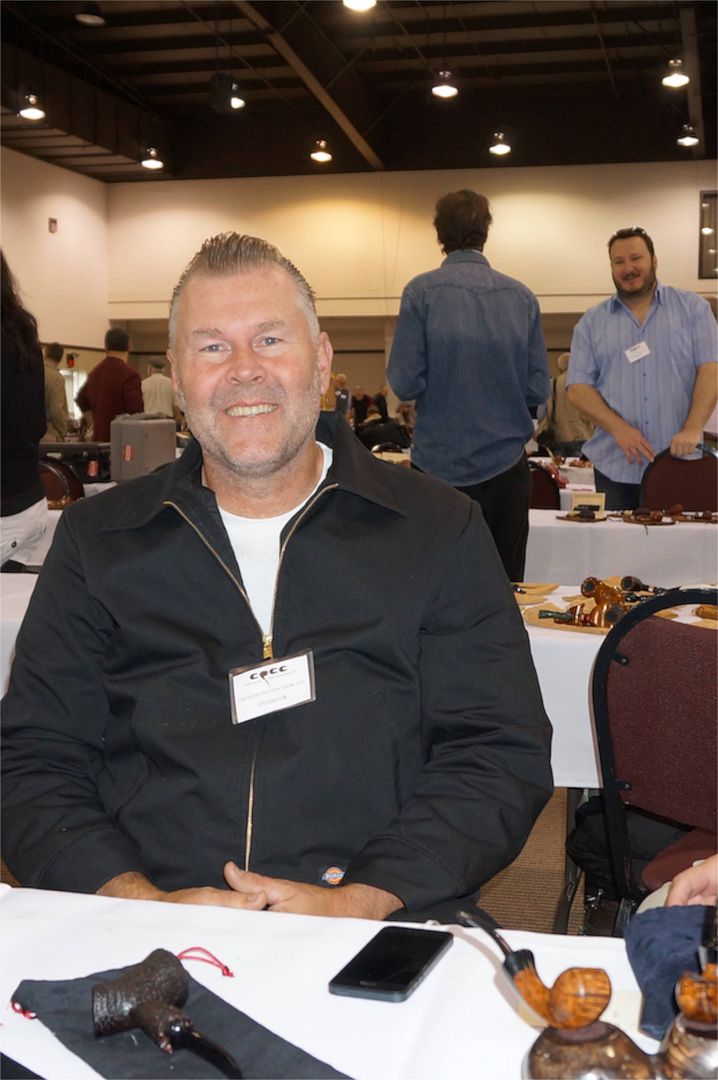 Rev's Pipes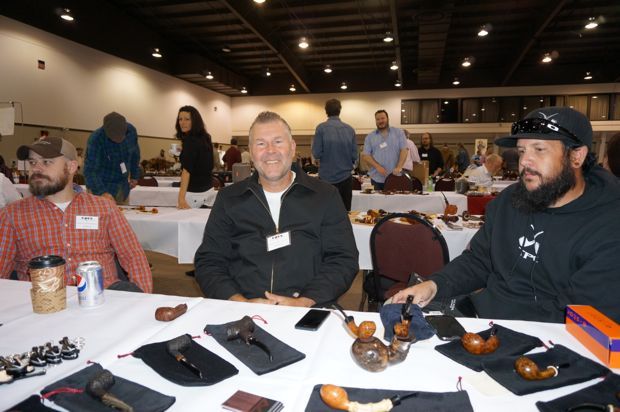 The Rev & Mike Lancaster from TPC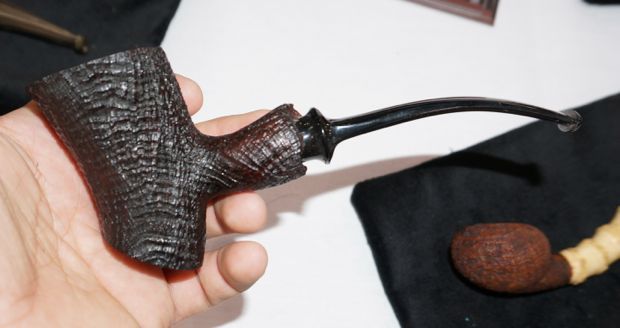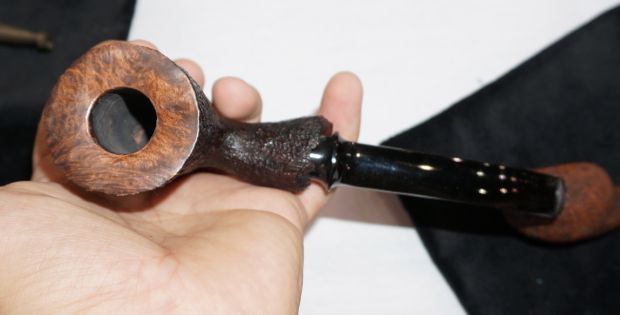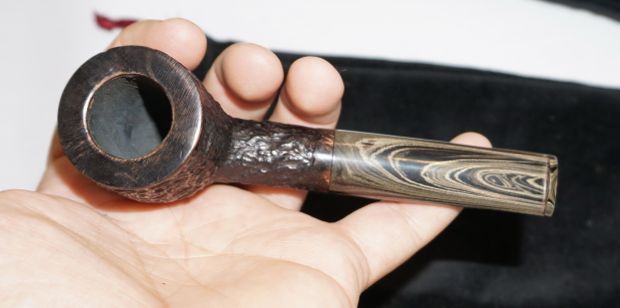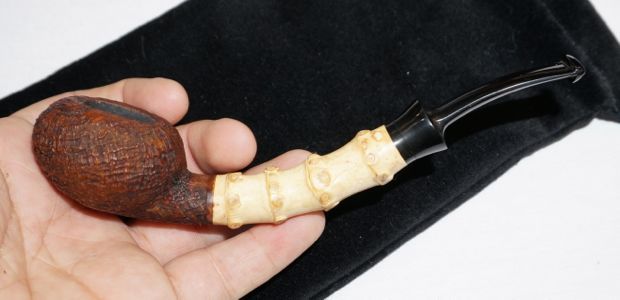 A nice bamboo pipe.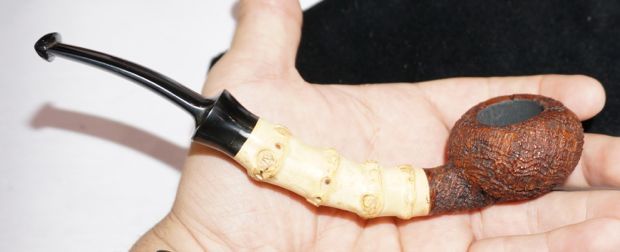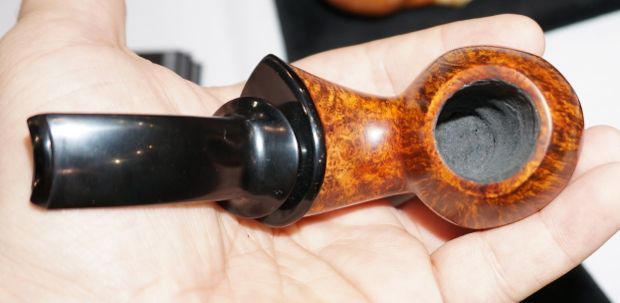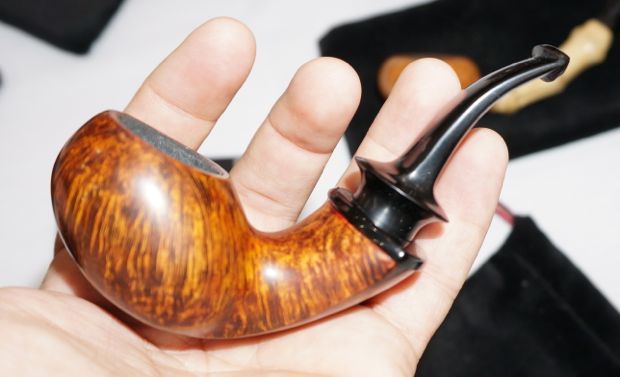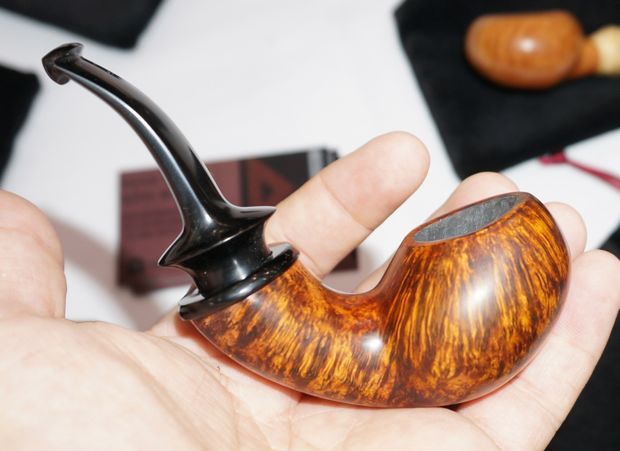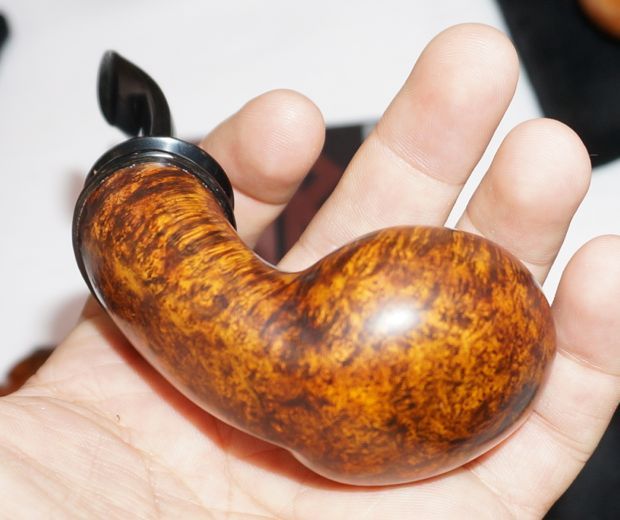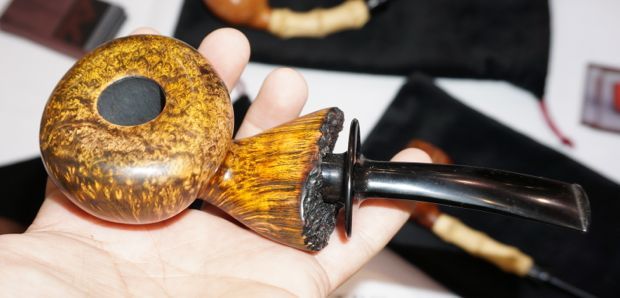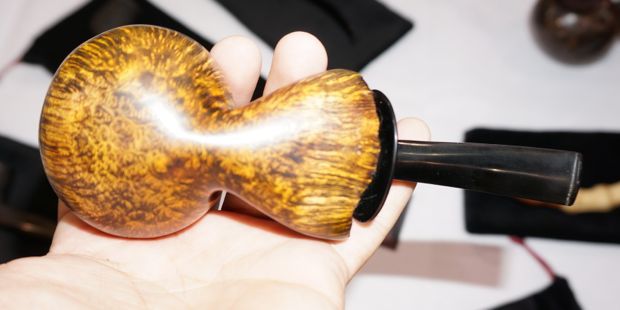 Steve Liskey – Caught mid-yawn.
Steve likes bamboo and he use to like Mammoth Ivory.
All that ivory you see on his pipes….well, it's the last time you'll see it.
With the new ban's in place, they will no longer be seen in his work.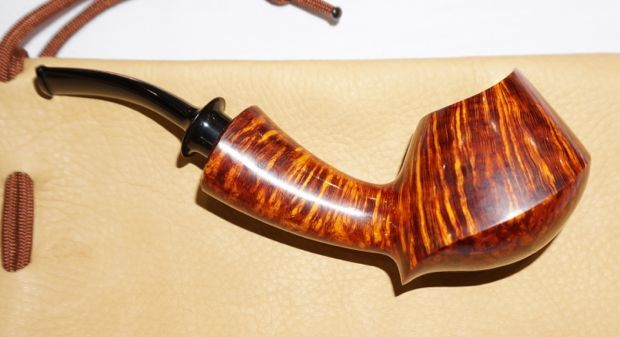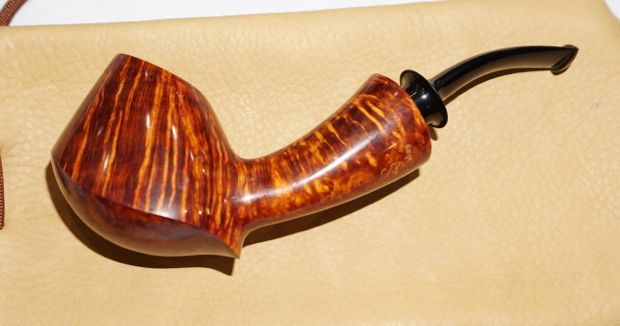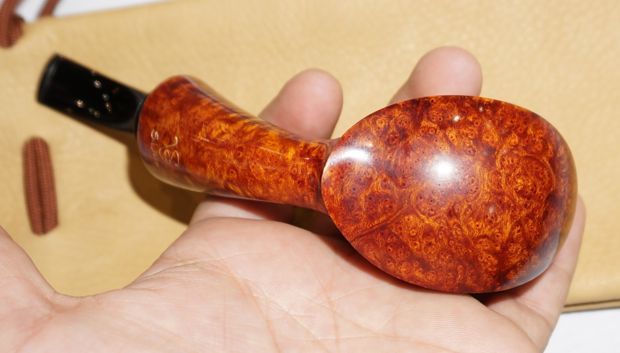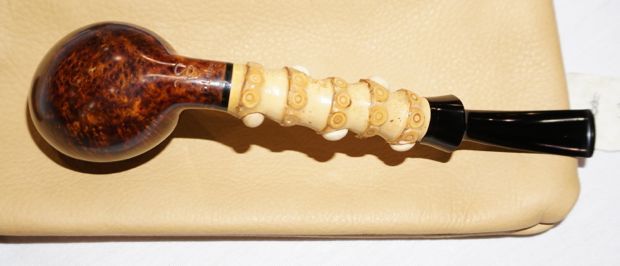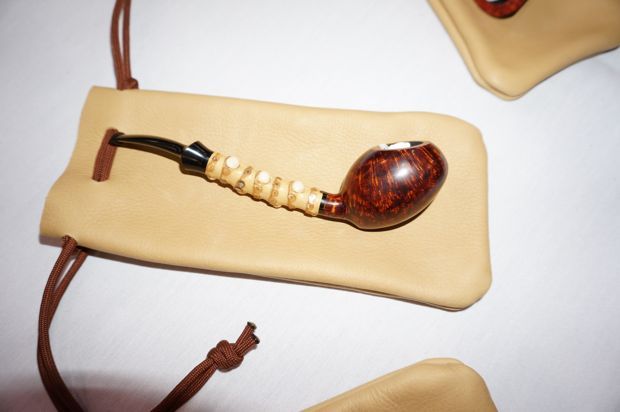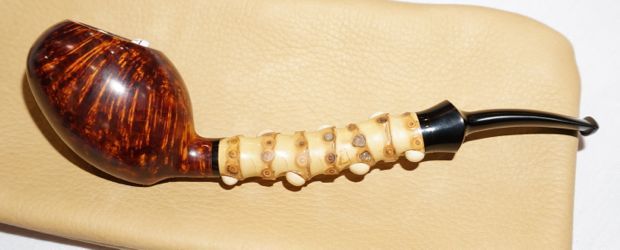 I like the spine like feature created by the Ivory buttons on the bottom.
I am sure Steve will find some new material to work with & accent his pipes.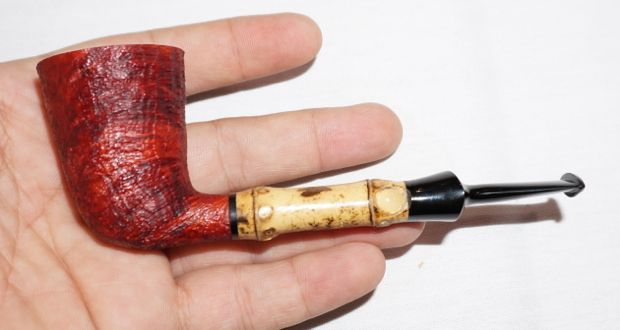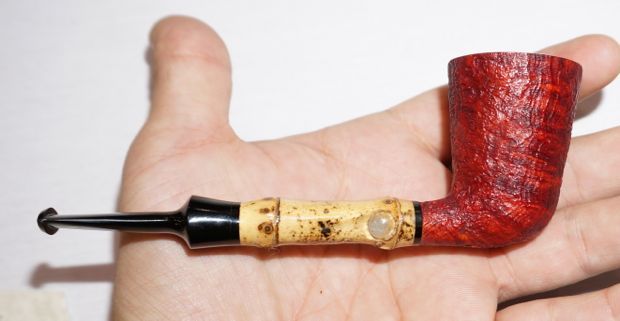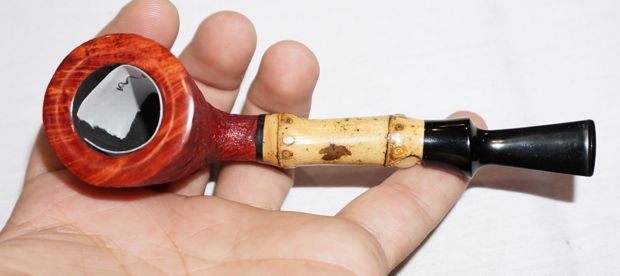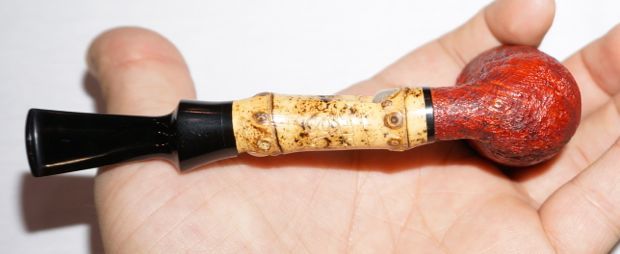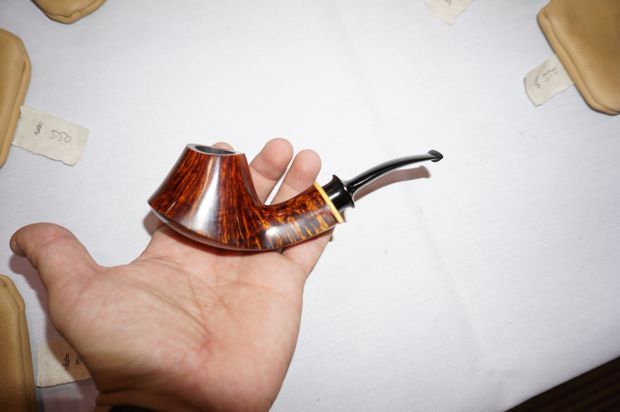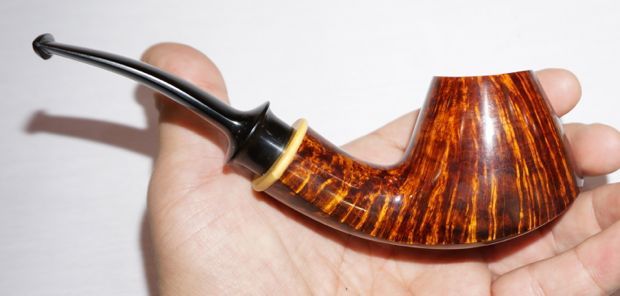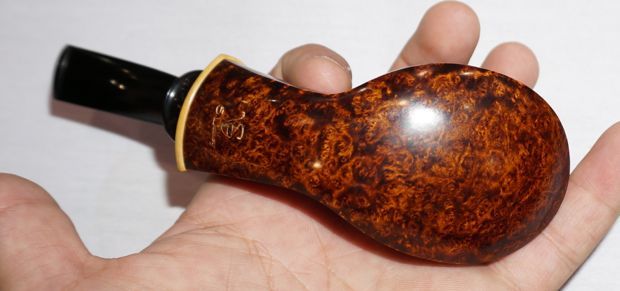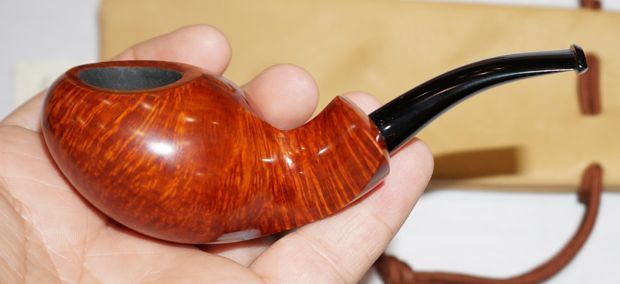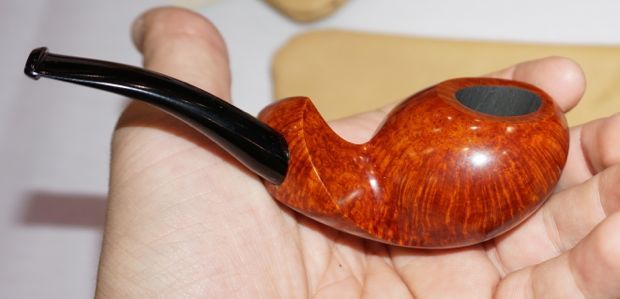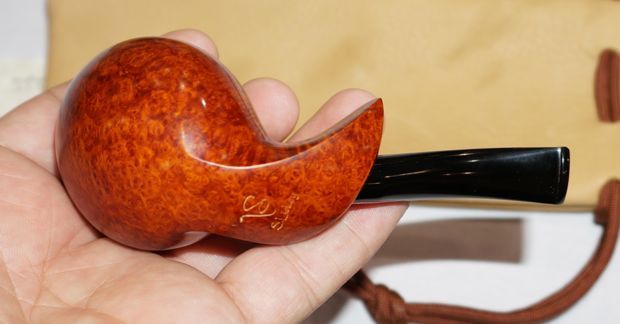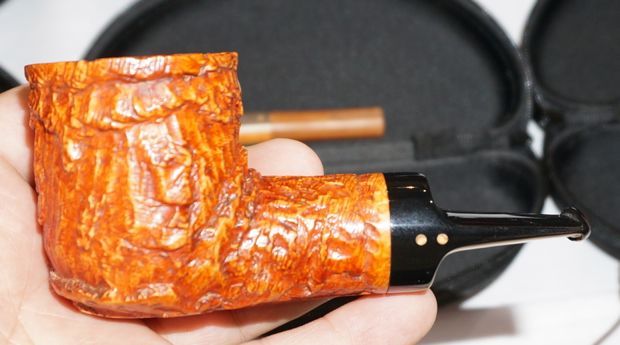 NeatPipes AeroBilliard
A nice series showing the wide range of application of this very popular new line.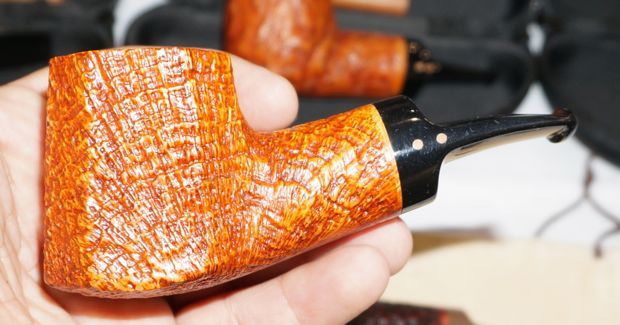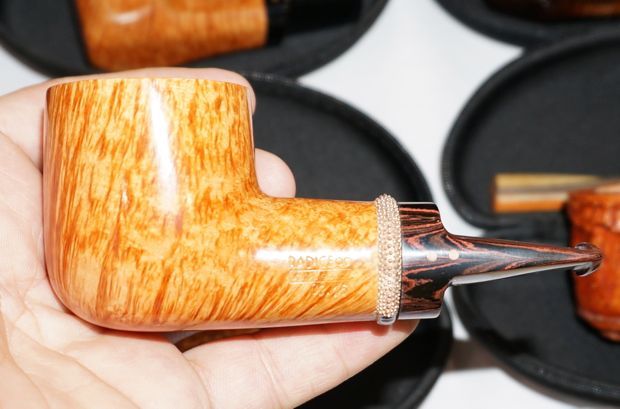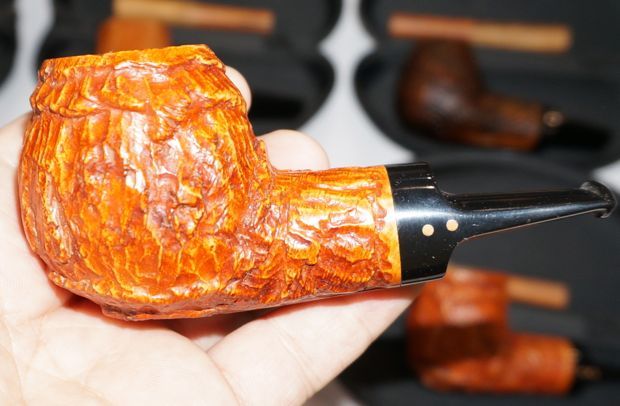 Manduela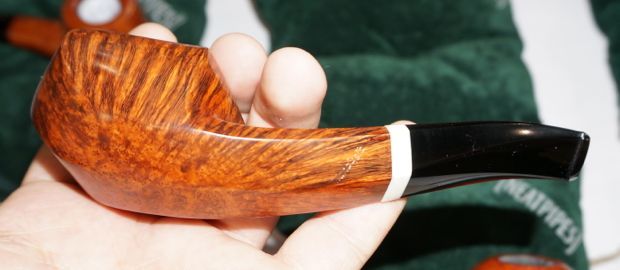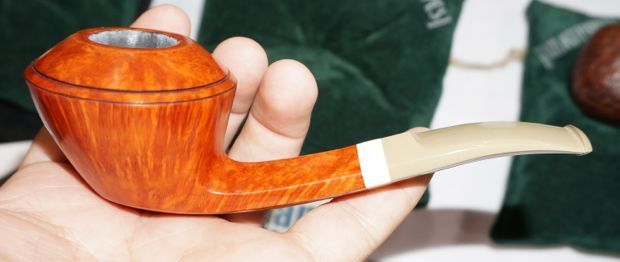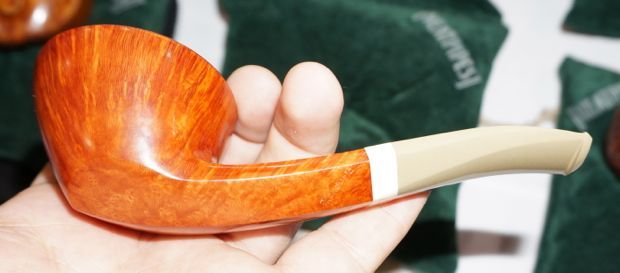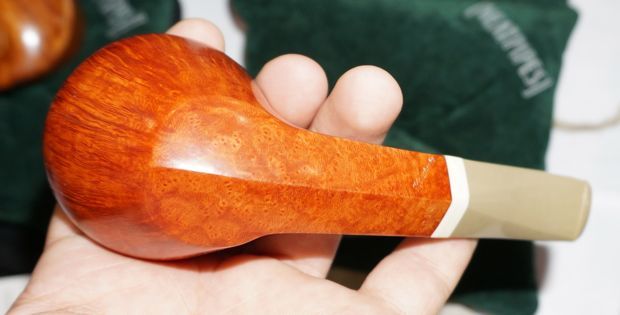 Paolo Becker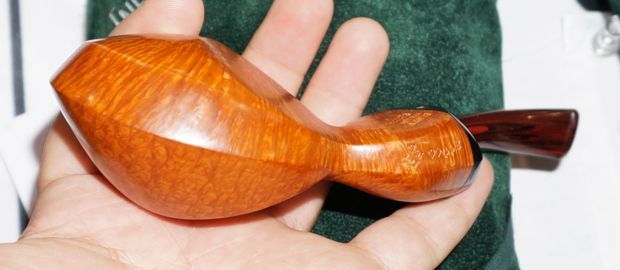 Vladimir Grechukin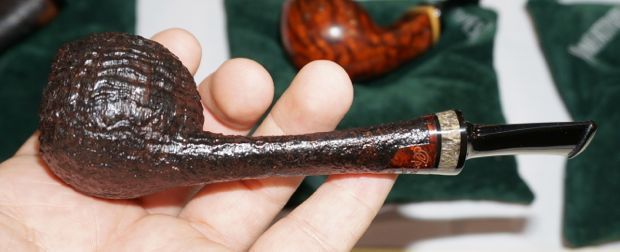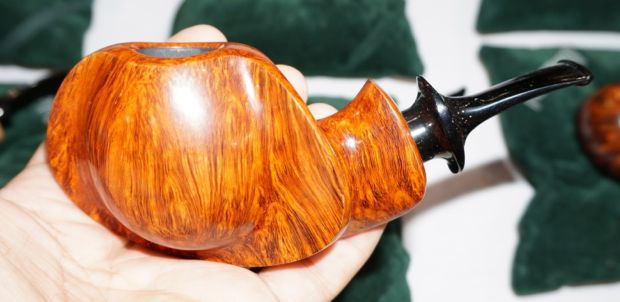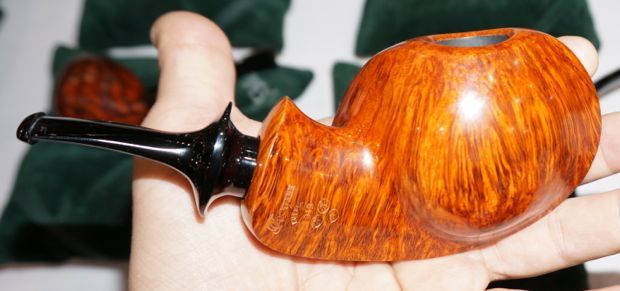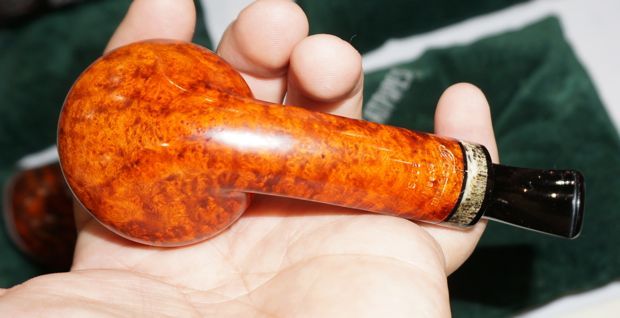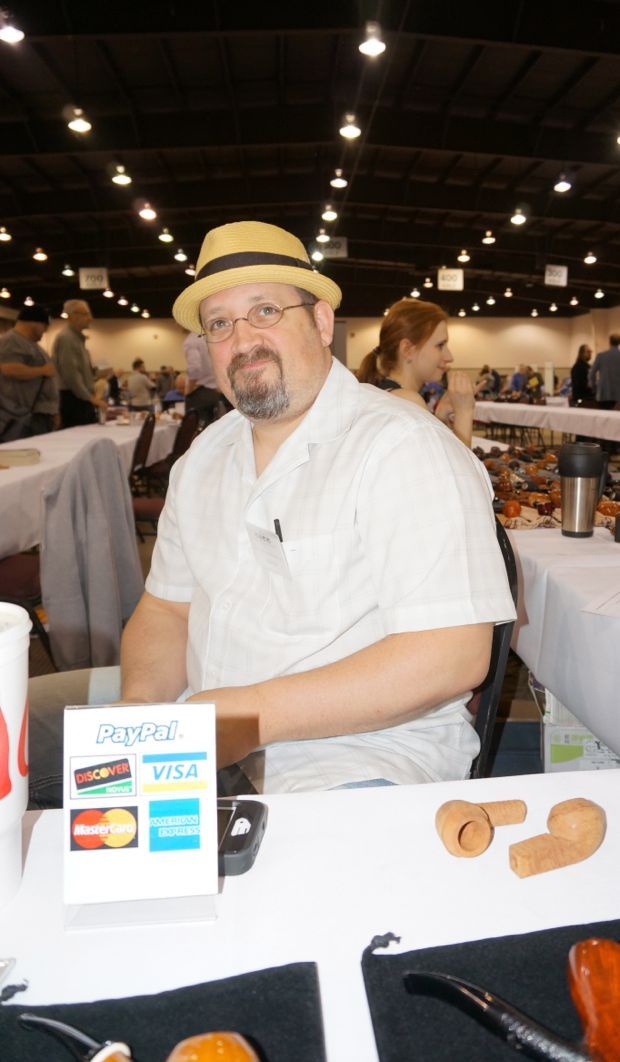 Wayne Teipen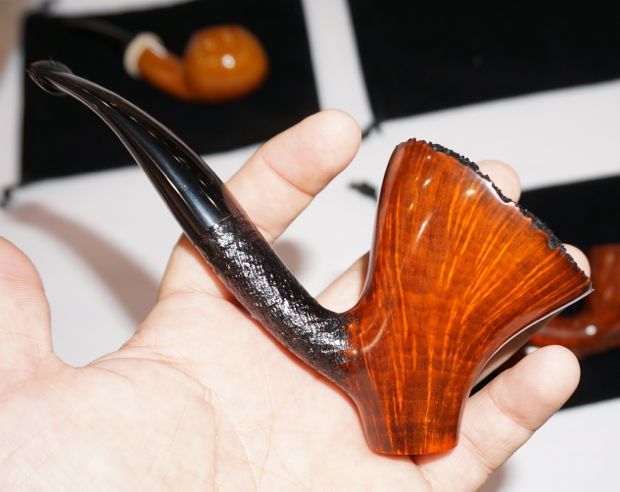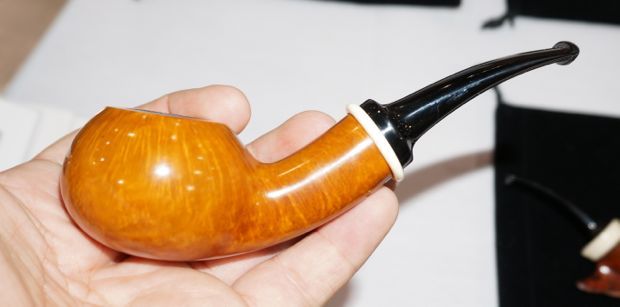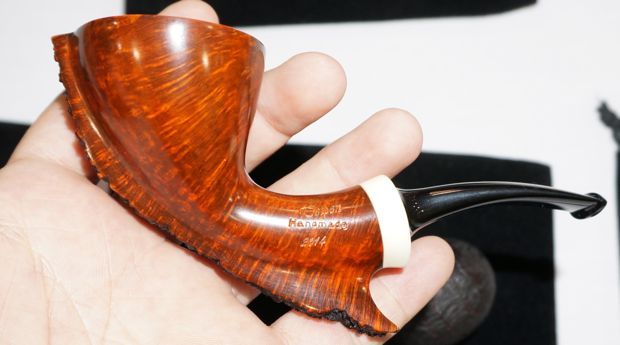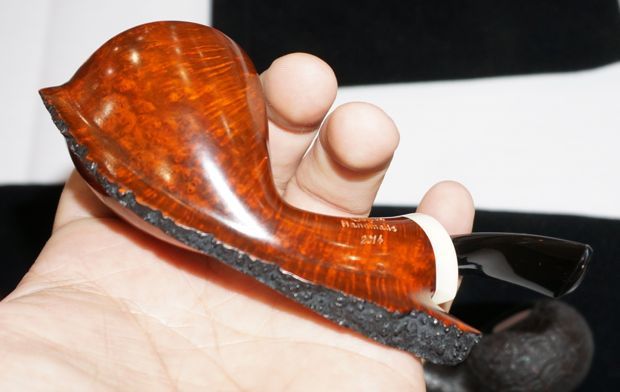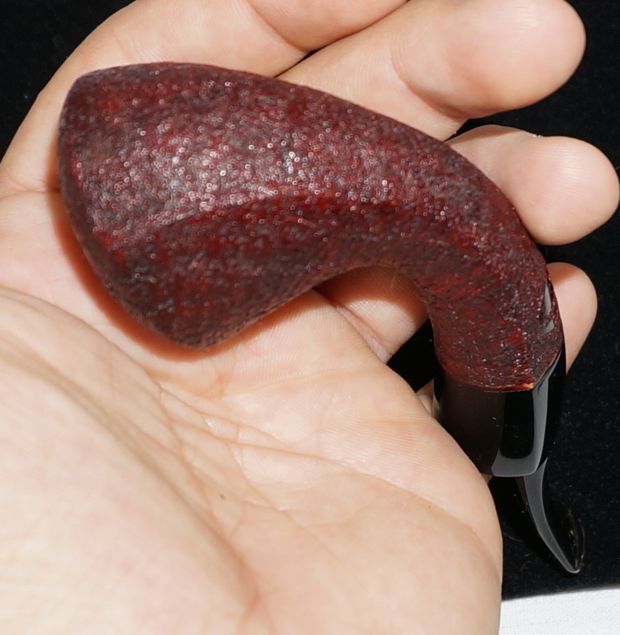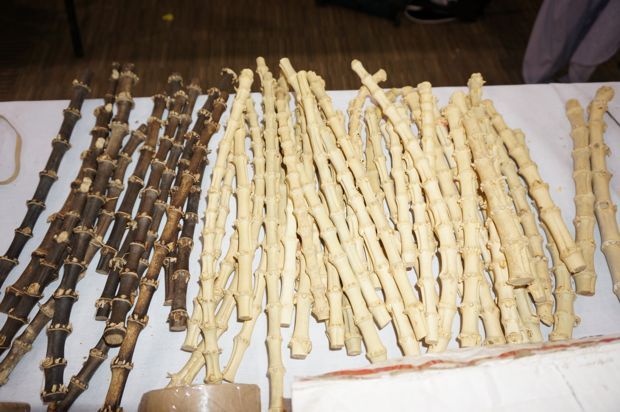 Scott Klein
By the time I got to Scott's pipes, they were mostly all sold.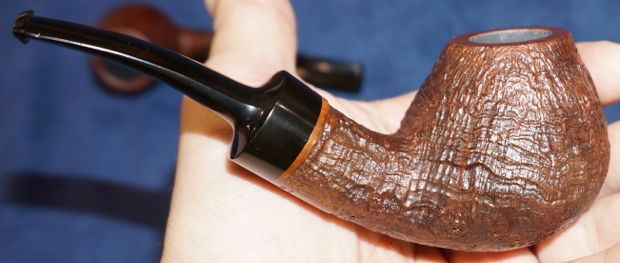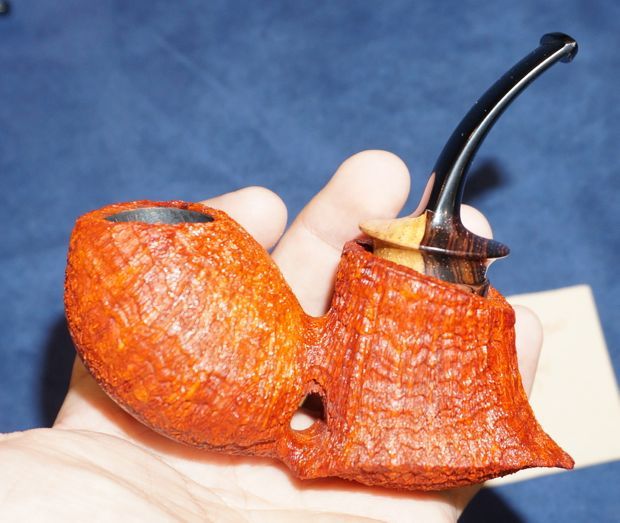 This is the VolEggo.
A collaboration piece between Scott Klein and Grant Batson.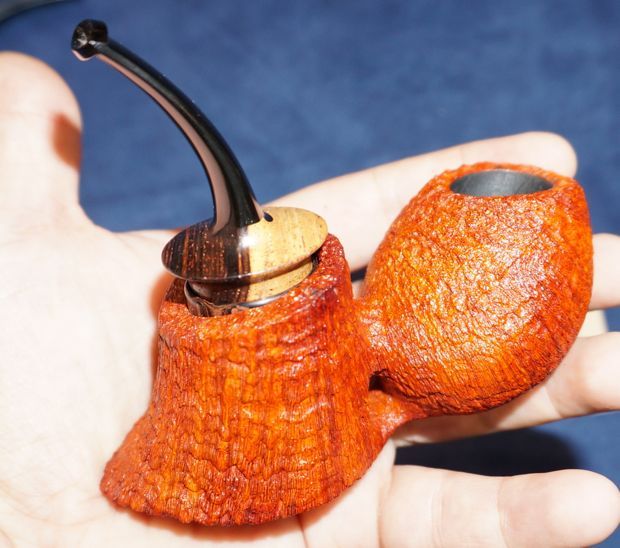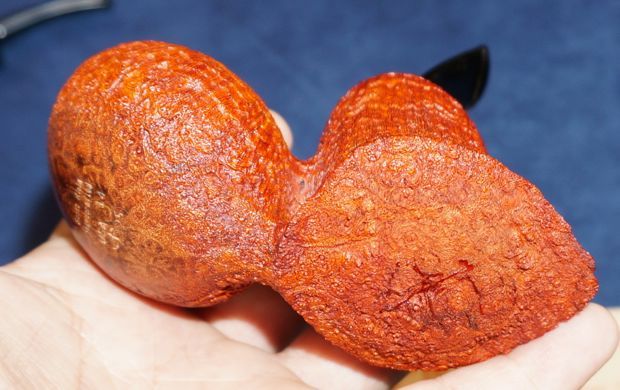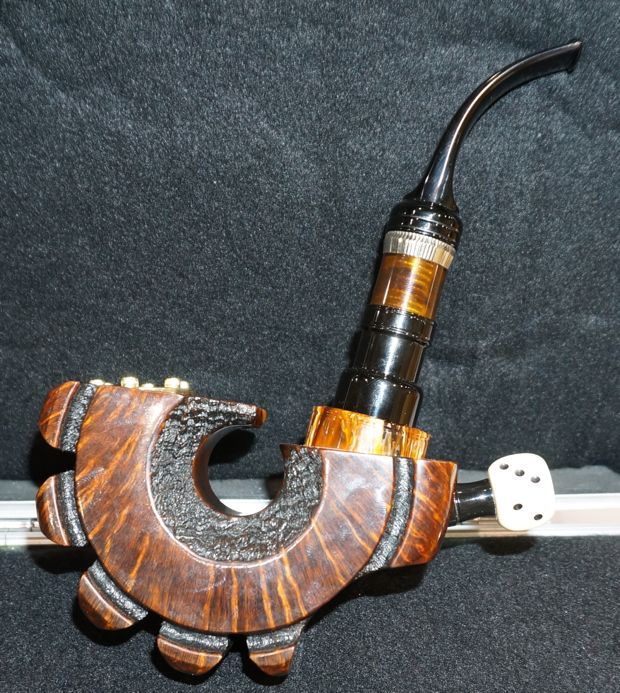 Nate King
The man who popularized steel, metal and wires on pipes made this Steam Punk Gear creation.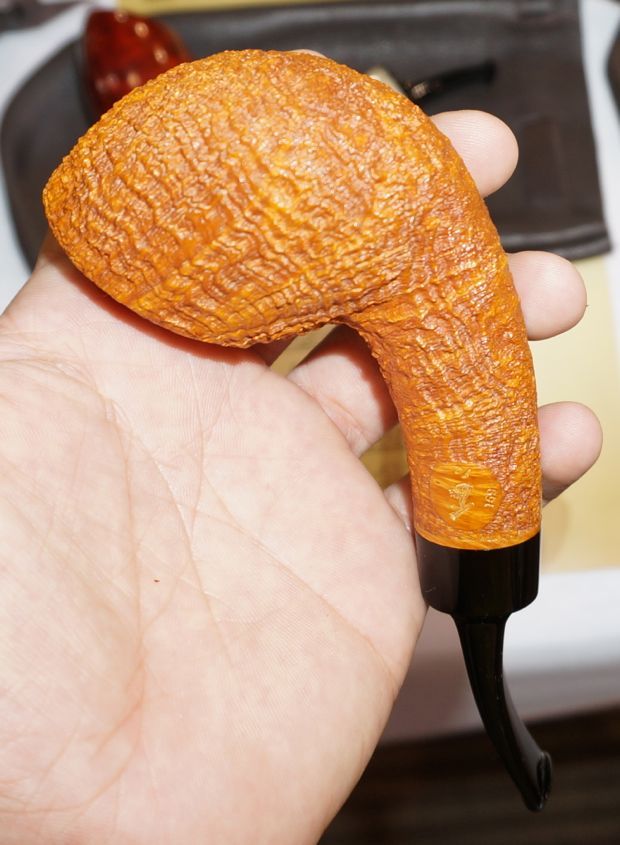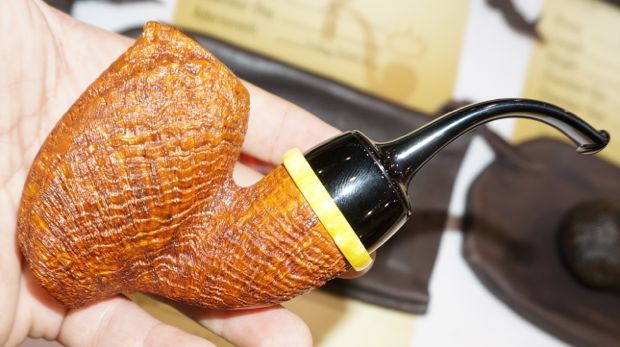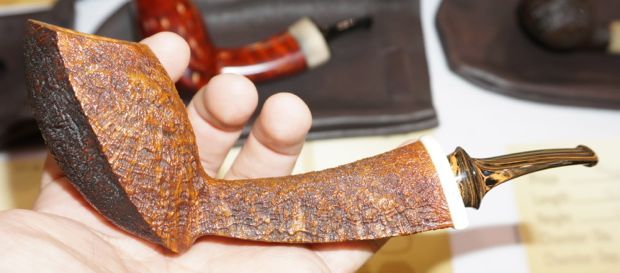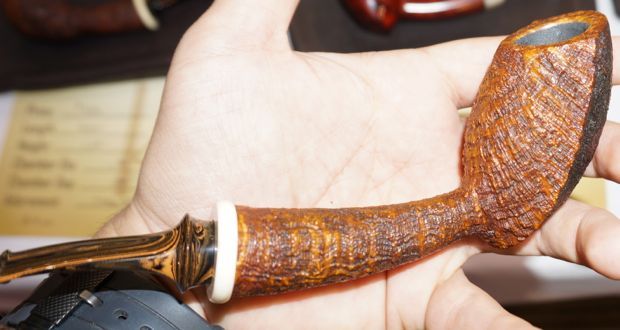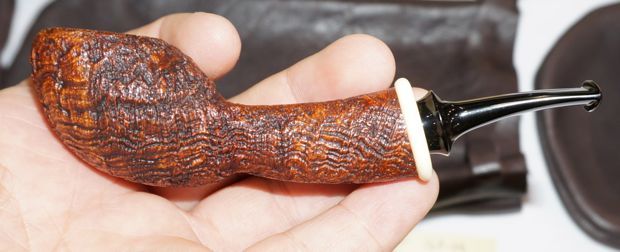 I like the way Nate chose to round out the edges of the bowl.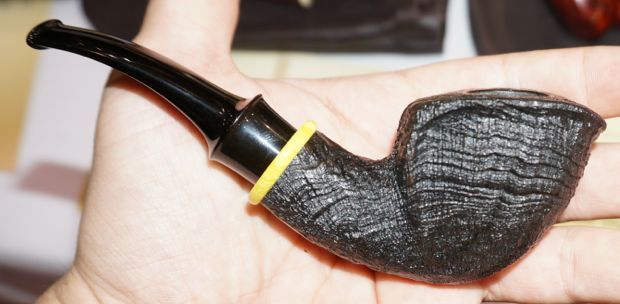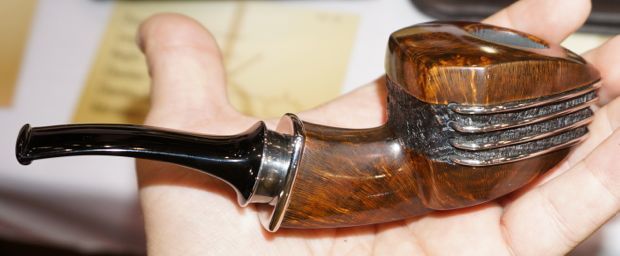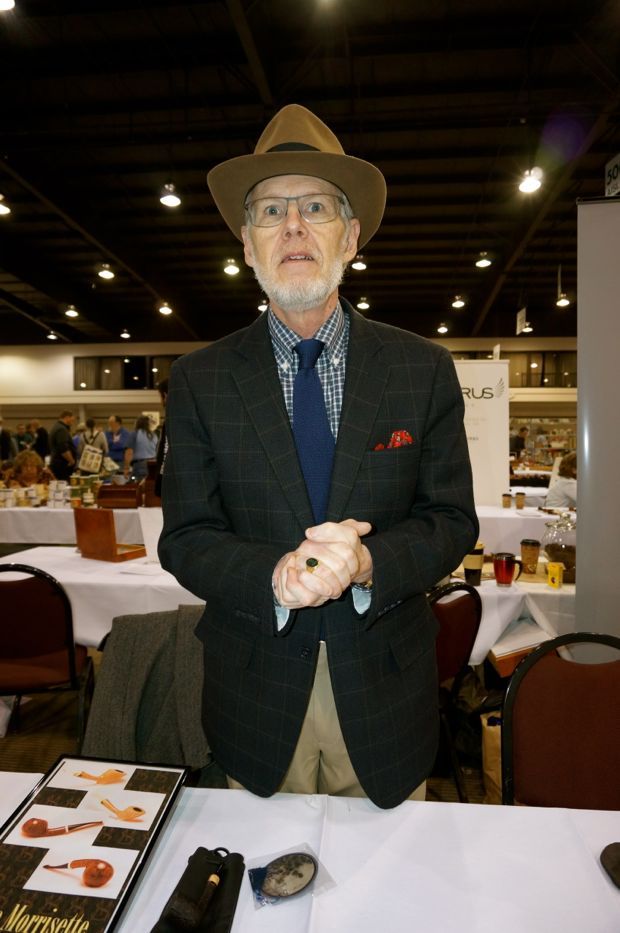 Steve Morrisette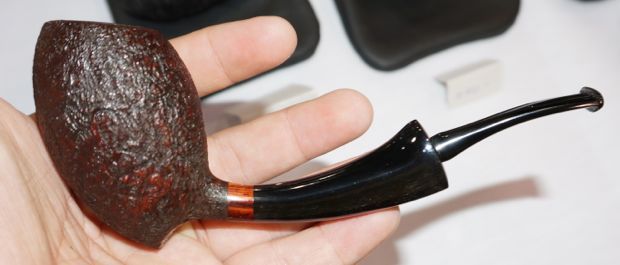 A gorgeous, near flat, gentle & elegant piece.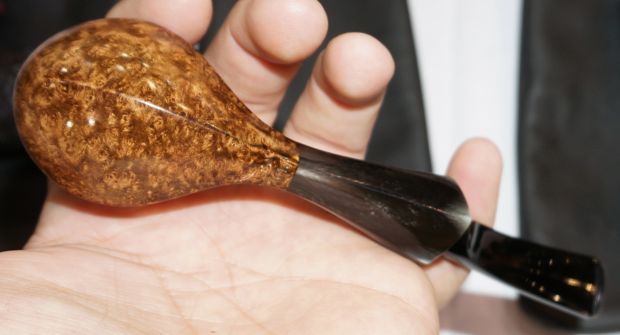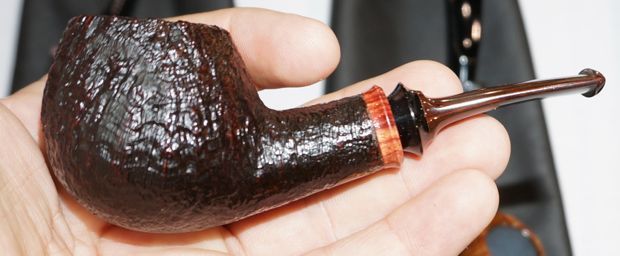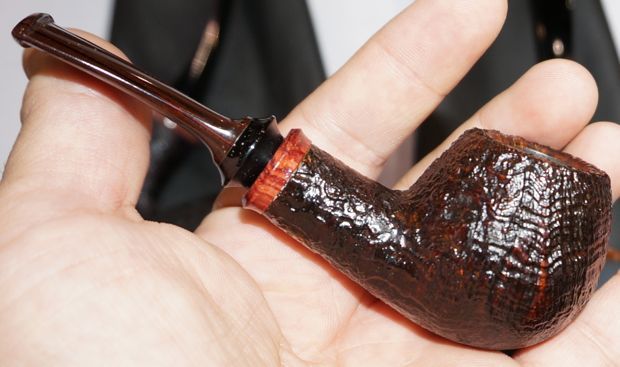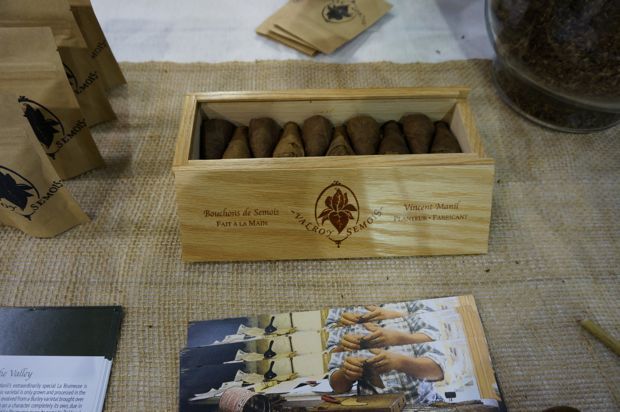 The Pipe Guys are bringing Semois tobacco to us.
Good news. Especially these plugs.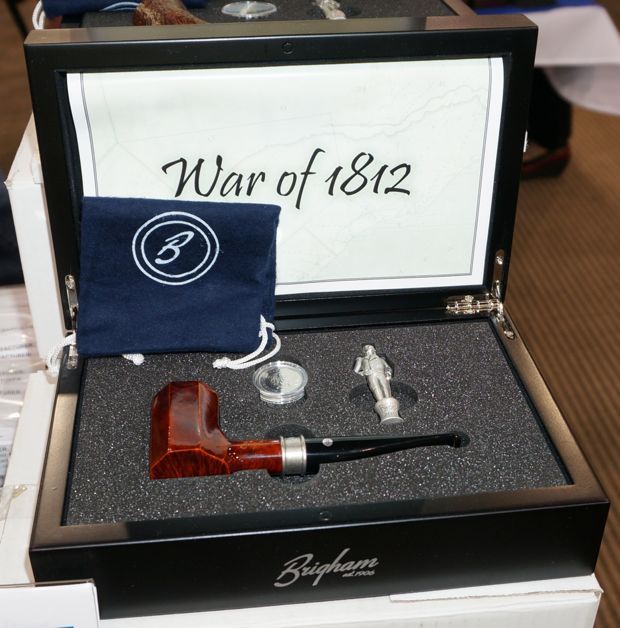 Brigham Pipes WAR OF 1812 Series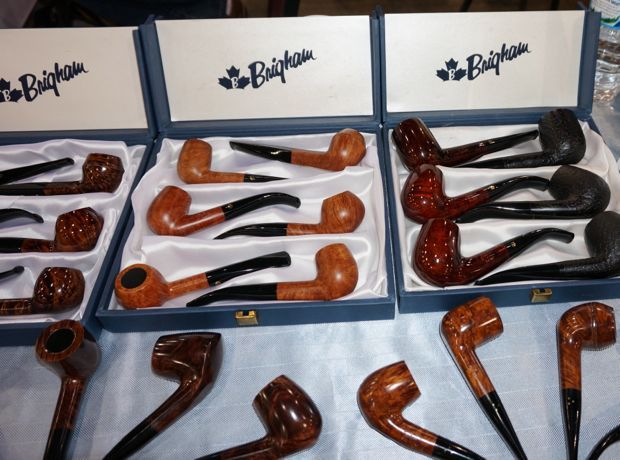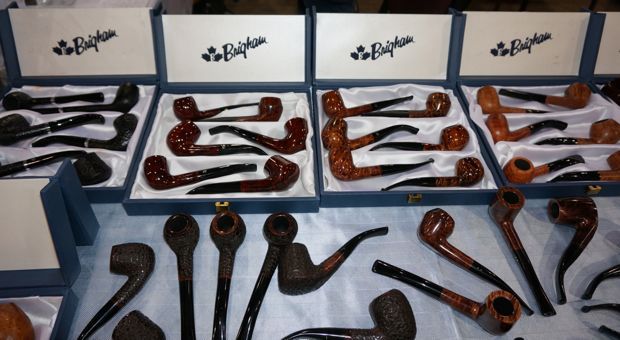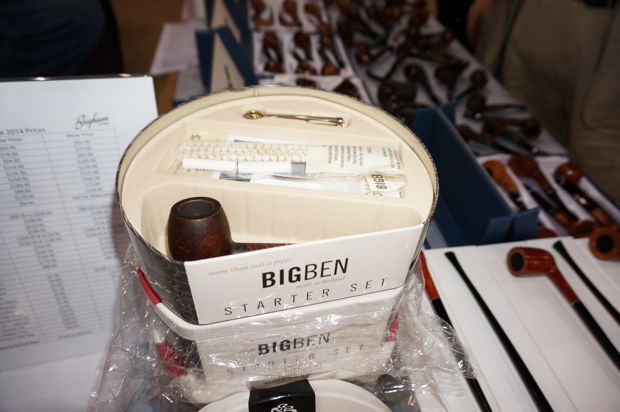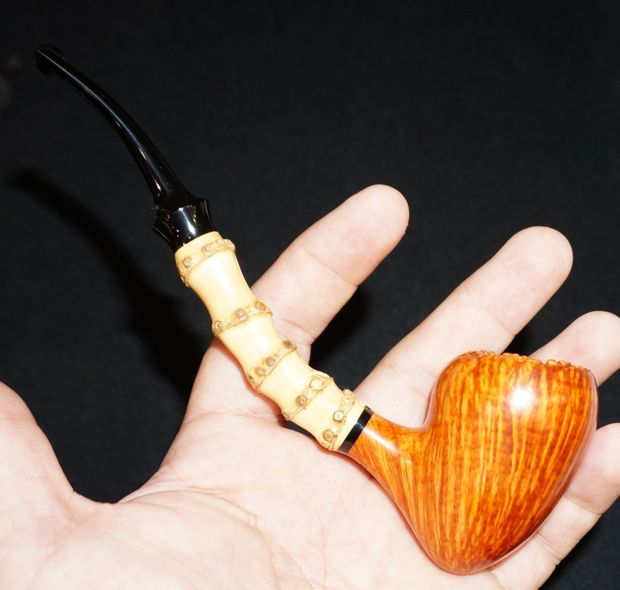 Chris Asteriou
Chris has blown onto the scene in a big & huge way.
An architect by trade. Chris has very quickly entered and conquered a variety of traditional pipe design arenas.
He creates beautiful traditional shapes. Fantastic Danish shapes. And he is now playing with the concept of merging those two.
The results are amazing.
Chris also has a hidden card up his sleeve in his abstract approach to design.
I think he will be surprising all of us very soon with some amazing work in that arena as well.
Enjoy these amazing pipes.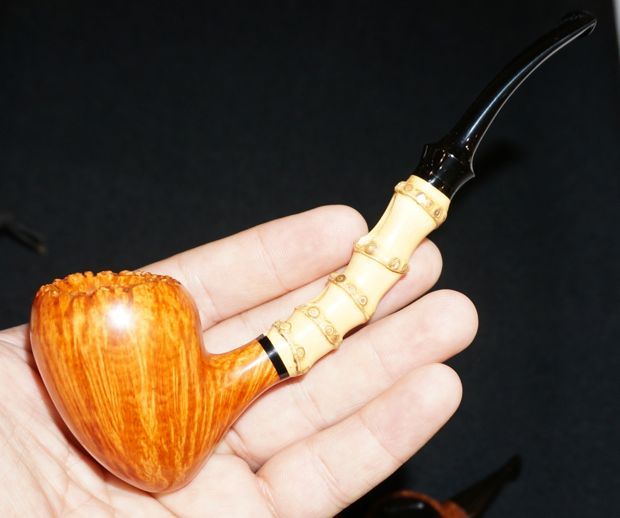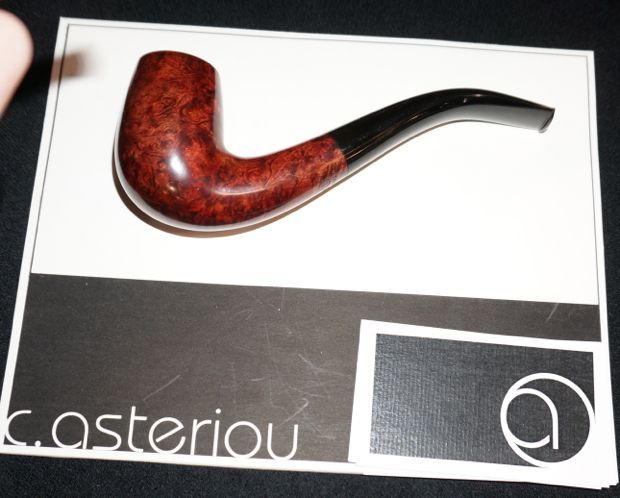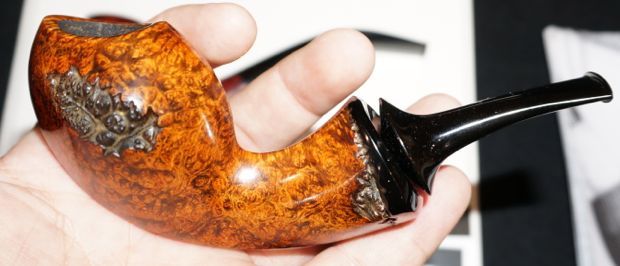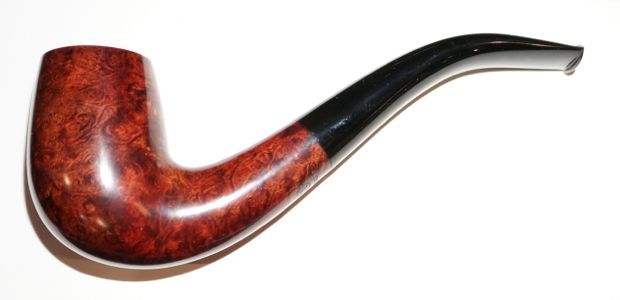 What a full bent!!!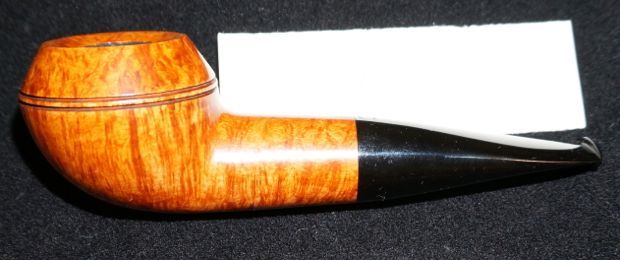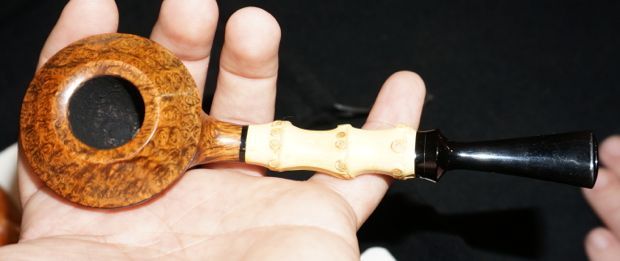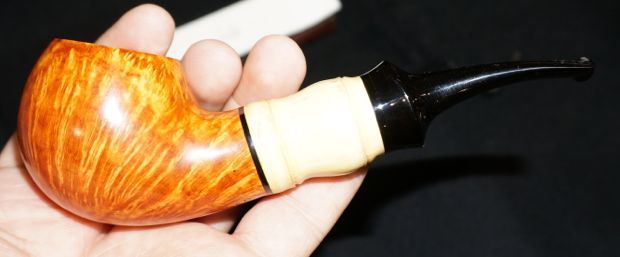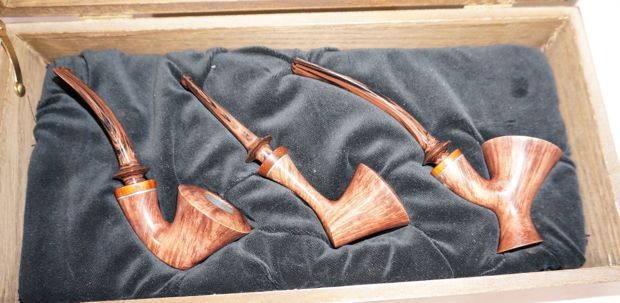 K. Anastasopoulos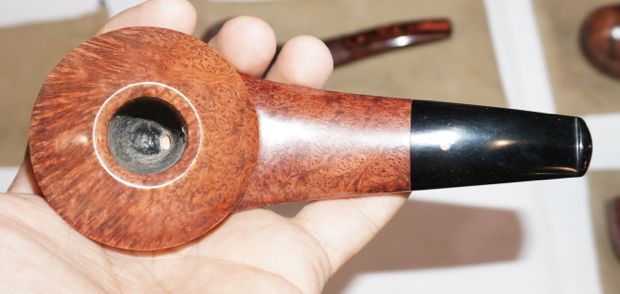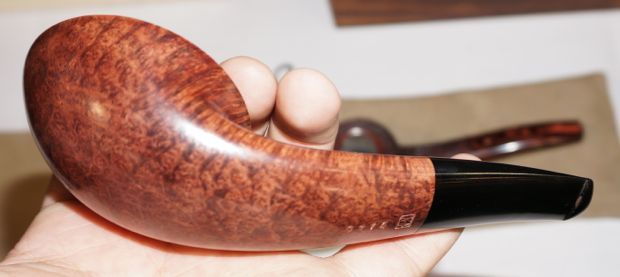 Peter Heding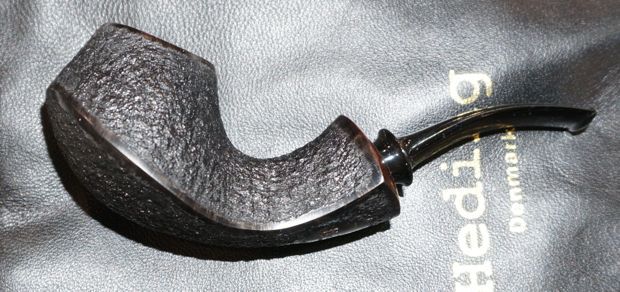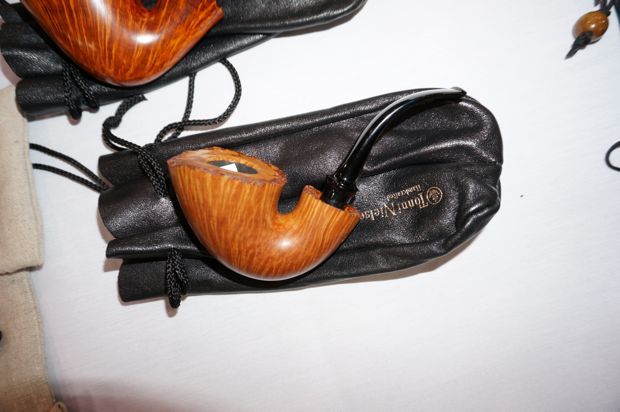 Tonni Nielsen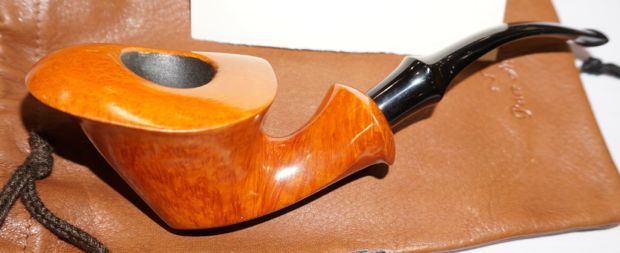 Teddy Knudsen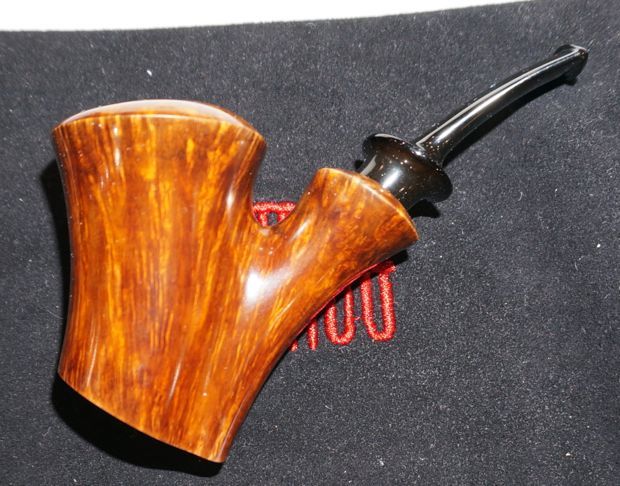 Sam Cui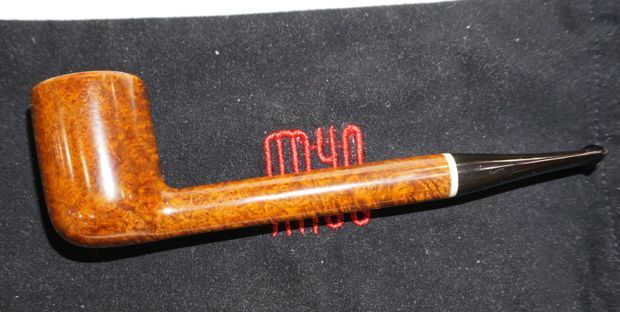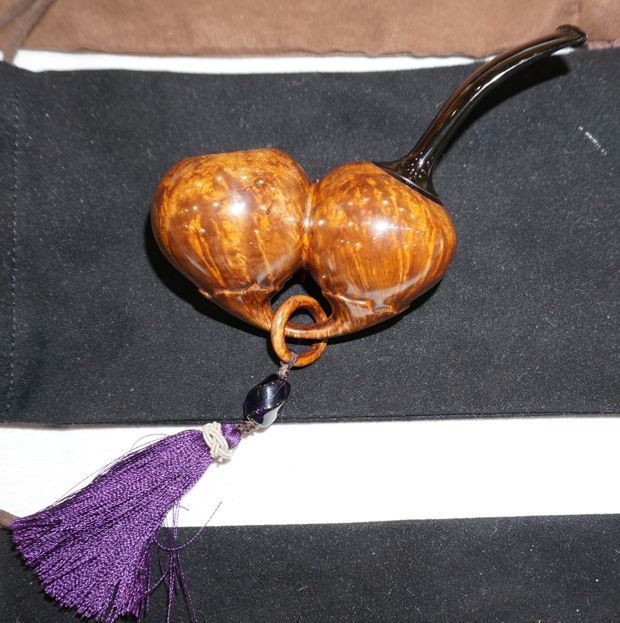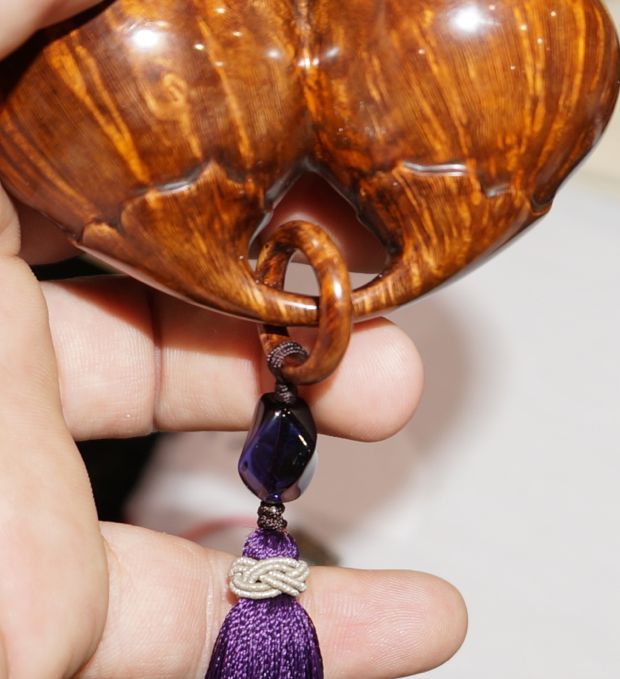 Stanislav Kemensky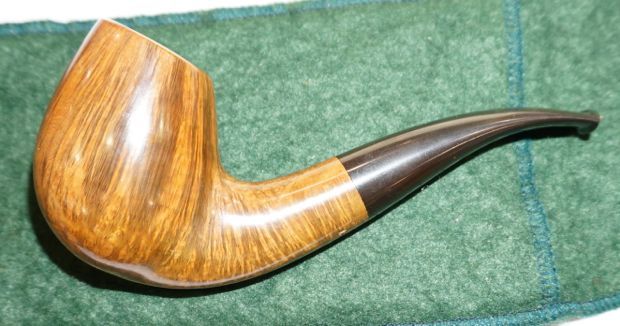 Michail Revyagin and some of his older pipes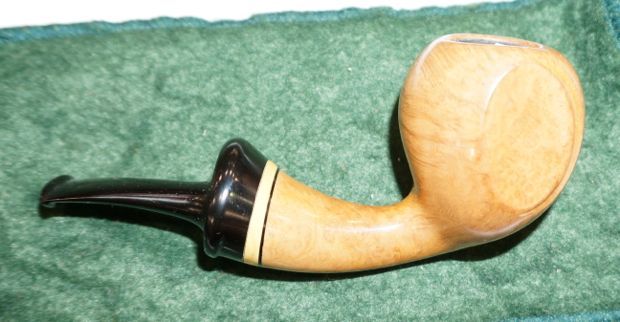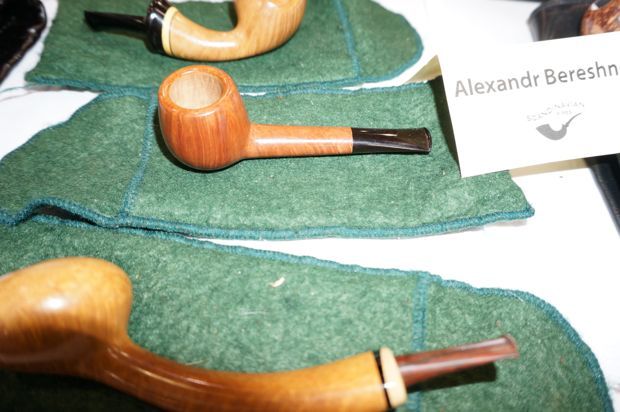 Dustin Babitzke showing us the pipe used for the Slow Smoke competition
Hope you enjoyed it and see you all next year.
ENJOY SOME MORE FANTASTIC PIPE PICS & MORE PIPE COMMENTARY.
BY FOLLOWING ME ON INSTAGRAM
Copyright © 2014. TobaccoDays.com. All rights reserved.